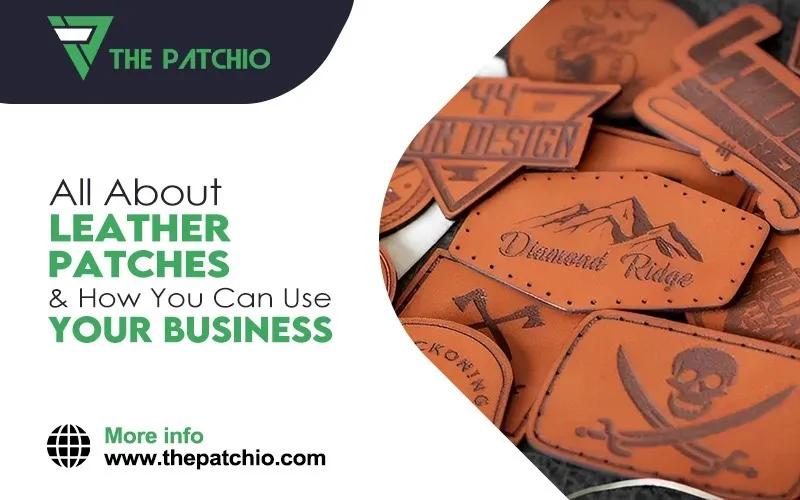 What makes leather patches effective for branding? These patches are the epitome of elegance & style, the unmatched unique charm framing these as the perfect patches to impress your customers!
Though more subtle than colorful embroidered or chenille patches, leather patches are suitable for branding if the goal is to give to create a classy vibe. Hence the reason for the use of leather patches in businesses that create high-end leather and denim clothing and accessories.
You can use leather patches for so much more: promote your products and services, add to employee uniforms, or create club and team member patches.
Here's all about leather patches you need to know to get started.
All About Leather Patches: A Brief Introduction
Leather patches are commonly used as brand labels, popular amongst brands that produce clothing and accessories. High-quality synthetic leather results in patches that withstand exposure and are durable even after a multitude of laundry cycles.
You can get leather patches in genuine or faux leather, though the latter is a more cost-effective and practical choice for businesses.
Using Custom Leather Patches
How to use leather patches for maximum impact? Here are a couple of tips:
Leather patches look more appealing attached against neutral or dark backgrounds. For colorful clothing and accessories, consider black leather patches or other types of custom patches.
When you use leather patches for your business, don't forget to highlight the main feature: the logo or symbol of your brand. Great patches start with well-planned designs.
Go for high-quality patches and leading patch manufacturers regardless of what industry or purpose you want leather patches for. Now that we've covered the basics of leather patches, let's overview how you can utilize these for your business.
Looking For Custom Leather Patches Online?
Reach out to customer service ThePatchio for information or request a free quote today.
Use Of Leather Patches In Business
Discover creative use of leather patches in business. As patch experts, we've got some simple ways for you to incorporate these patches in your products and business tools.
Leather patches are a favorite among brands that produce denim, leather, and canvas clothing and accessories. The use of leather patches in business is unsurprising since many people associate leather with luxuriousness. The simple yet charming exterior of traditional tan or bolder black synthetic leather gives products a sophisticated feel.
Use leather patches to introduce that air of refinement in your line of goods—whether we're talking about clothes, handbags, shoes, or even casings and covers. Know how to properly attach leather patches on different materials for a perfect outcome. For instance, there is a particular way of attaching leather patches to shirts vs. attaching these to bags and other accessories.
Custom patches products are quite popular for uniforms, for those of academic institutions as well as businesses. Supermarkets, salons, and other service industry businesses need high-quality, durable patches for their employee's uniforms—and leather patches make fine candidates.
You can add leather patches to different pieces of uniforms. Jackets, vests, caps, and hats are some of the top picks for leather patches. A few ways to make your patches as visually appealing as possible are:
Make sure the leather patch stands out on the background, and so does the lettering on the patch itself.
Emboss, deboss, screen-printed—there are chic varieties of leather patches. Choose one that pairs well.
Always pick a backing that's easy to apply—and remove when employee uniforms change hands.
Leather patches and club shop goods—it's a match made in heaven. Whether we are talking about an exclusive sports club or gymnasium, a community club, or even a local wine club for enthusiasts and connoisseurs, leather patches are THE patches for all branding purposes.
How to use leather patches for your club? First, you can give these to new members along with other 'Welcome To The Club' goodies.
Next, add leather patches to branded clothing and accessories for members to purchase at the shop. These patches give a refined look to every item, plus make great marketing tools. Affix these patches to everything from keychains to gym bags for effortless advertising!
Need To Order Business Leather Patches At Reasonable Rates?
Contact ThePatchio today for information or request a free quote.
There are patches you invest in for immediate use, and patches to invest in to improve business publicity. We're talking about leather patches for people other than employees associated with your brand, as well as your brand audience.
Add leather patches to the festive or commemorative gift you send to your business partners and shareholders. Like luxury pens and mugs, leather patches on keychains or sticky backs also make a nice addition to the package you've got to show your appreciation for the partnership.
Leather patches make perfect giveaways at public events such as expositions and national celebrations. Invest in some artistic design—complete with your business name or logo—so that people would want to use your patches. Adding colors or distress effect enhances the aesthetic appeal (read How to Distress Leather Patches).
If you want to move away from traditional embroidered patches for all kinds of branding purposes, leather patches may be the next best option for you. Ready to order custom patches online?
Use Leather Patches For Your Business – Partner With ThePatchio!
Looking to order high-quality and long-lasting leather patches? ThePatchio is your one-stop shop for all kinds of awesome custom patches, including premium synthetic leather patches.
Order leather patches with no minimum order by submitting your design to ThePatchio. We can help you create your own unique leather patch designs for your business. Our patch artists and customer services can help you with any patch queries.
Contact us today for a free quote!