Elaborate, Pliable and Pliant
Are you looking for durability, longevity, and resilience? Well, you need not look further than our diverse range of custom PVC patches.

PVC patches are much more flexible and lightweight than many in the subcategories. The reason for that is due to the use of rubber and rubber-like plastic. Since this material is used, not only can PVC patches withstand extreme conditions, but they are also water-proof. This means you can put the PVC patches through several washes without worrying about any damage.
Get a Custom Quote Now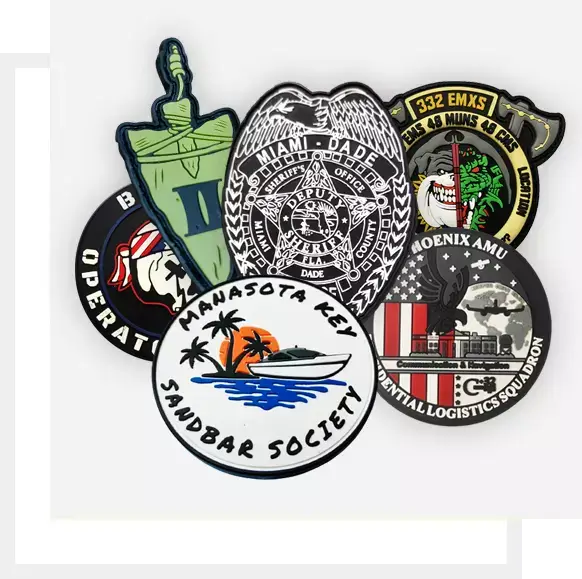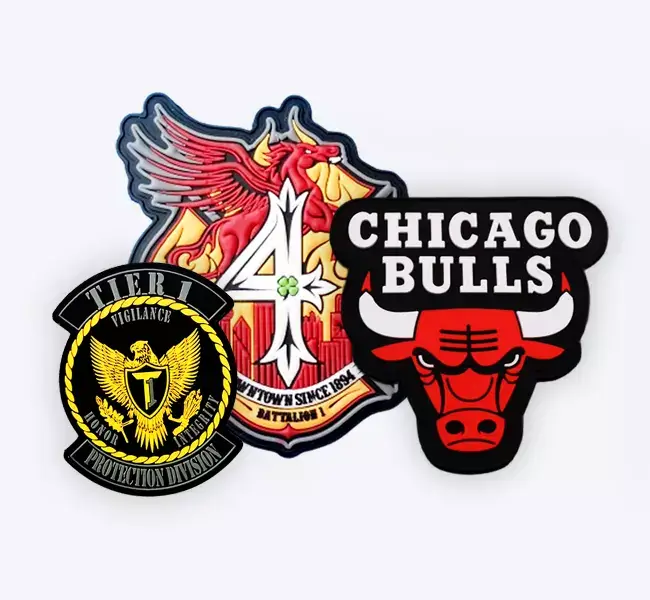 Looking for a Custom Rubber Patch Maker?
If you are thinking of creating your own PVC patch, there are a couple of things to consider before placing your order. Foremost, you will have to choose the kind of PVC patch you require. The two subcategories of custom PVC patches are 2-dimensional and 3-dimensional. For your custom PVC patch, you can either go for the flat but detailed look or the sculpted 3-dimensional look.
What are PVC Patches? Generally referred to as Polyvinyl chloride, PVC is a type of plastic material that closely resembles rubber. It can easily flex and is highly durable. There are no restrictions when it comes to the size, color, and shape of a custom PVC patch.
Request a Quote
Why Choose PVC?
Along with being excessively lasting and durable, a custom PVC patch is an exceptional choice fashion-wise. You can pair them with jackets, hats, bags, or any type of denim and create a stylish look. And since it is water-proof, come rain or shine, PVC patches will stay by your side.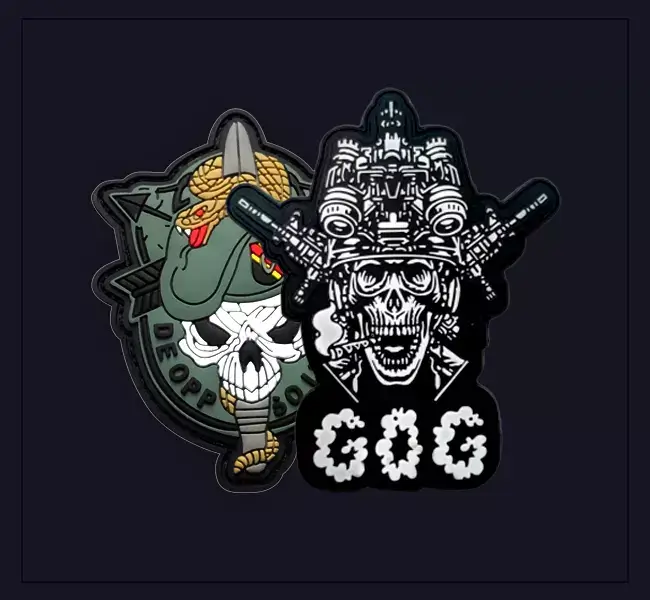 Who Needs

Soft

Weather Proof

Polyvinyl Chloride?
We at The Patchio are the proud choice for thousands in the country. Some of the customers who cyclically employ our custom PVC patch at no minimum for uniform, fashion, and equipment include:
Military Clothing
Fire & Police Department
Airsoft Teams/Clubs
Tactical Paintball Teams
Homeland Security
Tactical Equipment
Jackets, Caps, Gloves
Bags, Backpacks
Easy as 1, 2,3…
Regardless of how hard it might look, attaching custom embroidered patches, custom vinyl patches, and custom PVC patches is very easy. Due to the various backing option available at The Patchio, you have the freedom to sew or stick these patches onto your desired surface. If not, you can always opt for our custom Velcro patches option and regulate your patches according to your mood. An added advantage is that PVC patches are flexible, which means they are able to bend with the clothes.
Sew-on Backing
Sew-on backing allows you to have your patch durably sewed on the cloth via a machine or by hand as per your preference. With sew-on backing you can easily sew a patch on any sort of clothing material whether its surface is rough such as a towel or smooth such as leather.
Velcro Backing
One of the most convenient backing options composed of two parts a hook and a loop. Loop is skilfully sewn on the clothes & the hook is sewn to the patch. You can take off the hook patch and attach any other patch on its place. Most commonly used by military, police, strike ball etc.
Order in Four Simple Steps
Its super easy to get your own custom rubber PVC Patches.
Get High-Quality Custom PVC Patches w/ No Minimum
When you shop at The Patchio, you are guaranteed premium quality. Not only are our custom patches made with premium materials, but there are no limitations to colors, sizes, or shapes for our beloved customers. You can use these patches on clothes, bags, hats, or for badges. .
Free Virtual Proofs
Free 10 Colors
Free Sew-on/Velcro Backings
Low 15-Pieces Minimum
Express Delivery Available
High Quality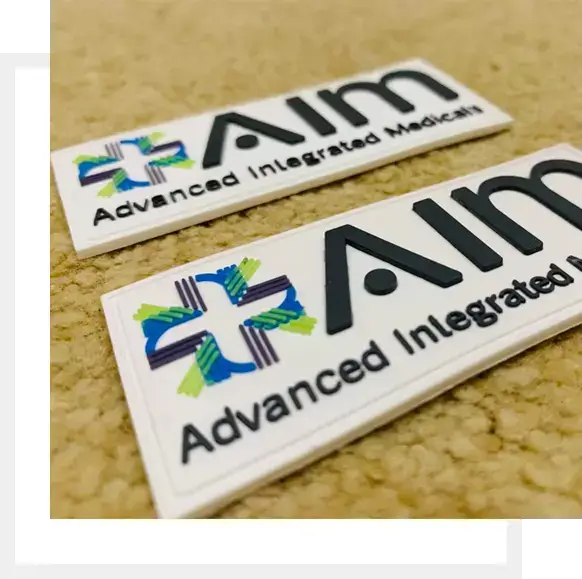 Before You Create Custom PVC Patches, You Should Consider…
If you opt for sew-on patches, you get to have a permeant patch.
There are several types of backings available. You should pick according to your preference.
If you are not looking for permanent, you can always opt for Velcro patches or hook-and-loop patches.
You can also add extra elements like glow-in-the-dark color to enhance your PVC patch experience.
3-dimensional PVC patches are always going to turn our better looking.
You have the option to mix different types of patches like prints and PVC to create a fusion look.
Require high-quality custom PVC/rubber patches? Well, your wish is our command. Contact us at the number provided below or hop on a chat with one of our customer service agents to place your custom orders.
Sports Team Badge
Since PVC patches have a sew-on option, you can attach them directly to your sports uniform. Due to their durable nature, PVC patches are an excellent fit for Sports purposes.
Different Shapes and Sizes
Be it big or small, PVC patches have no size restrictions. And you can be sure that size will have an effect on the quality of the patch.
No Minimum
You would be glad to find that our custom PVC patches come at no minimum cost. Just place your order, and we will guarantee quality regardless of the number of patches.
2D VS 3D Logo Patches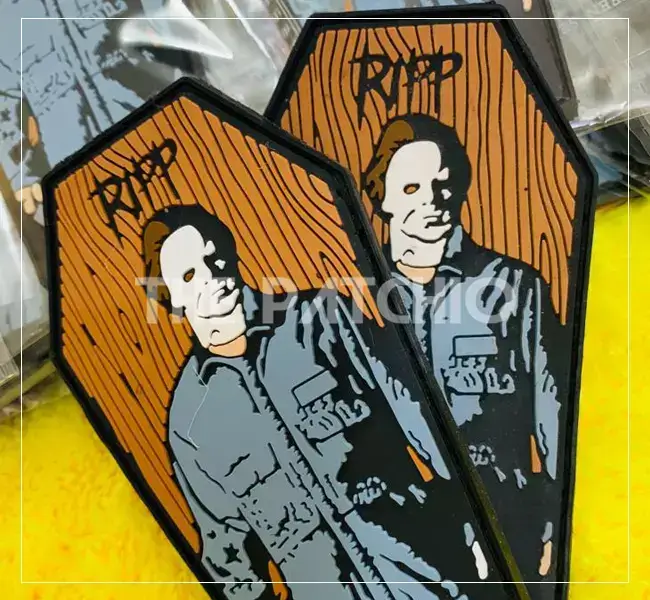 Think of 2D PVC patches as a staircase. They consist of multiple layers; however, each layer is a horizontal plane. Comparatively much cheaper than 3D patches, 2D patches are a fantastic choice for clean and simple designs.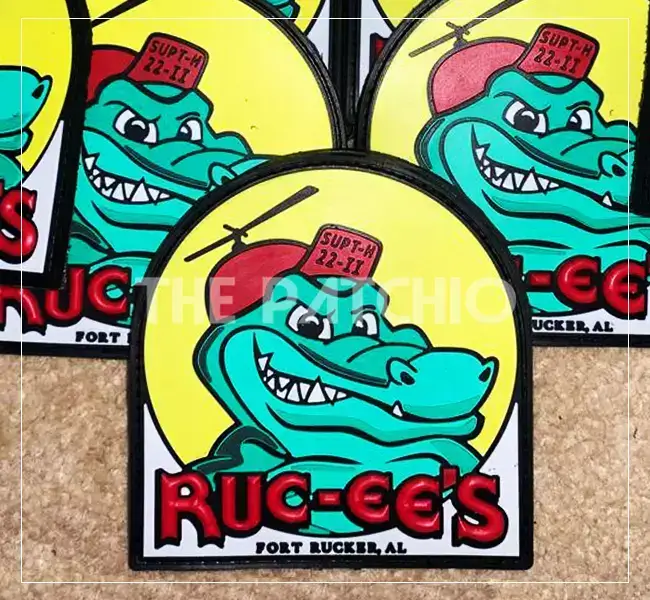 Much like the 2D patches, 3D patches, too, have multiple layers. But unlike 2D patches, the last layer of a 3D patch is rounded off, much like tiny smooth hills. 3D patches might be expensive; however, they tend to be drastically more aesthetically pleasing.
---
PVC Patches Samples
See below custom PVC/ Rubber 2d & 3d design portfolio we did for top brands and companies.
Are you looking to order creative customized PVC Patches?
You're at the right place! Tap the button below to chat with a custom patch expert today. Whether you have a design to convert into a PVC patch, or need help creating one, we're here to assist!
Talk To Our Patch Expert Now
Related Articles on PVC Patches
Get a Free Custom Quote Today
Just fill out following quote form with all the info about your order and we will get back to you within 24 hours with a custom product quote.