Elaborate, Pliable and Pliant
Are you looking for durability, longevity, and resilience? Well, you need not look further than our diverse range of custom PVC patches.

PVC patches are much more flexible and lightweight than many in the subcategories. The reason for that is due to the use of rubber and rubber-like plastic. Since this material is used, not only can PVC patches withstand extreme conditions, but they are also water-proof. This means you can put the PVC patches through several washes without worrying about any damage.
Get a Custom Quote Now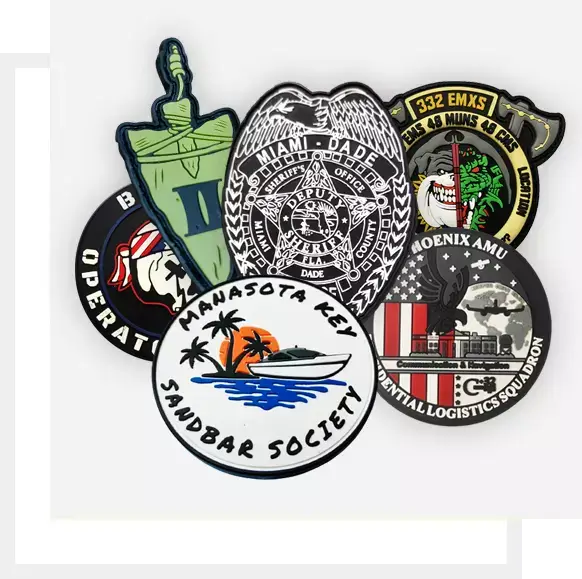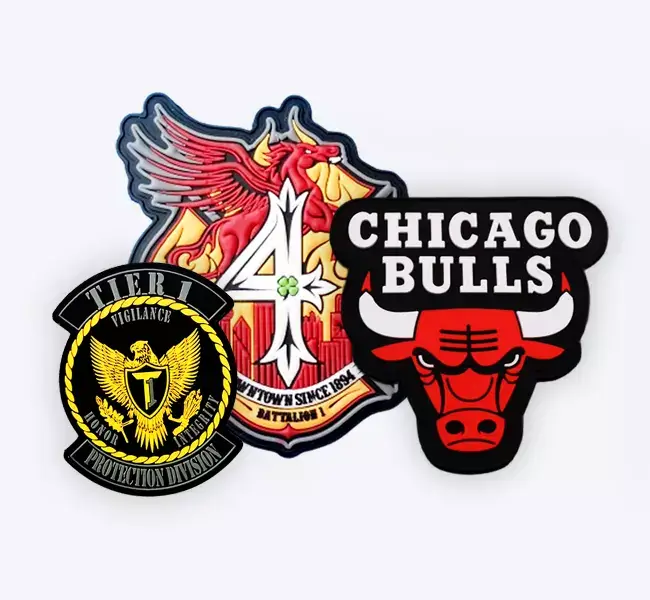 Looking for a Custom Rubber Patch Maker?
If you are thinking of creating your own PVC patch, there are a couple of things to consider before placing your order. Foremost, you will have to choose the kind of PVC patch you require. The two subcategories of custom PVC patches are 2-dimensional and 3-dimensional. For your custom PVC patch, you can either go for the flat but detailed look or the sculpted 3-dimensional look.
What are PVC Patches? Generally referred to as Polyvinyl chloride, PVC is a type of plastic material that closely resembles rubber. It can easily flex and is highly durable. There are no restrictions when it comes to the size, color, and shape of a custom PVC patch.
Request a Quote
Why Choose PVC?
Along with being excessively lasting and durable, a custom PVC patch is an exceptional choice fashion-wise. You can pair them with jackets, hats, bags, or any type of denim and create a stylish look. And since it is water-proof, come rain or shine, PVC patches will stay by your side.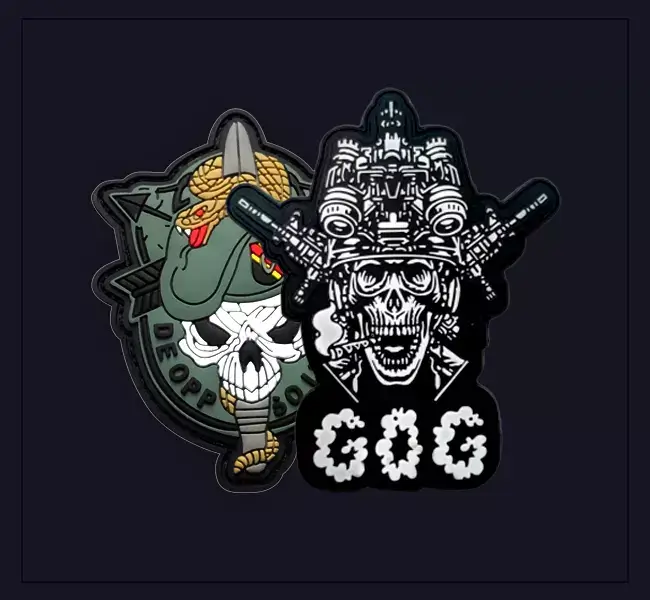 Who Needs

Soft

Weather Proof

Polyvinyl Chloride?
We at The Patchio are the proud choice for thousands in the country. Some of the customers who cyclically employ our custom PVC patch at no minimum for uniform, fashion, and equipment include:
Military Clothing
Fire & Police Department
Airsoft Teams/Clubs
Tactical Paintball Teams
Homeland Security
Tactical Equipment
Jackets, Caps, Gloves
Bags, Backpacks
Easy as 1, 2,3…
Regardless of how hard it might look, attaching custom embroidered patches, custom vinyl patches, and custom PVC patches is very easy. Due to the various backing option available at The Patchio, you have the freedom to sew or stick these patches onto your desired surface. If not, you can always opt for our custom Velcro patches option and regulate your patches according to your mood. An added advantage is that PVC patches are flexible, which means they are able to bend with the clothes.