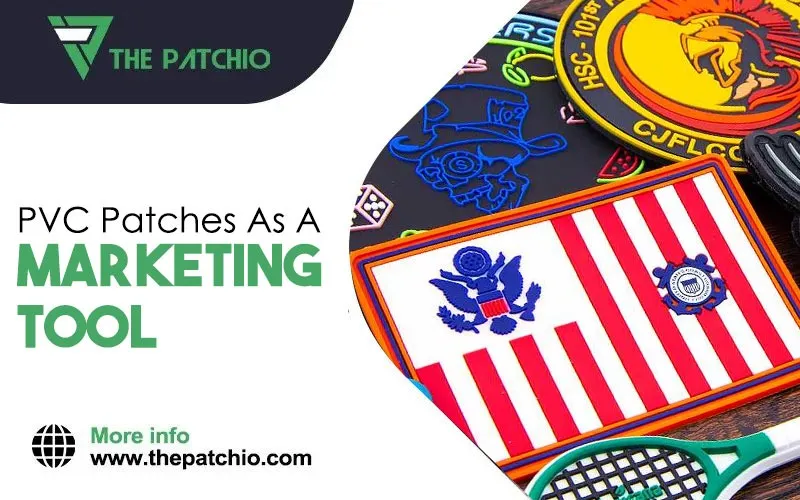 When it comes to custom patches, the most distinct kind you can use for marketing purposes is PVC patches. Custom PVC patches are different from your standard embroidered or chenille patches. Everything from the texture to the cost will differ, the finished look being very vibrant and durable.
PVC Patches – A Brief Look
What are custom PVC patches? Made out of soft polyvinyl chloride (PVC), mixed with silicon for further strength and durability, these patches can feature any kind of color or pattern. The colors are custom-mixed to get match the desired artwork and poured into molds (which may also be customized according to size and shape preferences). Since the finished product is quite flexible, it is also very versatile.
Before we head into the ways you can use PVC patches as a marketing tool, there are a few ways you can benefit from choosing these over other kinds of custom patches products.
Advantages Of PVC Patches
The features of PVC patches are unique. These are made out of a material that is entirely different from traditional embroidered, woven, or chenille patches. Therefore, you get the following benefits from having your designs turned into PVC patches as a marketing tool:
Want the brightest possible color results on your custom PVC patches as a marketing tool? Then these patches are ideal. Although the threads used in other kinds of patches are also colorful and vibrant, the finished result on PVC patches is particularly vivid. You can incorporate custom colors to your liking, and your patch artists will mix up the dyes to get the desired results.
The benefits of customizing PVC patches include the fact that moisture doesn't affect the colors or shape. Unlike embroidered or any other kind of patches with threads, PVC patches don't absorb water. These patches work very well on military service uniforms and tactical gear because these are suitable for outdoor use.
Stains, dirt, moisture, and more—PVC patches are easy to clean no matter what you get on them. All it takes is a damp cloth to clean your patch. Even in the worst-case scenario, you need just soapy water to clean the patch. In fact, one of the distinct pros of PVC patches is that these patches go well with shoes as charms because these won't present much hassle to clean.
Order PVC Patches For Marketing
Reach out to customer service at ThePatchio for information or request a free quote today.
You can go for 2D PVC patches—which have a linear form—or opt for 3D PV patches, which have a raised look due to different colors added as layers on the main surface. (read Difference Between 2D And 3D PVC Patches to learn more). As a result, the final patch product is more attractive, and you can use these for a premium branding look.
With time, embroidered and chenille patches will fade due to exposure and cleaning. Leather patches become a tad worn out (whether genuine or synthetic leather) and get an aged look. Consider PVC patches as a marketing tool because these maintain their original color and form for a long, long time. Provided these are well taken care of, particularly kept out of direct sunlight and exposure to high heat, PVC patches have great longevity.
Using PVC Patches As A Marketing Tool
Wondering if patches work for brand marketing? You may have considered these for uniforms only!
The fact is, PVC patches have gained a lot of popularity over the past few years and, now we have PVC patches as a marketing tool. Variety keeps things interesting, and the many benefits of PVC patches given above are good enough reasons to consider these as a valuable investment for branding and merchandising purposes.
PVC marketing patches can be used in the following ways for marketing your brand:
Giveaways at public events such as expositions, exhibitions, festivals, public welfare events, etc.
Part of corporate gift packages to loyal clients, partners, and stakeholders of the business
On employee uniforms, or as gifts to employees as keychains or for bags or notebooks
As a token of thanks in online orders to show appreciation for customers for their purchases.
You cannot quantify what kind of impression and how much engagement PVC patches will generate. However, there's no denying that the more visible your brand's logo, slogan, or any kind of artwork is, the more public awareness you get. Some of the ways of PVC patches as a marketing tool are cost-effective, and yet the outcome can exceed your expectations in terms of publicity, customer expansion, sales, and overall growth for your brand.
There are many ways to apply PVC patches on clothing, so make sure that start with your employees and customers when using PVC patches to promote your brand. Choosing the right artwork, size, and shape is fundamental for the visual appeal and usability of your custom PVC patches.
Custom PVC Patches At Affordable Rates
Reach out to customer service at ThePatchio for information or request a free quote today.
PVC Patches As A Marketing Tool – An Overview
The compact and lightweight design of custom PVC patches means that you can easily store and distribute these. Your employees, customer, and other people can get creative uses out of PVC patches (read How To Make PVC Patches At Home to learn more). PVC patches can be attached to clothes, caps and hats, bags, and even shoes, as well as keychains, badges, and jewelry.
In short, PVC patches are convenient, which makes them a valuable asset in your brand marketing campaign. Opt for personalized PVC patches for innovative and cost-efficient marketing efforts.
Order PVC Patches As A Marketing Tools At ThePatchio
We create custom PVC patches for all kinds of businesses throughout the U.S.—and we can create yours! At ThePatchio, we promise high-quality materials, amazing service, reasonable pricing with no-minimum order limit, and swift delivery timelines.
Reach out to ThePatchio today to order custom patches online. You can also view our gallery for inspiration.