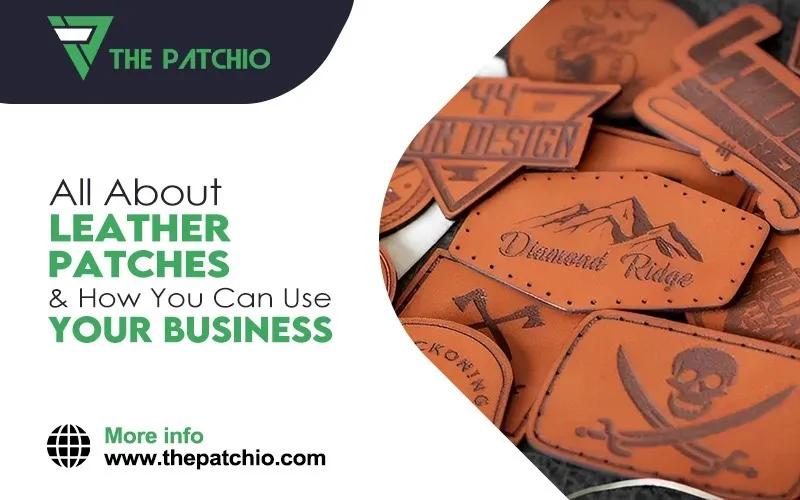 With the festive season inching closer every week, it's time to start planning the décor and clothing. To keep things interesting, we look to add something new to the festivities. Adding custom patches is definitely one of those new things you'd want to consider if you want this year's holiday fashion and décor to be edgy yet pleasing.
When traditional embroidered patches feel a bit meh, we suggest you consider the more vibrant options, the top picks being sublimated patches and PVC patches. And if you only want to pick one, we have a brief breakdown of PVC patches vs. sublimation patches for you to make your choice!
PVC Patches vs. Sublimation Patches – Get To Know
Before we get to the comparison of PVC patches and sublimation patches and debate which of these make great festive patches, let's take a look at what sublimated patches and PVC patches are made of.
Sublimation patches (also known as dye sublimation, sublimated, or printed patches) come to be when sublimation inks are transferred onto mesh backing using special printers. The process is pretty much like that of printing ink onto paper, which is why sublimated patches are best for replicating photographs on a fabric base. The uses of sublimation patches are varied for this very reason, as you don't need to stick to vector graphics to get the most visually appealing results.
Our second candidate for festive patches, PVC patches, is vastly different from sublimated patches. The material, PVC (polyvinyl chloride), is plastic-y rubber, flexible enough to be latched on to clothes and accessories. With PVC patches, you get the choice between 2D PVC patches and the 3D kind. Needless to say, these patches have a very different texture and manufacturing process than sublimated patches.
Looking For Trendy Sublimation Patches?
Reach out to customer service at ThePatchio for information or request a free quote today.
PVC Patches vs. Sublimation Patches – Festive Edition
Ready, set, go—get out your thinking caps and make a list, as we're talking about holiday décor planning. Learn the difference between PVC patches and sublimation patches in terms of festive-themed decorations to make a choice you'll love to enjoy and show off to your friends and family!
Capturing Graphic Details
When choosing artwork for festive patches, all kinds of graphics make the cut. You need vector designs for patches of turkeys, cornucopias, Santa hats, baubles, and more. You may also want a patch with images of dear friends and family. So, which patch works for what kind of graphic?
A sublimated patch is an excellent option for more illustrative choices, such as entire photographs. When you need pictures transformed into patches as they are and not as caricatures, a sublimation patch is the kind of patch that comprises minute details.
Since the design is 'printed' on the mesh backing, the replication process is as accurate as you can receive compared to any other kind of custom patches products. You can even choose images with gradients and replicate these perfectly on fabric!
As for PVC patches, these work well for vector graphics, such as clip art and lettering, but you can't go for exact replications of the art. PVC patches have a more comic book-like style outcome.
Sharpness & Clarity of Artwork
Both sublimated patches and PVC patches get points for clarity in their own way. Whatever picture you choose for a sublimated patch, high-quality printer, and inks can do a phenomenal job, and each detail will be perfectly captured. The best part about sublimation patches is that you can fit an intricate graphic into a small patch with no distortion of colors.
Similarly, you get sharp lines in a PVC patch, while the colors are distantly vibrant, the outline is vivid, and each detail is clear—even lettering.
The only aspect where PVC patches can't compete with sublimated patches is clarity in terms of size; while you may get sharp lines in small PVC patches, you may not get the clearness of small sublimated patches. You need a good-sized PVC patch for precision in small details, such as lettering.
For Sweaters & Holiday Garments
Next up in PVC patches vs. sublimation patches: festive sweaters and festive-themed sweatshirts and t-shirts, which are needed for some creativity in the holiday spirit.
PVC patches work well enough for brand logos and symbols that are directly stitched on or added as badges to uniforms and other work clothes. However, are these versatile enough for turkey sweatshirts and Santa pullovers?
Perhaps not. PVC patches are appealing, but perhaps not so much when you go big. Plus, PVC patches can be expensive, especially if you need a custom shape, such as a Santa hat. Custom molds plus larger size means a hefty quote.
Coming to sublimated patches, these patches are well-suited to holiday apparel. Think family pictures on ugly yet endearing sweaters, Santa caricatures on beanies, and even holiday-themed sublimation patch keychains. The sky is the limit when it comes to creating wearable patches for the holiday season!
Need To Order Holiday PVC Patches?
Reach out to customer service at ThePatchio to submit your design and get a free quote today.
Other Decorative Purposes
Both sublimated patches and PVC patches have distinct aesthetic appeal, and you can use each for holiday décor.
Dye sublimation patches make great photo patches for gift cushions and keychains. These patches also work well on T-shirts and sweaters for employees as Christmas gifts. The detailed print and fabric backing mean that the sublimated patch works well on all kinds of linen you want to set out for friends and family parties. When ordering sublimated patches online, make sure to choose a backing (sew-on or iron-on) that's easy to work with on different textures.
PVC patches are not far behind when it comes to charming holiday décor. We're talking shoe charms, bag embellishments, little patches you can hang up with stringy lights, patches for photo frames, and so much more! When traditional paper decorations feel too been-there-done, opt for PVC patches for memorable festive adornments!
PVC Patches Vs. Sublimation Patches—We Create Whichever You Need!
Whatever custom patch you choose—sublimation patches or PVC patches—for the holidays, we're the patch manufacturers you can turn to. At ThePatchio, we've seen and done it all—how about sharing your design with us and letting us turn it into a fantastic festive patch?
Order custom patches online today!