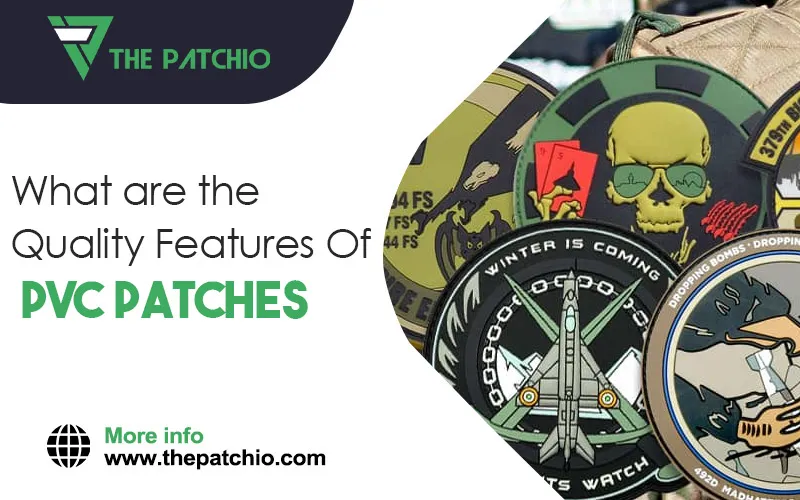 When your aim is to decorate clothing, accessories, and other useful items in a vibrant, appealing way, then there is no better option than custom PVC patches. These patches are the dimensional and durable sorts that appeal to a comprehensive market. You're looking at multiple uses, from jacket patches to boat cover patches.
Not only are PVC patches stylish, but also a step up from traditional embroidered patches when it comes to longevity. Over time, embroidered patches lose some of the original charm as the dyes fade. On the other hand, the features of PVC patches allow these to withstand wear and tear much better.
A Brief Breakdown Of PVC Patches
What are custom PVC patches? PVC patches have a flexible, rubbery feel to them, as these are crafted out of soft polyvinyl chloride (PVC). The material is dyed and shaped into patches using custom-made molds. The final product is colorful, flexible, and very easy to maintain.
If you're wondering what makes PVC the ideal source for patches that aren't made out of thread, the secret lies in the characteristics of the material.
Key Features Of PVC Patches
PVC patches comprise various qualities that make these exceptional, especially when compared to embroidery, chenille, and leather patches. These include:
The most noteworthy quality of PVC patches is their durability. Polyvinyl chloride is quite durable, hence the reason the rigid form is used in construction and building material. The flexible structure of PVC is used in patches meant to last, such as boat cover patches (read How To Use PVC Patches For Boat Covers to learn more).
Unlike embroidery threads, which will fray and fade over time, or leather patches, which will look worn out and may tear, the features of PVC patches include impressive longevity. Even after being exposed to harsh weather conditions such as heavy wind and rain and intense sunlight, PVC patches hold their form and hue.
One of the limitations of some custom patches is that complicated designs are challenging to show. One of the features of PVC patches includes the potential to capture complex designs without compromising the integrity of any lettering and patterns.
It definitely surpasses embroidered patches when it comes to definition (for a clearer guide on the difference between the two patches, read PVC Patches Vs Embroidery Patches). With PVC, minor details show up in a clear and concise manner on the final product. The picture quality has a distinct crispness—unlike any other patch!
Decorative Charms For Bags & Shoes
Tired of the same old metal charms being rusted, losing color, and breaking off after just a few trips outside? PVC patches make beautiful charms, not just because of the variety of colors you can incorporate in one design but also because the beauty lasts for ages.
(Want to learn how to decorate your crocs with PVC charms? We've got you!)
Looking For Custom PVC Patches Online?
Reach out to customer service at ThePatchio for information or a free quote. We'll get back to you shortly.
Some Amazing Benefits Of Customizing PVC Patches
We've covered some of the popular uses of PVC patches, but what makes PVC patches the ideal material? In the debate of PVC patches VS embroidery patches, PVC patches often take the lead. Here's why:
3. Vibrancy & Color Versatility
Next up, colors. Let's face it, the charm of a custom patch lies in its appearance. PVC patches are loved by artists, patch lovers, and brands alike because the colors show up beautifully. All the other features of PVC patches take a back seat to the visual appeal (at least at first), which is why these are standout custom patches products.
Polyvinyl chloride can be dyed in any color. Plus, the colors come close to what you see on the screen when you create an image file, which is why it is simple to bring your vision to life. The crispness of the design allows greater flexibility in the range of colors used.
Also, both similar and contrasting colors show up well, giving you the freedom to pick more elaborate designs.
4. Temperature Resistance
PVC can withstand heat, which is why it is used in a variety of applications, such as hot water pipes and electrical wiring insulation. Many of the features of PVC patches are similar to features of rigid PVC, including temperature resistance.
Therefore, you can rest easy knowing that your PVC patches can hold their own in hotter climates and when exposed to harsh sunlight. Many patch manufacturers also combine PVC and silicone. Silicone is famous as one of the most hardwearing materials and bears fewer differences when compared to PVC (to know more, go through What are the Difference Between Silicone And PVC).
The resulting product—from the combination of PVC and silicone—is remarkably resilient. Therefore, you don't have to worry about your patch in case it comes in contact with a hot surface.
One of the exclusive features of PVC patches is raised texture. This multi-layered effect is the reason why your artwork will show up better in a patch and much livelier in person!
The textured effect of PVC patches is what makes these patches ideal for creative work. You can make keychains and badges out of custom PVC patches. You can also decorate your sneakers and crocs with PVC patches (read How To Decorate Your Crocs With PVC Shoe Charms). The raised effect, vibrant colors, and fantastic durability mean that you can get use these on everyday items, and they won't budge from the original look.
When choosing PVC patches, consider what kind of look you want. Both 2D and 3D patches are textured, but 3D ones stand out more. You can learn more about the difference between 2D and 3D PVC patches here.
Looking For Custom Patches Online?
Reach out to customer service at ThePatchio for information or a free quote. We'll get back to you shortly.
What More Can You Find In PVC Patches?
Different patch makers can offer you extra incentives for PVC patches. At ThePatchio, we do PVC patches in a variety of shapes and sizes. The benefits of customizing PVC patches with us is that you can choose patches as small as 2 inches or as large as a whopping 15 inches.
You can also go for any shape and color combination. We cater to individuals, artists, and brands around the U.S., which means that we've seen it all. No patch is too complex for us, so feel free to test us out! You can also order minimal patches for an art project or for making keychains and badges at home. Read How To Make PVC Patches at Home for fun and creative ideas.
Order Your PVC Patches At ThePatchio
Reach out to the experts at ThePatchio with your design for a FREE quote for PVC patches. We are dedicated to quick and efficient services. You can order your custom patches online from us without the hassle of a minimum order limit. Contact us today!