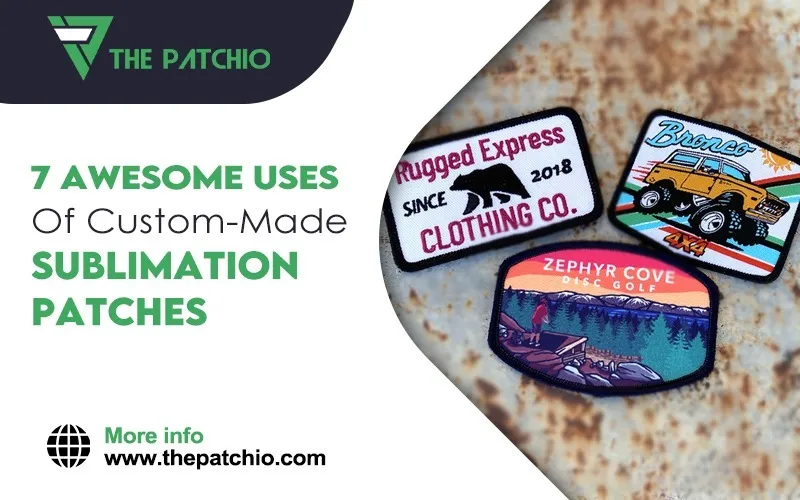 When there's a world of custom patches out there and you're looking for something most edgy of the lot, go for customized sublimation patches.
Order custom patches online, choose sublimation as your type, and you get artful pieces that feature each and every detail of the design you chose. Hence, the reason why these patches are also known as printed patches; sublimated patches resemble the appearance of colors on paper but are based on a mesh background.
And there's more—the uses of custom-made sublimation patches are endless. Let's find out just how versatile these are.
Top Uses of Sublimation Patches
Discover several ingenious uses of custom-made sublimation patches, as these pieces not only turn out fine-looking but also last for a long time. You can choose sublimation patches or printed patches for personal use or for your business.
1. Creative Keychains & Pins
While most custom patches can be converted into keychains, there's a catch.
You can't go for intricate designs in a small-sized patch, or the final look may be a jumbled mess. There's little room for more details, even in woven patches, which are crafted out of finer threads.
Add keychains and badges to the uses of sublimation patches, as these patches can capture the minutest patterns and letterings…because the whole design is printed! Where embroidered, chenille, or woven patches fall short of resulting in a clean and crisp design in smaller patches, sublimated patches showcase each color and line precisely.
Whether you need to create artsy keychains for your brand or pins to support a cause, go for sublimated patches!
2. Holiday Picture Sweaters
Festivities are a time for friends and family, and what better way to appreciate your loved one than with matching sweaters that—you guessed it—have sublimated patches.
While you can go for the same old turkey or snowman knitted sweaters for the holidays, wouldn't it be much more charming to wear sweaters presenting a group photo, perfectly recreated in thread, of those whom you cherish?
You can also get sweater dye sublimation patches with portraits during other events such as birthdays (with a picture of the birthday boy/girl, of course), bridal showers, and more.
Do You Want To Order Custom Sublimated Patches?
Reach out to customer service at ThePatchio for information or request a free quote today.
3. Bags & Books Decorations
When stickers feel too ordinary for books and pins are too "stabby" for bags, how about choosing something more innovative—sublimation patches!
As embellishments for bags, notebooks, journals, and other academic and pastime materials, you get such creative uses of sublimation patches.
When placing an order for these patches, make sure to choose the correct backing. For fabric totes, you can get sew-on or iron-on patches. As for books and journals, backless patches are perfect because you will an adhesive you add these to the desired surface.
4. Bachelor/Bachelorette Party Mementos
We're running out of ideas fast when it comes to bachelor and bachelorette parties. Everything seems been-there-done-that. The uses of custom-made sublimation patches is still an uncommon introduction to these occasions…and an innovative one!
The clarity of sublimation patches is unrivaled, which is why you choose these when you get party mementos—whether it's T-shirts, scarves, caps, etc. Printed clothing is no match for printed patches on clothing, as the dyes are more vibrant and lasting, and the overall look is beautifully uniform.
So whether you need a patch of the bride or groom-to-be, of two best friends as the maid of honor or the best man organizing the fun affair, or for creative quotes for the occasion, sublimation patches are the way to go.
5. Uniform Patches For Your Brand
If your brand logo bears intricate details that never seem to come out well on traditional embroidered or woven patches, then dye sublimation is the answer to your problem.
Employee uniform patches—and any other kinds of business patches you need—will look sophisticated if you go for ordering sublimated patches online. Here are a few reasons why:
While printed jackets, T-shirts, or any other part of the uniform are prone to quick fading after just a few washes, sublimation patches last longer.
Also, sublimation patches are easy to apply. You can select any kind of backing that's more convenient and cost-effective, be it sew-on, iron-on, or Velcro backing.
With sublimated patches, you can go for gradients, a unique feature that helps get all the details or your logo just right!
Looking For Affordable Personalized Dye Sublimation Patches?
Reach out to customer service at ThePatchio to request a free quote for printed patches today.
6. Printed Patch Pet Collar Tags
Looking for more practical uses of sublimation patches? If you need a creative and pretty collar for your pet, a dye sublimation patch is an excellent idea!
Though you can use other custom patches products for cute dog or cat collars, printed patches are much more ideal. Since you can add details like the pet and owner's name and address in case the pet goes missing, a printed patch is quite helpful.
Minute details are tough to get on embroidered patches or other patches that are created by stitching, which is why sublimated patches are now exceedingly popular amongst pet owners.
7. Emblems With Comprehensive Lettering
While most logos and emblems bear an image and name, some emblems are more complex. The more words and numbers, the less likely it is that your design comes out well when embroidered on the backing.
Therefore, one of the many popular uses of sublimation patches is emblems with detailed lettering.
Since the benefits of sublimation patches include both intricacy and vibrancy, these are also perfect for making rank badges, such as those in law enforcement and military organizations or president and leader patches in schools and colleges.
ThePatchio – Your Experts in Superb Sublimation Patches
Order high-quality dye sublimation patches at affordable quotes from ThePatchio. As experts in the art of patch-making with happy business and individual clients, we've got what it takes to provide you with top-notch printed patches.
Reach out to us today for a free quote!