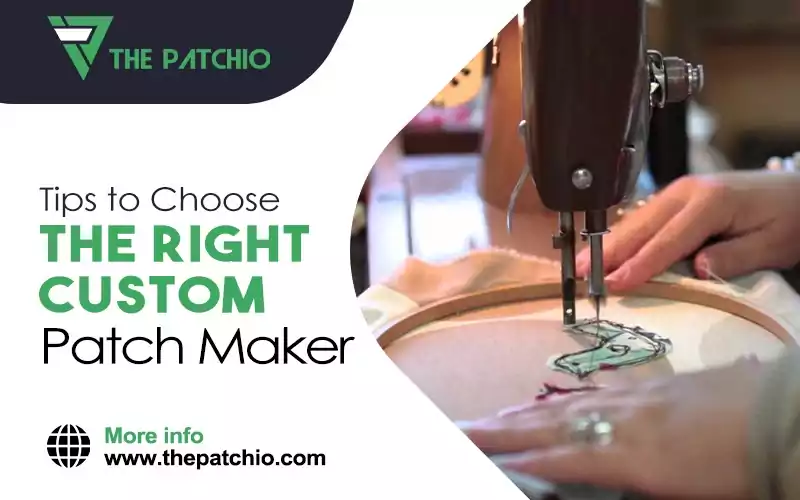 You have got that tender approved for 50,000 uniforms of army brats, or a construction company workforce dress code. You have found out the fabric vendor, tailor but now worried with the tiny monogram or patch to be displaced on the shirt front. If the embroidery is done with a cheap thread, all the value of the uniform would be lost. Isn't it?
You are thinking right. It is incredibly important to have the right custom patch maker onboard. The one who knows the importance of a patch; thus, design it accordingly with the finest possible way. The one who knows how to play with the thread and knit in a smaller space and give it the final perfect outlook.
Thereby, whether you need embroidery patches to symbolize vital information or design a corporate logo to get recognized. Or to develop a sense of uniformity you need to have the right patch maker onboard for the job.
If you are new to this, placing a custom patch order is a true hack. You cannot entrust the job to just any company. As various firms are claiming to be the best embroidery patch provider; however, they are not. Thus, it's important to do your research.
Furthermore, it is highly unlikely that your intended job would be completed according to your directions. As a result, selecting the ideal firm is a difficult task.
As a result, finding the finest custom patch maker to provide you with the greatest service that meets your expectations at a reasonable price might be difficult. We have compiled a list of pointers to assist you in choosing the right custom patch maker.
Tips to Choosing the Right Custom Patch Maker
Consider Company's Product Quality
Custom patches should not be stitched on your staff uniform or other clothing because they will fade out after a few washes. You should inspect the materials used by the company you want to hire. Check customer reviews to see if there are any complaints or other feedback that can inform you about the quality of their products, customer service, and even delivery time.
Consider Company's Product Variety
Everything in this era of advertising revolves around distinctive and original concepts. The range of personalized patches available from a company should allow you to personalize your identity in your own unique way. You should also confirm whether the company has sophisticated computer-controlled embroidery machines or not. Quality work necessitates the use of high-precision machines.
The bottom line is to ensure that the organization offers a variety of patches. A company should be able to give anything from custom patches to embroidery digitization in high quality. The more the company's variety, the better it would be.
Consider the Company's History
When it comes to hiring specialists, experience is important because the longer someone has worked in an area, the better they understand how to work on it. Nevertheless, this does not indicate that newcomers are incompetent. A company that has been in business for a long time and has long-serving personnel has developed the best procedures for designing and stitching patches on your apparel.
These businesses can create custom patches for you in any way you like. Furthermore, an experienced firm understands the significance of customer communication. Many clients have expressed dissatisfaction with the difficulty in communicating their ideas to various custom patch makers. They claim that while working with other bespoke patch makers, they were kept in the dark about the production process. Customer happiness is important to an experienced organization, which is why they priorities their customers.
Consider the Prices
The best custom patch firms charge reasonable charges based on the patch design's complexity and the materials used. Furthermore, they save some charges that are disadvantageous to the customer, such as a setup fee. And, to sweeten the bargain for customers, they do not have a minimum order quantity, so a buyer can acquire only one patch. On the other hand, they provide higher discounts on large orders, allowing clients who buy in bulk to benefit from lower pricing and savings.
It is also crucial to understand that you should never have to pay for a project before receiving the artwork. The price will vary depending on the number of thread colors used in the design, as well as the size of the pattern.
Consider Timely Delivery of the Products
Only if the patches prepared and manufactured by any custom patch maker are given to you on time will allow you to use them. To do so, you must examine and certify that any patch maker's items are delivered on time.
We realize how aggravating late delivery could become, which is why we recommend working with a provider that establishes realistic expectations and meets them. This is a crucial point to remember when choosing the right custom patch maker.
Need More Information?
Request a quote. We will get back to you within 8-12 hours with a custom product quote.
Consider Company's Customer Service
Another thing to think about is providing excellent customer service because custom orders without customer service may be considered a ruse. To ensure proper personalization, you must keep in touch on a regular basis.
If the placing orders do not meet the supplied guidelines, reputable companies offer money-back guarantees and replacement orders.
Consider the Shipping Costs
Many businesses in the United States have varying regulations regarding shipping costs. To ensure that you do not have to pay any money to have the patches sent to your location, check to see if they offer free delivery of the personalized patches that you have ordered. To avoid overspending, you should also look for any other hidden fees.
Conclusion
You need your design to be stitched and precisely cut for a high-quality final product.
It is hard to select the best company because, with the exception of a few, all vendors are reliant. In the end, all you want is high quality, low prices, and responsive customer service. The Patchio strongly stands with its mission to satisfy its customers through creativity. Therefore, we are always here to assist you. If you need more information related to choosing the right custom patch maker or anything else, feel free to contact us.