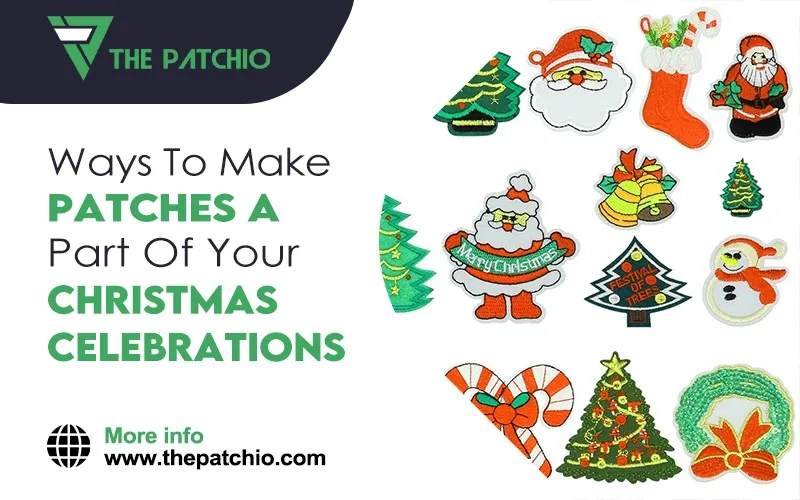 Looking to add some uniqueness to Christmas décor and gifting this year? When you've worn out all standard options—it's time to test your creativity and add custom-made patches to the mix!
With the holidays fast approaching, order your custom patches today. You can go classic with custom embroidered holiday patches for sweaters. If you want varsity jacket-like rugged patches, chenille patches are your thing. Sublimated patches are perfect for replicating photographs for hoodies and caps, while PVC patches make great keychains and shoe charms.
No matter what kind you choose, you can make patches a part of your Christmas celebrations with charming results!
Christmas Celebration Patches: Ways To Decorate, Ways To Gift
Just as you can make Thanksgiving feast more exciting with patches, you can up the joy of Christmas with custom patches. Hang these, stick on stuff, sew on matching jammies, and more—the applications are endless!
Here are some simple yet superb ideas for you to make patches a part of your Christmas celebrations:
Craft Patches Into Tree Hangings
Out of creative ideas for tree ornaments for this Christmas? Here is an amazing idea: patch hangings!
The best part about adding patches to your Christmas tree is that you don't have to settle for generic holiday-themed baubles. Instead, you can add loads of personal touches to your tree. Design your own Christmas patches and convert these into PVC patches. One of the quality features of PVC patches is that they are easy to clean and very durable—perfect alternatives to traditional ornaments. Send some out to your close ones to share the joy.
For tree ornament patches, go for sew-on backing (backless) patches. You can easily order wire hooks online or get some from your nearest arts and crafts store. Sling a small wire loop through each patch, and hang from the tree branches.
Make Wall Hangings With Patches
Cutouts are fun, but patches take things to a whole new level. Create trendy embroidered patch designs for Christmas on illustration software on your laptop—Santa, snowflake, snowman, candy cane, reindeer, and more!
Next, submit these to patch manufacturers to convert into mini patches. Alternatively, you can get larger patches, but these may cost more and become trickier to hang.
If you want patches to stick to doors and window frames instead of hanging them, stick-and-peel backing is what you need to ask for. These patches are also very easy to apply on your laptop, notebook, gym locker, or anywhere else where you'd like to add some festive cheer!
Need Custom Patches For Christmas Online?
Contact customer service at ThePatchio for information or request a free quote today.
Create Christmassy Picture Frames
When it comes to Christmas, there's something magical about decorating each and every bit of your home. So, let's do it. Next up: make patches a part of your Christmas celebrations by combining them with picture frames!
If you have any empty frames lying, or those you've wanted to update for some time, add a beautiful Christmas-themed patch to these for this festive occasion. For the graphics, you can opt for simple snowy or Santa artwork, or funny Christmas quotes or puns.
Amongst the many sustainable and creative uses for embroidered patches are picture frame patches; you can use these for Christmas for a few years till they wear out. Christmas patches in picture frames are ideal for decorating, as these are easy to execute, enhance the aesthetics of your place, and make entertaining conversation starters for your holiday party!
Adorn Cushions & Pillowcases
One of the easiest household items to target when you want to satiate your Christmas décor bug is to decorate your cushions and pillows. But new covers can be a time-consuming purchase. How about adding patches to any cushion covers and pillowcases you have in white, red, green, or other holiday-themed colors or patterns?
You can sew custom patches on linens, but a far less straining way is to get iron-on patches and attach these in a couple of easy steps.
You can also adorn tablecloths, towels, aprons, and other fabrics with iron-on patches. get embroidered patches with holiday graphics, or get letter patches to assemble into holiday wishes or puns!
Add Patches To Party Invites
Make patches a part of your Christmas celebrations from the get-go. A thoughtful party invitation sets the tone for an unforgettable event. If you are hosting a Christmas dinner this year, consider inviting your guests with beautiful patches.
Create a patch with a one-liner for the invitation, or add the patch to a card for the guests to wear on clothes or accessories when they come over. Iron-on patches work best for effortless applications, but if you want to give something that's less permanent, add backless patches to pins to create Christmas badges. One entry per patch, set the rule!
Add To Stockings, Sweaters, Scarves, And More
If you like decorating every nook and cranny for Christmas, including the people around you who are celebrating the holiday, patch up wearable items this Christmas!
Make patches a part of your Christmas celebrations by adding these to clothes, bags, shoes, and more. You can add chenille or embroidered patches to stockings that you hang and scarves that you wear. Furthermore, you can add sublimation patches to Christmas sweaters, continuing the trend of cliché Christmas family pictures with matching garments, but with a more innovative spin this time around.
Embroidered patches work perfectly if you're converting vector graphics into patches. If you prefer replicating entire photographs into patches, go for sublimation patches.
Looking For Christmas Celebration Patches?
Contact customer service at ThePatchio for information or request a free quote today.
Give As Holiday Gifts Or Mementos
Make patches a part of your Christmas celebrations…and others' Christmas celebrations too!
Christmas-themed patches are fun, so why not share the joy? You can get custom patches as giveaways at your Christmas party, or add one to each gift along with a card. Kids will love custom patches with vibrant graphics of all the classic Christmas characters, and adults can appreciate the gesture—plus get something to decorate!
You can also get custom patches as gifts or decorations for the workplace. Hand these out to employees or colleagues to add some festive cheer to their desks. Add holiday patches to employee Christmas cards, preferably customized to appeal to each person who receives them.
Get Christmas Celebration Patches From ThePatchio
We're more than qualified to create amazing Christmas celebration patches for you. Embroidered, chenille, PVC, or sublimated patches, whatever you need, we're the experts who can turn graphics into stellar customized patches!
Submit your holiday-themed design at ThePatchio, and we'll transform it into high-quality, durable patches that'll be a joy to use!