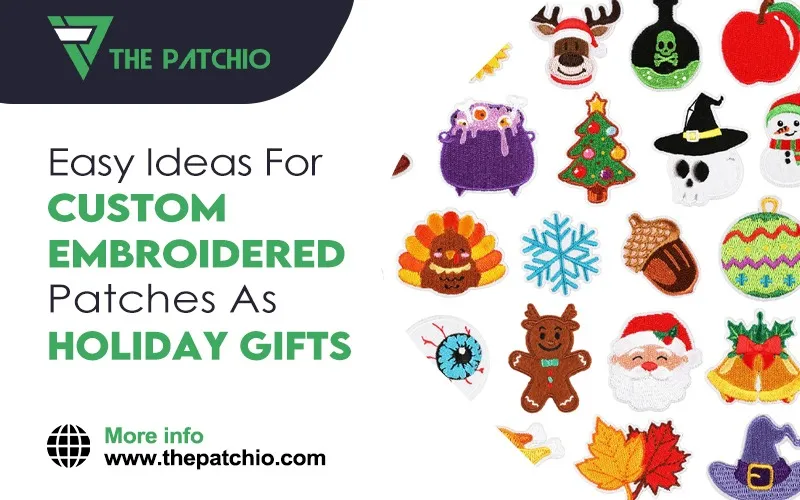 Year after year, you've given great gifts to your loved ones, only to dwindle down to the end of your list and find that you have no more innovative ideas about this year's presents. How about this time around, you get something more personal?
We're talking about custom embroidered patches as holiday gifts! These patches are not just for uniform emblems and company logos on T-shirts and caps. Put your creativity to the test, come up with a kickass design for custom embroidered patches, and add these to various items that you feel will be cherished the most by whomever you gift to!
Simple & Delightful Embroidered Patches Gifts Ideas
Why embroidered patches are perfect for making gifts special? The personal touch you add with a custom patch to a gift trumps any store-bought-and-wrapped-up gift. Although you aren't making the patch yourself and adding these patches to a generic item, the process of creating embroidered patches as holiday gifts still requires effort…not to mention creativity and thought into shaping the gift specifically for people you care about!
That said, we're presenting to you easy embroidered patches gifts ideas. What's your pick for this festive season?
Quirky Matching Family Sweaters
Let's start with a classic any time you want to customize something for gift-giving: holiday-themed sweaters. Whether we are talking turkeys for Thanksgiving, Santa hats for Christmas, sparkles and champagne glasses for New Year's, or the traditional classic snowman figures—there is an endless array of ways to design custom embroidered holiday patches for sweaters.
Go for professional stitching if you want your patches to last for years. You can also hand-stitch sweater patches. Embroidered patches are perfectly suited to sweaters more so than any other patches because, first, you can get more intricate designs unlike chenille patches, and you can also apply these elegantly since it is easier to conceal any errors in stitching in the patch's embroidery.
Funny Slogans On Caps & Beanies
You simply can't go wrong with embroidery patches for beanies and hats. With slogans. You can make these funny or opt for something creative. But one of the best tips for designing embroidered patches for caps and beanies is that you should add a personal touch.
Embroidered patches as holiday gifts are most cherished when these resonate with who you're giving them to. For caps and beanies, you can go for funny graphics too. Combine holiday-themed artwork with an inside joke. Or you can go simple, yet impactful, and combine a bunch of letter patches to create a slogan that will make your gift one of the most treasured belongings!
Looking To Order Custom Embroidered Patches Online?
Contact customer service at ThePatchio for information or request a free quote today.
Keychains With 'Best' Statement
"Best Dad" and "Best Grandma" mugs are cute, but very common and something you've probably covered in gifting at a birthday or a previous holiday. How about 'Best' keychains instead? More specifically, go for embroidered keychains.
You can try out a vast range of color combinations. Go for a printed holiday-themed background with metallic lettering upfront. Goldens and silvers are leading embroidery patch trends, as these look ethereal on both plain and printed backgrounds. Whether you pair classic Santa red with golden lettering or Conifer green with silver, you're sure to get a superb design!
Embroidery Linen For Décor Enthusiasts
Know someone who loves new cushion covers, towel sets, and other types of linen? Embroidered patches make beautiful embellishments for home linen, especially for cushions and pillow covers.
You can get large embroidered patches for adding on front and center on a cushion, or for smaller patches to scatter around on a single piece of linen, such as snowflakes or mistletoe on a towel or pillow cover to create a minimal yet gorgeous look.
For home linens, you can choose both sew-on and iron-on embroidered patches products. It's easier to apply larger iron-on patches on cushions and pillowcases. Additionally, iron-on patches work well for towels if you don't want any untidy sewing trails on the other side.
Appreciation Patches…On Anything
Looking to gift custom patches at your workplace? Consider appreciation patches, but in more of a festive way than a formal good-job-ish way!
The holiday season comes around near the end of the year, and there is no better time to show some gratitude to those who work with you or for you. Take trendy embroidered patch designs for Christmas and add quotes and slogans that show just how much you value your professional acquaintances and friends.
Need Embroidered Patches For The Holidays?
Contact ThePatchio for information or request a free quote today!
Designs & Drawings On Tote Bags
Tote bags are one of the best gifts you can give, as their role in minimizing the use of plastic bags is significant. Plus, consider a blank tote bag as your canvas, where you get to go nuts with your favorite holiday-themed graphics. You can use totes with embroidered patches as holiday gifts throughout the year, on any occasion.
The process of adding embroidered patches is quite simple. Look for ideas online for getting the perfect embroidered patch design, and determine a size. For tote bags, you can add a large patch in the center for a loud look, or go sweet and minimal with a smaller patch at one corner.
Vector graphics work best for embroidered patches for clarity. Keep your colors and patterns simple for smaller patches, whereas you can choose more intricate designs for larger tote bag patches.
Standalone Keepsake Patches
If you want to give embroidered patches as holiday gifts, but can't decide on a good medium to attach these on, how about standalone patches? Order patches that reflect the personalities of each of your holiday gift recipients, and let them decide how they want to use these.
For standalone patches, you can add an adhesive layer or stick-and-peel layer for easy usability. Choose bright, bold patches for lively individuals, while something simple and more thoughtful for serious persons. By giving a gift that matches their personality rather than picking a random cliché item from the gift store, you give something that will be close to the heart!
Order Embroidered Patches As Holiday Gifts With ThePatchio
With the holiday season fast approaching, it's the best time for you to get started on planning embroidered patches gift ideas. Submit your designs to ThePatchio, and we'll take it from there!
With our extensive experience in producing top-quality patches, we're more than certain that we will meet and exceed your expectations. Reach out to us today to get started!