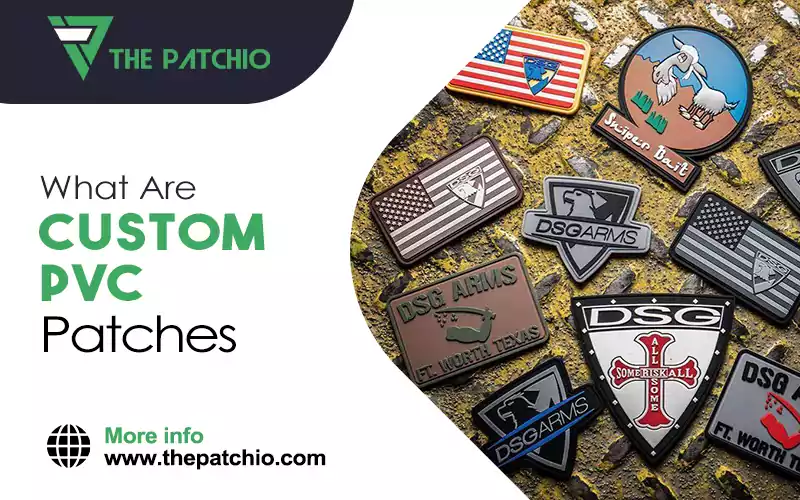 An alternate to embroidered patches:
Embroidered patches have been replaced by PVC patches, which are a more modern option. PVC patches are a more contemporary alternative to embroidered patches. These patches are considered a preferable choice for outdoor use.
If you're searching for a durable, eye-catching approach to bringing your design to life, custom PVC patches are the way to go.
These rubber-like patches are constructed of waterproof Polyvinyl chloride, which can endure extreme temperature changes. They're inherently waterproof, so your logo can be seen all year long, even in harsh conditions.
Custom PVC patches are therefore the ideal choice for outdoor activities as well as military or morale patches.
Enhances creativity of your design:
PVC patches offer your logo and unique design, greater creativity. The color of PVC patches won't fade, crack, or peel, making them ideal for military PVC morale patches, outdoor use, and sports, among other things. 3D custom PVC patches may add depth and dimension to your design while also being very easy to clean with a wet cloth.
You can use a PVC patch that comes with a variety of backing options, but among them, the Velcro backing is the most popular.
There is no limit to how many colors you can use on these patches therefore, you can use as many as you want. This feature helps you make your design stand out from the crowd or among your competition.
Unlike simple embroidery patches, PVC patches are waterproof and never fade or lose their color and peel. This property them perfect for military morale patches, outdoor use, and athletic events.
No restriction for colors and designs:
There is no restriction to the number of colors, you can use multiple colors on these patches according to your desire. This feature can help you make your design stand out among your competitors.
These types of patches are available in practically various sizes. In size, it ranges from a half-inch logo to a fifteen-inch logo patch.
For those companies or individuals who are searching for a distinctive and rough design for their patches, no doubt PVC is a popular choice.
Rough yet stylish:
PVC patches are impervious to rain, snow, grit, and other factors. PVC patches are also trendy nowadays, which adds importance to their appeal.
Multifunctional:
These patches can be used for several purposes. They endure a long time, are multifunctional, easy to clean, stylish, and keep their form and color.
They're constructed of soft, sturdy plastic and available in a variety of colors to complement your personalized design. PVC patches are highly durable and are perfect for outdoor use. PVC patches are light but strong, making them ideal for outdoor application.
These patches are composed of high-quality materials that assist them to withstand any environment or temperature. PVC patches do not degrade therefore, they are perfect for people who plan to keep their patches for a long time.
Why Is PVC Used?
People and their possessions may be easily identified thanks to custom PVC patches. This sort of patch (PVC patch) is ideal for jackets, bags, hats, backpacks, and others because it is made of waterproof material.
The most important thing that draws attention towards PVC is there three properties: colors, shape, and material quality.
The size and thickness of the PVC patches are managed according to the requirement of the clients and their total budget.
Patching is a straight forward and quick procedure.
Patches made of PVC are easy to attach to clothes and equipment. They're also ideal for nearly any event, because of their versatility, durability, and ease of cleaning.
PVC patches are great for one-of-a-kind patterns and have a rough appearance that makes them appealing. PVC patches are for those who want a fashionable and long-lasting appearance.
Sewing, glue, or Velcro can be used to secure them to the material. Many customers appreciate the fact that they can remove the patch and put it on different garments and accessories. As a result, Velcro backing is still popular. Many PVC patches include a stitching groove on the edge of the patch.
Need More Information?
Request a quote. We will get back to you within 8-12 hours with a custom product quote.
Best alternate:
If you don't want to sew, PVC patches with a Velcro backing can be made instead. This makes it simple to apply and uninstall (unsew) your patches.
2D and 3D patches designing:
Aside from 2D dimensions, 3D dimensions are also available to enhance the appearance of your PVC patches.
When to go for a 3D patch?
You can add a 3D dimension to your favorite patch if you want it to pop and make it more visible. By this 3D patch, your logo will be highlighted and appear more alive. It is because of the sculpted style use in this process. The entire concept of adding 3D into a patch design is highly dependent on the material, and threads.
When to use a 2D patch?
When you don't want to cross the budget and still want to stand out, go for 2D dimension patch designing. It helps you design your primarily text-based patch. This is ideal for basic designs and logo patches with a variety of bright color hues. A 2D patch is not as good as 3D because it lacks a sculpted effect.
Why are PVC patches gaining more popularity?
Embroidered variants were the only ones available a decade ago. However, they have several flaws, such as fading, becoming scruffy, and tearing with time.
This is not something anyone would desire because everyone wants durability and quality. Furthermore, embroidered patches do not stand out as much as PVC patches do. PVC patches are impervious to most of the issues since they are water-resistant, are washable several times, and especially do not shrink.
Custom PVC patches are well-known for their vibrant colors and fine detail. PVC patches are superior to any other form of a patch for incorporating tiny inscriptions. These are some features that give PVC patches an upper hand over other designing methods.
When it comes to custom patch design, PVC patches are known as game-changers. PVC is the only way to go if you want a patch design that shines. As compared to PVC, embroidered patches offer a more textured surface due to the embroidered thread that makes up the artwork.
Applying procedure:
PVC patches are attached to garments, uniforms, and luggage by sewing them directly on. People sew patches onto their garments in a variety of ways. The sewing requires the use of thread, glue, and some type of backing material, such as iron-on adhesive, sew-in snaps, or adding velcro backing.
Note:
Always investigate the services that patching service providers give. You can also request samples to have a better knowledge of their design standards.
If you want to learn more about custom PVC patch designs, read this article. It will also help in choosing the right custom patch maker for your needs according to your requirements.
Conclusion:
Law enforcement agencies, clothing industries, and military units, all utilize custom PVC rubber patches. They are a cost-effective method to add your brand to apparel, luggage, and other things.
Most PVC custom patch service providers use to make embroidered patches for multiple businesses. PVC patches or patterns, on the other hand, are currently at the pinnacle of the present trend.