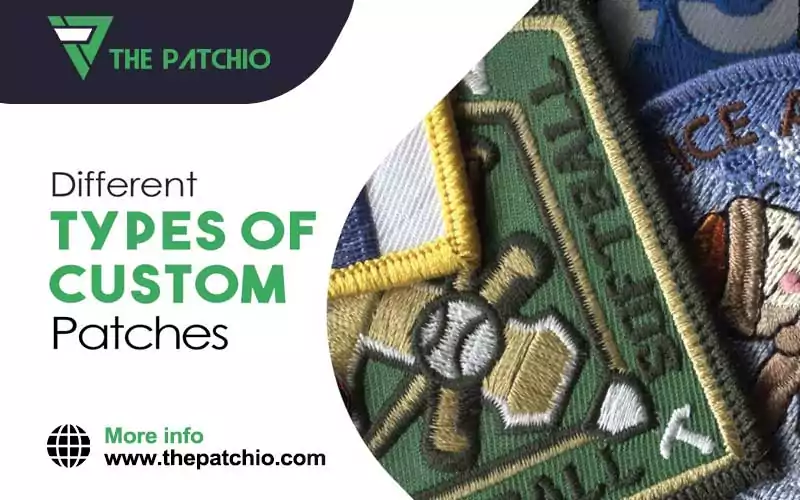 When you stich a design on fabric; as a result get a wearable work of art that stands out; the art is known is as designing custom patches. These have been the most traditional and popular patches in the market from a prolong time. Having a long history, there have been various types of custom patches available. Even it becomes difficult for you to choose from an extensive list. However, picking up the best becomes easier if you are familiar with certain aspects such as cost, material, turnaround time, durability, texture, and so on.
We suggest whether you need patches for military uniforms, sports jerseys, or club coats, be assured that you have the right material and backing. Furthermore, we have jotted down a list of different types of custom patches below:
Patches with a Plastic Backing
Plastic backing is used for the most conventional, stitched, and dye-sublimated patches to provide stiffness and help them maintain their shape over time. Plastic being thin enough, the patch is flexible and can be stitched over any cloth. Thereby, plastic-backed patches maintain their rigidity and form over time while being thin enough to sew into a variety of clothing.
However, they too have few drawbacks like the plastic back adds longevity and ensures that your patch maintains its quality for years to come.
Need More Information?
Request a quote. We will get back to you within 8-12 hours with a custom product quote.
PVC Patches
PVC Patches are one of the important types of custom patches. Patches made of PVC are a more contemporary alternative to embroidered patches. They're composed of durable plastic that will last a long time. It comes in a range of colors and gives your personalized design a look and feel that embroidery cannot equal. PVC is the material to choose if you need waterproof materials that can endure both high and low temperatures.
PVC patches are replacing embroidered patches. Also, they are available in two styles: 2D and 3D. They look appealing due to their one-of-a-kind craftsmanship that complements their uniqueness. Thereby, it is a fantastic alternative if you're seeking one-of-a-kind gifts for your friends.
Name Patches
This type of patch is frequently seen on work shirts at chain stores and factories, where formal ID cards aren't always used. This type of custom patch is straightforward, with only two color options. As a result, name patches are inexpensive and can be bought in large quantities for your company. In a nutshell, streamlined, basic, and functional—ideal for the uncomplicated office!
Printed Patches
The production procedure for printed patches is more complicated, but you can use them for any design. For printed patches, a blank twill base is utilized, and the pattern is printed directly, using a sublimation dying method. Printed patches hold a great place among the important types of custom patches. As a consequence, the colors merge seamlessly into the foundation, giving the illusion of a level surface.
Furthermore, these are wearable designs with a lot of details that are used to print on t-shirts. They are ideal for time-sensitive tasks with tight deadlines or when you just want a photograph on a patch.
Woven Patches
They are similar to embroidered patches because both utilize thread to add detail, however, woven patches use thinner thread. Because the bespoke patch lacks a twill basis, the texture isn't elevated in the end. Woven patches offer many of the same benefits as embroidered patches, but due to the tighter weave, they include more elements, such as small text (in the same amount of space).
On the other hand, downside is that they lack the texture of embroidery, although this isn't a problem for little letters.
Sew On Patches
Heat-sealed, plastic, velcro, or adhesive-backed patches are less flexible and difficult to fold and store than sew-on patches. Sew-on patches have exposed threads on the back and maybe sewn onto clothing or other fabrics for long-term use. Also, these patches are lightweight and flexible, making them ideal for bulk storage. Sew-on patches are more durable than glue or sticky patches.
Magnet Patches
Magnet-backed patches have a thin sheet of magnetic material attached to the back. The patches may stick to any metal surface after they've been applied. Place an opposing magnet behind the garment material to create a detachable patch for wearables. The magnetic backing allows to adhere your patch to a variety of surfaces, including clothing and objects.
Embroidered Patches
Embroidered patches are one of the oldest types of custom patches. With hundreds of thread colors to match your brand or picture, embroidered patches are the perfect mix of cost, durability, and creative freedom. Due to their unique texture, certain patterns jump off the patch with true depth. Embroidery patches are also easy to create, so they'll fit into your schedule.
Chenille Patches
Custom chenille patches are often used for writing and emblems on varsity jackets. They are fully textured and feature a warm, classic style. Chenille patches are perfect for producing vibrant, energetic fleecy motifs with a vivid and whimsical finish. Moreover, chenille patches are old, but they're also trendy right now. These fuzzy threads do not successfully reveal detail; instead, bright, colorful goods with simple lettering or design stand out.
Leather Patches
Custom leather patches are irregularly shaped pieces of leather that are often affixed to ordinary goods and are embossed or printed with names, logos, or trademarks. Jackets, caps, bags, blankets, beanies, shirts, and have many more benefits, you can get from these patches. Furthermore, opting this type allows you to also get a number of attaching and backing choices.
Leather is one of our most adaptable patches since it can be made to appear both rough and beautiful. We provide luxuriously thick skins and imitation leather, as well as alternatives like personalized logos, rivets, and more, to clients looking for a low-cost or vegan alternative.
Bullion Patches
Wire stitching, which adds sparkle to any pattern, is the distinguishing feature of a Bullion Patch. These patches also have a 3-D look due to their unusual materials. Blazers, shirts, and bags get a polished, iconic touch with custom bullion patches.
Elite clubs, military outfits, golf clubs, fraternal societies, and other institutions that want their logo to stand out utilize bullion crests. Bullion crests employ gold and silver wire beads to provide dimension to the artwork. In addition to this, gold and silver metal threads provide weight, texture, and eye-catching appeal to these patches. These have an obviously high-end appearance, but they take time to make by hand and aren't cheap, but they're well worth the investment.
Adhesive Backing Patches
Adhesive backings are easy and uncomplicated ones, however, they are not as durable as other types of patches. Sticky adhesive backings are made by gluing the back of a patch and then covering it with peelable paper that may be removed after application. These patches seem like stickers, however, the glue used is considerably stronger than normal sticker glue.
Final Words
Custom patches can be used for a variety of purposes. They may be used as a marketing tool or as a method to show off your own style and personality. Patches are also great for branding, which can assist any business, club, or group that can get their name out there. Patches have become a popular method to show out what you or your company stands for. Patches can also be used to commemorate a special occasion or a loved one. Motorcycle clubs, sports teams, and other groups make one-of-a-kind patches to commemorate historical events.