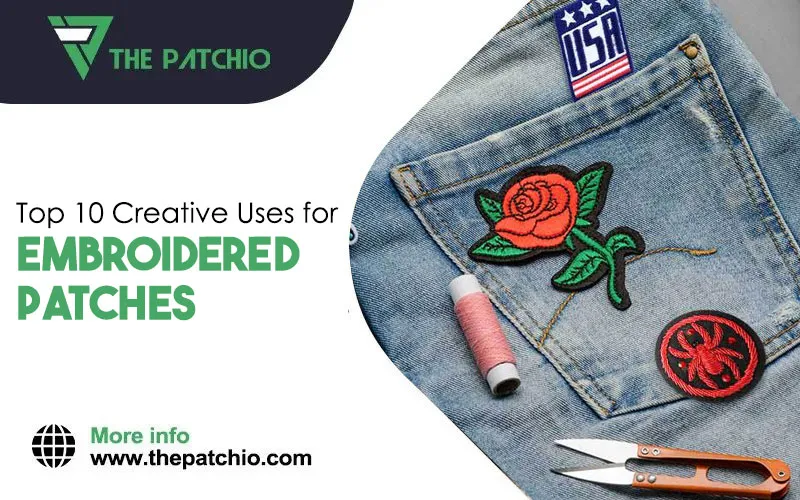 If you're looking for ways to showcase your artwork for a brand, your team/club, a cause, or simply because you love little pieces of creativity in your life—then we've got some ideas for you!
Custom embroidered patches are the most popular patches and one of the favorite options for adding innovative artwork to clothing and accessories. These can easily be sewn on, ironed on, or Velcro-ed to different fabrics, bringing your artistic vision to life in a fun and stylish way.
Here are ten innovative uses for embroidered patches.
Easier than tie-dye and definitely a lot less hassle-free than screen printing—you've got embroidered patches!
For jackets and blazers, you can add your own custom logo. For leather or denim jackets, break all the rules of uses for embroidered patches and go nuts with adding patches wherever you feel like it. For shirts, you may want to stick to the front only. For jeans or pants embroidery patch trends, choose the front pocket or near the hem are good spots.
Personalize A Sports Team Jacket
Speaking of uses for embroidered patches on clothes, why not create your very own, one-of-a-kind merch for your favorite sports team? If you find mass-manufactured garments for sports clubs or teams too mainstream for your liking, create your own statement piece.
Your only limit is imagination. Take a plain varsity jacket (or any kind of garment you want to decorate) and add different kinds of patches. Big or small, whatever kind of patches you use, make sure to have a theme in place for a sophisticated finished look.
You've tried custom covers and stickers to add some pizazz to your phone, but have you tried "patching" it? Yes, embroidered patches go very well with transparent phone cases. It is one of the easiest uses for embroidered patches—simply trap a patch between your phone and a clear silicon phone case.
The key to creating practical embroidered patches for phone cases is choosing laser-cut edges. Unlike merrowed edge patches (i.e. patches that have a defined border), laser-cut patches are thin and even, so that your phone case won't jut out.
Want To Order Custom Embroidered Patches Online?
Reach out to customer service at ThePatchio for information or request a free quote today.
Make Embroidered Keychains
Who doesn't love customized keychains? The best part about DIY keychains over DIY clothing and accessories like caps/bags is that you can carry a keychain anywhere, everywhere. So, if you love a certain character, want to showcase your support for a cause, or support your favorite NFL team, a keychain is one of the fantastic uses for embroidered patches.
Choose a bright design for your custom keychain patches. Since these patches are smaller, you'll need artwork that stands out. A backless patch (also known as a sew-on patch) works for keychains, and these can be added to the blank keychain with a strong adhesive.
Attach To A Greeting Card
So you don't like that cliché greeting you thought would look minimalistic? No worries, an embroidered patch is a nice, creative way to can make your greeting card more interesting. The best part of greeting cards as one of the uses for embroidered patches is that the patch can be cut out and saved as a keepsake if the card gets too old or ruined.
Though the most popular choice for shoe charms patches is PVC patches, there's no reason why you can't add embroidered patches on canvas shoes. Here's what you should remember when designing custom patches products for shoes:
Shoes get dirty, especially near the base. So add your patches where they are visible yet not too susceptible to dirt and moisture.
Don't fill up your shoes with patches. A single patch or two will look more visible and refined than too many patches.
Motorcycle or biker clubs often use leather patches to brand their uniforms or merchandise. Patch artists process artwork to create small and large pieces for jackets, caps, hats, and more. Likewise, leather patches are also quite popular amongst other types of clubs, such as wineries, as well as used for branding restaurant and hospitality service employee uniforms with logos.
Tote bags, handbags, cross body, gym bags, wallets, and more—embroidered patches pair well with all kinds of patches. The only thing that differs in uses for embroidered patches is the way you apply these.
For tote bags, you can easily go for sew-on, iron-on, or Velcro patches—whichever is more convenient. For leather, synthetic leather, and similar material, you can only sew on patches on these. You can also add patches to your school/college bags (read Benefits Of Custom Embroidery Patches On Uniforms).
Patches for caps and hats may not be the most unique idea, but it is one of the creative ways to spruce up a plain cap or hat or one with an old patch that you don't like or that has come undone.
When it comes to caps and hats in uses for embroidered patches, pick a size that is neither too small (will be unnoticeable) nor too large (will be undecipherable). You can go for iron-on patches if you intend to give these patches as keepsakes or for marketing purposes, but sew-on patches will be much more durable.
Looking For Embroidered Patches At Reasonable Rates?
Reach out to customer service at ThePatchio for information or request a free quote today.
Embroidered patch jewelry—now there's a quirky, yet fun idea! Like embroidered keychains, you can wear these with different kinds of clothing.
The most practical use of embroidered patches for jewelry is necklace patches, since there is a certain limit to how small your patches can be. Therefore, you may not be able to create patches for earrings or bracelet charms. But these can work as pendants (read How To Make Custom Embroidery Patches for ideas). Like keychain patches, makes these bright and vivid, or choose contrasts. Metallic threads will give a nice touch to your embroidered necklace patch.
How about a little embroidered patch bling for your furry friend? Along with your pet's name tag, you can add a custom embroidered patch tag to your pet's collar. Amongst the many uses for embroidered patches, this is a truly sweet little gesture!
When it comes to patches for pet collars, you may have to stick to standard round or square shape patches and use adhesives to attach these. Make sure to choose a design that stands out well, whether you need personal patches or patches for your brand.
For The Many Uses For Embroidered Patches – Shop At ThePatchio!
At ThePatchio, we have the expertise to turn your artwork into fine-quality embroidered patches. We facilitate free quotes and timely delivery—get in touch with us today to order custom patches online!