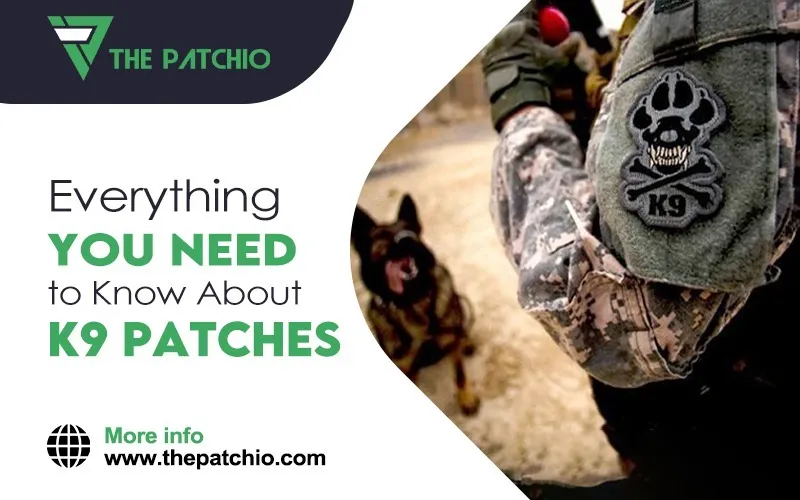 Custom k9 patches identify and unite members of a k9 unit. The patches may be personalized with the name and unit logo as well as the dog name patches and photo of the particular dog.
Everyone who has ever had a dog is aware of their varied personalities. They are dependable confidantes, friendly, and sometimes even family. Additionally, dogs may be effective friends in the struggle against crime, as law enforcement officials are all too familiar with.
Since the beginning of time, police agencies have utilized dogs, and that use has only increased recently. K9 units are now a staple in police departments all around the nation, and they are essential to maintaining community safety. Let's look in detail at these K9 patches.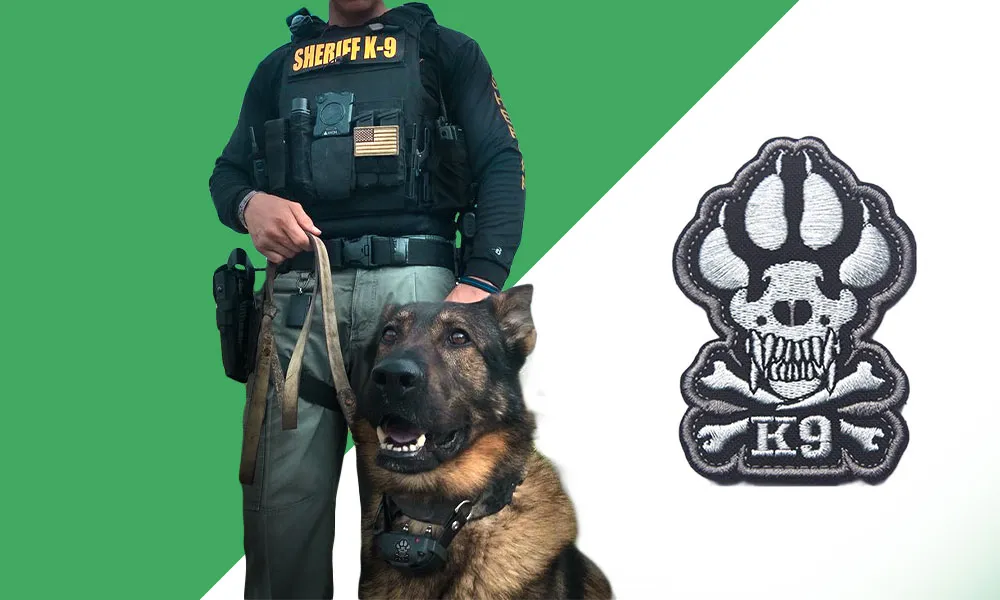 History And Concept of K9 Patches
Law enforcement agencies used to have dogs to help with a range of duties. It was not just to simplify their jobs but also to make them safer.
Many of these jobs necessitate a finely tuned set of abilities taught by expert dog trainers. It might take months to learn. The tasks were for a certain dog breed; due to size or nature, they did not use to choose all breeds for take-down operations.
Overall, K-9 units have been around for more than a century, and some of the methods and techniques, even those from Europe. From there, K9 patches got popular. These patches serve as a means of identifying and unifying its members.
The first K-9 training center was in Ghent, Belgium, in 1899. It quickly became popular as the leader in canine training, employing Belgian sheepdogs and wolfhounds. The NYPD raised them in confined units away from the public.
Since they were puppies, and only allowed a limited amount of contact with citizens.
There were more organizations other than NYPD that adopted these training techniques. However, by 1918, the K-9 squad had been split because the police car had rendered them practically obsolete.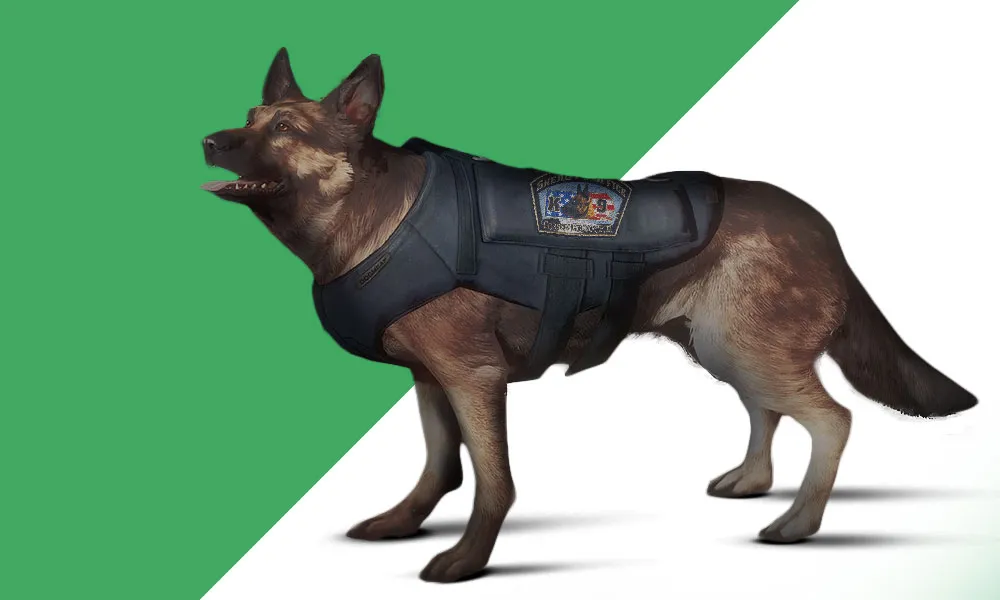 K-9 patches are important means of identification for working and service dogs. They make it plain to onlookers what a dog is doing, shield it from intrusive attention, and keep it focused on its mission.
You can customize it with the organization's name and emblem and the particular dog's name and image.
Thus, it is a fantastic way to display your pride through dog harness patches. They can also boost group spirit and encourage friendship among teammates.
Along with persons, these objects are useful for a range of organizations that deploy working dogs for a variety of specialized activities, including:
Military forces
Law enforcement agencies
Search and rescue teams
Typically, K9 patches provide great visibility and the safety of dogs and handlers in low or no-visibility situations. But when blend-in is necessary, such as in military dog patches you need customization.
ThePatchio dog patches have Mil-Spec components obtained from accredited American and European vendors. They provide high-quality military Custom Patches Online products. There is no need to be concerned if your dog gets dirty because they are waterproof and completely washable.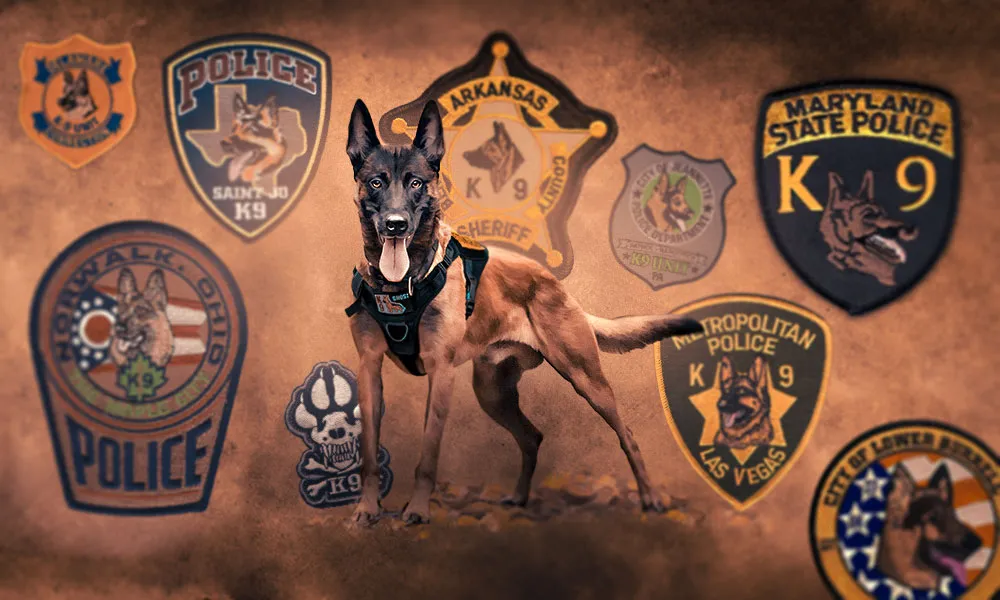 What Characteristics Distinguish A Quality K9 Patch Design?
Here are a few pointers you need to consider while creating dog reflective patches. Let's look at some guidelines for producing a quality design:
Keep it simple. A decent k9 unit patch design should be simple to read and comprehend. So, don't overdo it with the visuals or the fine details.
Make use of distinct colors. Even from a distance, it should be simple to notice the patch. So, to make sure your design is good, choose vivid colors or color schemes that contrast with one another.
Make it special. Your k9 unit patch should be unique, unlike other patches. Refrain from employing cliched designs or stealing someone else's concepts.
Make use of superior materials. The patch has premium material in it. Also, it is crucial if you use them on clothing or equipment.
Maintain a professional tone. The dog handler patches represent your group and your division. Keep your language and imagery PG to avoid reflecting adversely on your organization.
Why Do K9 Patches Matter to The Animals and Their Owners?
For various reasons, K9 patches are important for the animals and their owners.
K9 patches make it easier to recognize an animal as a functioning service dog. Thus, it is crucial because it helps prevent the animal from being distracted or touched at work.
These patches promote knowledge about service animals and their crucial societal functions.
Dog owners may promote awareness of the valuable job that service dogs perform and the right way to engage with them by wearing a patch that displays their status as service dogs.
Service dog enterprises may also utilize these patches as a marketing tool. Thus, they promote and attract more clients.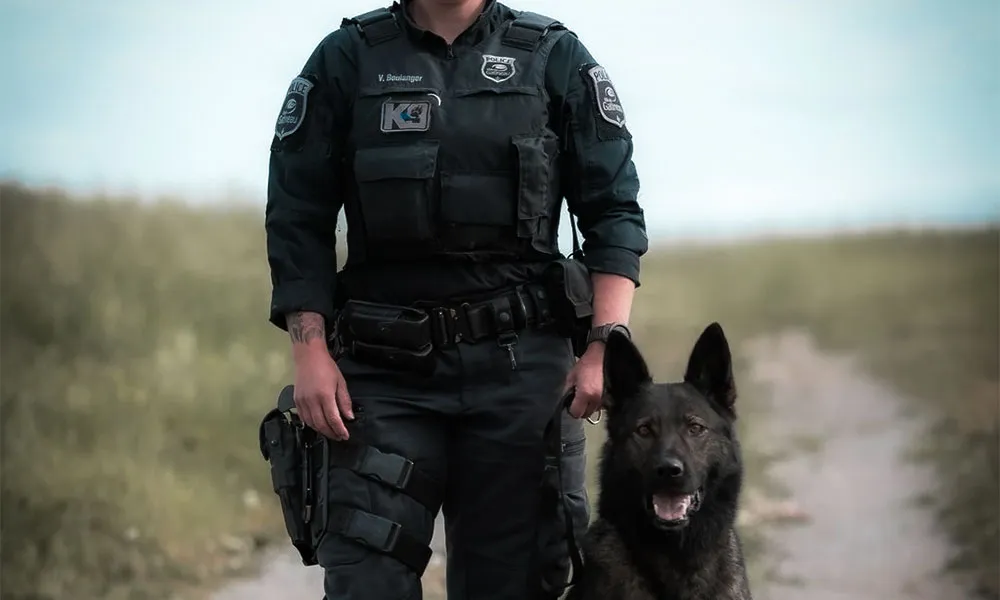 What Are the Advantages of Wearing a K9 Patch?
These patches come with several advantages for both dogs and their owners.
Velcro dog patches can help animals to be service dogs. Thus, it doesn't distract them while working.
They may instruct people on how to engage with service dogs politely and appropriately.
They might serve as a marketing tool for companies that train service dogs, here you can also use embroidery patches for K9 as well.
Service dog owners can assist in preventing their canines' distractions while working by donning a service dog patch.
Need More Information?
We will return back to you within 8-12 hours with a custom product quote.
How To Choose the Right Style for Your K9 Unit Patches?
Consider the patch's intended use. Ensure the design you select is robust and resists wear and tear, as you can put on k9 unit patches on uniforms or equipment.
Embroidered patches can have elaborate designs and are made of high-quality thread. They are also quite strong, which makes them an excellent option for K9 units that require patches that can tolerate abrasion.
PVC patches are the ideal choice for k9 unit patches. They have a soft, flexible material. Also, they are extremely durable and may be created with 3D elements. They are very simple to attach to equipment and outfits.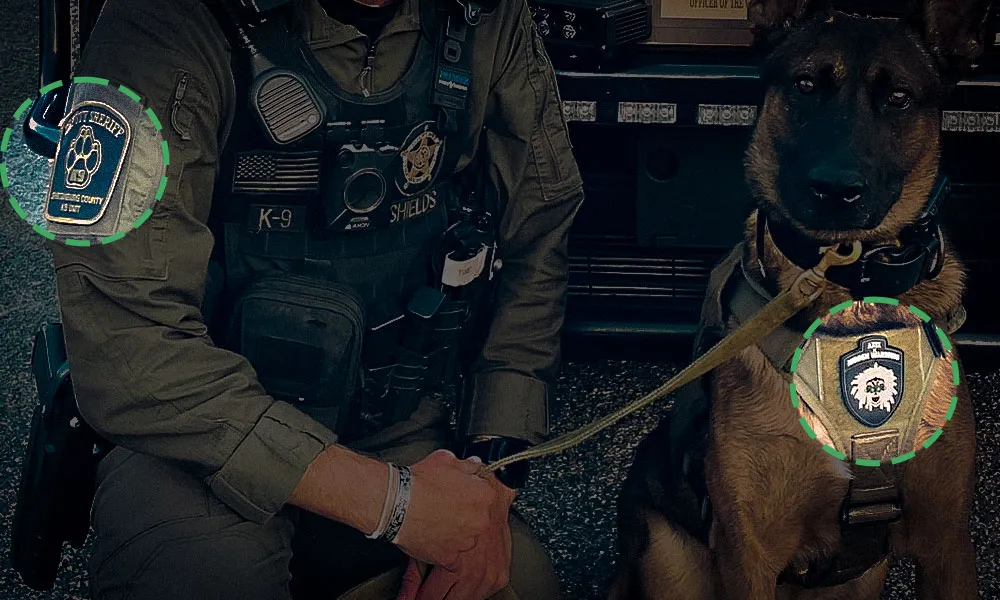 Using K9 dog patches will help others recognize your dog as a functioning assistance animal. Additionally, they promote an understanding of service dogs and their crucial functions in society. Your animal can focus and perform well on duty.
So, please don't hesitate to contact ThePatchio if you have any questions about Custom Patches Products. You can be confident of making purchase here, we have the most top-notch quality of products so far. These dog patches are also affordable in terms of money and suit your needs.