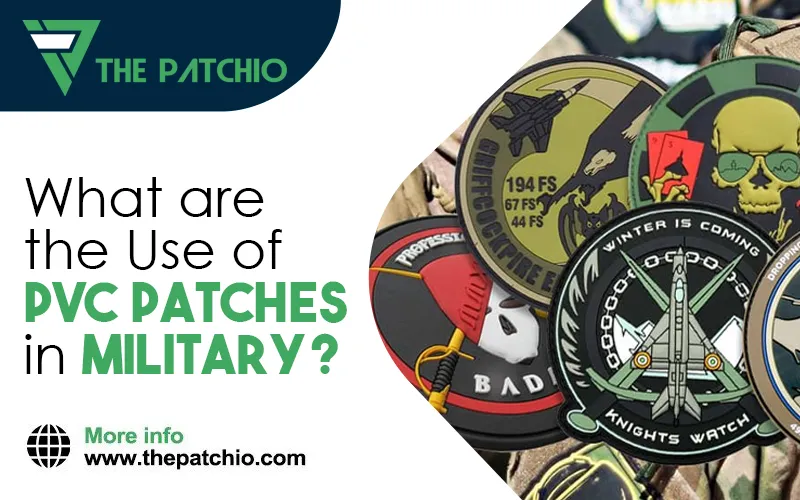 PVC patches are nothing new. In fact, these date back several decades, back when the purpose was more about function than fashion.
The history of PVC patches is a fascinating one, one that has seen major historical conflicts, various upgrades to something fashion-worthy, and a whole lot of creativity by individual artists and brands. Chances are that you yourself own multiple pieces of clothing and accessories with PVC patchwork done on them for a chic, stylish touch.
Other than branded apparel, you're more likely to find PVC patches on services uniforms—where they were originally used. Let's take a walk back through time and understand the evolution of PVC patches.
Evolution Of PVC Patches – The Beginning
The first use of PVC patches went all the way to the early 1900s when these were used on US military uniforms and gear. Although leather patches were far more popular, given the similarity of leather and uniform fabric, custom PVC patches became increasingly popular over time.
The first patch to be worn on a military uniform was later in 1917 when the US army introduced the shoulder sleeve insignia. The design was a fascinating one: the shape of a wildcat because US army soldiers used to train in wildcat water bodies. The American flag did not become a part of the patch until later. Today, you'll find these patches in PVC for memorabilia purposes.
Military PVC patches were used to identify unit emblems on uniforms. The same design serves as morale patches today, also made in PVC, along with embroidered patches. For standard use, these patches featured the wearer's name, ID number, unit, and rank.
Want To Order Custom PVC Patches Online?
Reach out to customer service at ThePatchio for information or request a free quote today.
Wondering what made PVC patches special enough to deserve a place amongst our armed forces? The history of PVC patches includes military, police, and other service uses for the following reasons:
Durability is one of the outstanding features of PVC patches. PVC, the ordinary kind of construction, is utilized in pipes for hot water—so it goes without saying that it withstands external elements well. Given that our armed forces have to face tough weather conditions, wearing a patch that does not deter in the face of adversity is the perfect solution.
One of the best pros of PVC patches is that they are very low-maintenance patches. All it takes is a swipe of damp cloth to clean it, plus it does not absorb the color of the fabric around. You can guess why it is a favorite for military, police, and other service combat uniforms—it's probably the most hard-wearing patch you'll find!
PVC patches are versatile. These can feature any design and color imaginable, which is these were also used as patches to represent the unity of the armed forces, as well as their service sacrifice for their nation (read Benefits Of Customizing PVC Patches to learn more about their importance).
Evolution Of PVC Patches - The Modern Era
It's been a long time since the history of PVC patches began. The industrial revolution brought about better, advanced machinery that could mass-produce not only patches but also deliver refined results. The work of PVC patch production has become more efficient and requires less labor—which also brings down the cost per piece.
In short, it is easier and quicker than ever to get PVC patches. Hence the reason these patches are quite popular in branded clothing—especially sportswear. These can be sewn on like patches of the past or even attached using other methods (read Ways To Apply PVC Patches on Clothing).
Newer PVC patches, manufactured using advanced machinery, are incredibly durable. Unlike embroidered or chenille patches, these won't fray. Compared to leather patches, these do not crack or peel. These qualities make PVC patches great for extended outdoor use. Since PVC patches are also lightweight and flexible, it makes these ideal for uniforms, combat, and occasional wear for military, airsoft, and other service apparel.
One of the best parts of the evolution of PVC patches is the invention of 3D patches. The main difference between 2D and 3D PVC patches is that of texture. While 2D patches are textured, 3D features significantly different levels of material to create an innovative perspective. Whether you choose 2D or 3D PVC patches, thee are fantastic for considerable outdoor time.
Want To Order Custom Military PVC Patches Online?
Reach out to customer service at ThePatchio for information or request a free quote today.
Contemporary Uses Of PVC Patches
What are custom PVC patches used for? In addition to branded and service clothing, the modern uses of PVC patches include:
Running for the team leader or president at your institute? Get ahead of your competition by including something creative and eye-catching in your campaign material—and order custom patches online! PVC patches are a modern alternative to the embroidered badge pin, one that will last you as a keepsake!
In the history of PVC patches, these have been used to show support for ages. What better way to show support for your favorite sports team than by proudly displaying a PVC patch badge on your clothing or bags? PVC badges are an ideal solution for sporting a logo of your team if you don't want to alter your clothes with something permanent or semi-permanent like a sew-on or iron-on patch.
Need to decorate your shoes but afraid of ruining your artwork when you step out onto muddy and wet terrains? No worries, PVC patches are an easy and modern alternative to fabric paints and traditional embellishments for shoes!
You've got all sorts of covers for vehicles that can be decorated with a printed logo, so why choose PVC patches for boat covers? The answer is simple: PVC patches are durable, easy to clean, flexible, and retain shape and color even with constant exposure to moisture.
If you are looking to create robust yet stylish DIY keychains, then PVC patches are the perfect fit for you (read How To Make PVC Patches at Home). PVC patches are easy to clean, so no worries if you drop your keys in a puddle. Plus, these are trendy, which makes them perfect for keychains!
ThePatchio – Your One-Stop Shop For Quality PVC Patches
Our artists can convert any artwork into a custom patches product of your choice. We're prepped and ready to go; let us know what kind of PVC patch you want, and we'll get back to you with a free quote.
Contact us today!