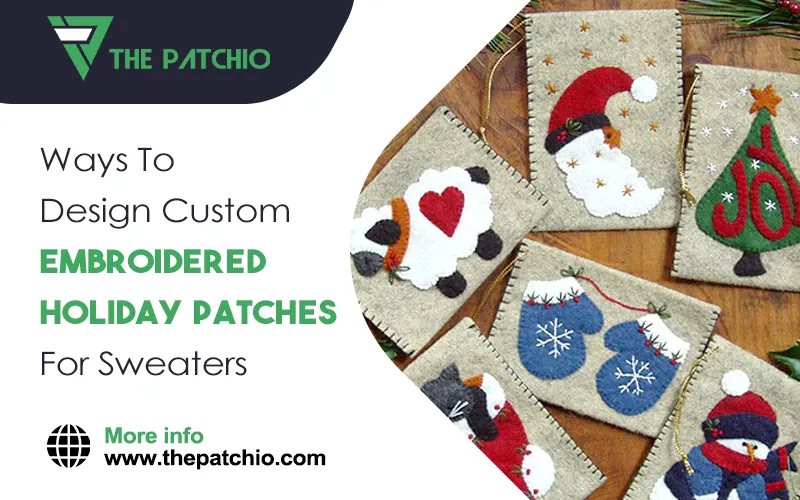 The holiday season is a time for friends and family, merriment and joy, good food and decorations, and of course, customized sweaters. As unflattering as they often turn out, we still love them. There's the sentiment attached to these pieces of apparel, not to mention creativity and hard work. So, in short, we love them!
If you're looking for some out-of-the-box ideas, how about holiday patches for sweaters? Instead of spending hours knitting the sweater or embroidering designs yourself, you can use custom patches on ready-made sweaters!
Put On Your Thinking Sweater
Custom embroidered patches are a popular choice for festive sweaters, given that the textures are easy to match. Plus, embroidered patches are so fun; there's an array of artwork you can convert into a patch, small or large.
Another reason custom embroidered patches are a winning choice as holiday patches for sweaters is that you can go for intricate designs. Whether we're talking Merry Xmas lettering or a realistic caricature of Santa, an embroidered patch is an excellent medium to feature your artwork.
Other Holiday Patches For Sweaters
In addition to embroidery patches, you can also go for chenille or sublimated patches for festive sweaters. These have some benefits, depending on the design you have in mind.
1- Chenille Holiday Sweater Patches
Unlike embroidered patches, chenille patches have a less refined yet more vibrant look. The finished texture is very rugged—like a towel's one. So these patches are probably ideal if you need large patches in simple designs. A snowmen patch will look incredible in chenille work; the brightness and texture will be a bonus addition to the final look.
2- Sublimated Holiday Sweater Patches
If you're one for crafting holiday sweaters with family pictures, then go for sublimated patches. These are a result of dye sublimation, a process that involves printing an image, using heat, onto a mesh backing. Resultantly, you get a very photograph-like, clear patch that not only looks amazing but lasts long too. While it's not your traditional embellishment for a holiday sweater, it's definitely a remarkable choice.
How To Create Embroidered Holiday Patches For Sweaters?
Right off the bat, you need artwork. You can create one in Photoshop yourself. Also, you can scan an image you really love and edit it. If you're all out of ideas, the internet is a great place for festive artwork.
Choosing holiday-themed designs is easy enough. First, you've got your snowman, angel, Christmas gifts, snowflakes, candy canes, and so on. If you're one for wearing festive patches on New Year's, too, then go for the usual champagne glasses, balloons, and New Year's logo.
Here are a few things to consider before you finalize an image for your patch makers:
Always choose a high-res picture, especially one that features lots of patterns and colors. Otherwise, your patch may not turn out as detailed as you want.
If choosing embroidered patches, play with colors! At ThePatchio, we do metallic and neon thread patches too. Therefore, you can mix basic and metallic colors in a patch for an enhanced look.
If you want the sweater to turn out attractive in Christmas and New Year pictures, then avoid these. Don't choose small lettering, too many colors, or patches that may blend into your sweater.
Finally, you should know that patches do not turn out exactly the same as the artwork. Lucky for you, we at ThePatchio use a process called embroidery digitizing. At the very beginning, we'll send you a preview of how your artwork will look converted into a patch. Therefore, you can see how a computerized image will look transformed into thread colors.
Looking To Buy Custom Embroidered Patches?
Reach out to customer service at ThePatchio for information or request a free quote for embroidered patches today. We'll get back to you with more details as soon as possible!
Let us help you make patches with eye-catching drawings, humorous slogans, and other touches that make them unique. Our custom patch design process is quite simple.
Fill out our form and attach your artwork, and we'll get back to you with a free quote.
Other Ways To Design Holiday Sweater Patches
Sweaters make great gifts, so why not move away from your usual reindeer and snowmen and create something more personal? If you're gifting a sweater to someone who loves their doggo, get dog-themed embroidered patches. If you've got a nice picture of their dog, go for a sublimated patch for a precise visual finish.
Sweaters also make great employee gifts or corporate gifts for loyal clients. How about customized holiday patches for sweaters for each employee? You can go get embroidered logo patches—in festive colors if you prefer. Combine this with other designs relevant to the person the sweater is for—and you've got yourself a gift that's personal and memorable!
Holidays are a time for joy…and some healthy comedy too! If you appreciate a good joke, preferably in art, then go for funny embroidered holiday patches for sweaters. These can feature complete memes or images with jokes, funny holiday sayings, or artwork that comprises an inside joke. You can also get prank sweaters for your loved ones as a way to include humor in the holiday cheer.
Embroidered Patches For Sweaters, Socks, Stockings & More
Why limit yourself to embroidered patches for sweaters only? You can get patches for matching socks and hats too. If you're gifting a Christmas sweater set to a newborn in the family, or getting one for yours, decorate those with patches.
You can also get patches for dog and cat sweaters. They may not be able to appreciate the creativity involved. However, it's a memorable holiday when you watch your furry friend pitter and patter around in a customized sweater!
ThePatchio – Your One-Stop-Shop For Cutesy & Elegant Holiday Patches
Custom patches products are unique items and excellent gifts for friends and family. Your exceptional artwork will remind others of the season's excitement, the fun, and the amazing moments with loved ones. You can use these patches for adorning apparel as well as Christmas décor.