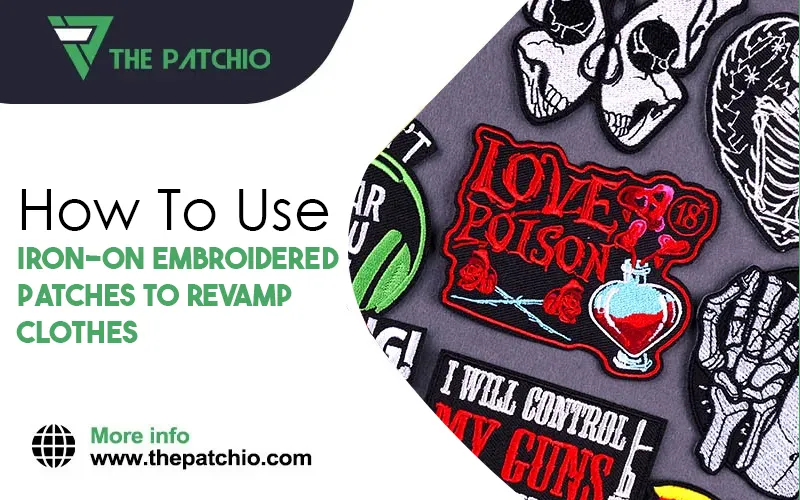 From custom iron-on patches for branded clothing to patches for sports team merchandise—we've seen it all. But patches can also be used for so much more than adding logos and artwork to brand-new clothing. How about a project to revamp old clothes?
Old To New – How To Use Iron-On Embroidered Patches
In a world of fast fashion, how about taking the road less traveled and using a versatile embellishment—i.e. custom embroidered patches—to renew your old clothes? Items like high-quality denim or leather take a long, long time to become un-wearable, so give them a new life instead of discarding them based on the fact that they're old or that you haven't worn these in a while.
Here are a few tips on how to use iron-on embroidered patches:
If you want to start with ideas on how to use iron-on embroidered patches, how about the very purpose the original patches were intended? Patches were initially used—you guessed it—to "patch" up tears and frays in clothing.
So, if you have a beloved piece of clothing that you can't bring yourself to part from simply due to a tear or two—but can't wear it because of those tears either—then go for custom iron-on embroidered patches.
It is imperative that you place a patch (or more) creatively in order to make it seem more like a creative project than an obvious attempt to patch up tears. For instance, if you have a couple of small holes in your jeans, add a bunch of small patches—a couple on, the rest around those—to create a bunch. Here, you can use flowers, butterflies, vintage movie tickets, musical symbols, and other similar artwork to make it work.
Promote Club/Team/Brand With Jacket Patches
Wondering about other ways how to use iron-on embroidered patches? We've all got an old leather or denim jacket that is practical for cold weather or as outerwear, but no longer exciting to wear. Let's change that, shall we?
What better way to promote something you are passionate about than using an iron-on embroidered logo patch? Take inspiration from biker patches, one of the most popular kinds of embroidered patches. Against the black backdrop, most colors stand out well and look fantastic. However, you can work your patch's colors with a colored leather jacket or any shade of blue denim jacket as well. The key is to pick the right shades of the colors you want, pick a merrowed border that contrasts with the background, and throw in a few metallic threads for lettering.
Once you have your artwork finalized, you can get a sample patch to test how it looks in real life. Get a bunch of these patches for your team or group as gifts to make your patch all the more special.
Looking To Order Custom Iron-On Patches?
Contact customer service at ThePatchio for information or request a free quote today.
Show Off Your Unique Personal Style
You don't need a particular purpose to know how to use iron-on embroidered patches —other than your love for art. Whether you feel like filling up your favorite jacket with floral artwork, adding K-Pop character art to your jeans, or even using your old varsity jacket as the medium to showcase your love for pets, embroidered patches are the perfect way to channel your creativity and passion.
Using iron-on patches is perfect if you don't want to go through the hassle of sewing on each and every patch. However, if you intend to add patches to a non-fabric material—such as synthetic leather—you may want to consider sew-on patches. That said, make sure to apply your patches to a clean surface and use the right temperature to ensure they stick well.
Replacement Patches For Old Clothes
If you have clothing that's just fine but the patch on it that has frayed or become stained, you may not want to lose out on the main charm of your garment. Luckily, you don't have to lose your patch, just have it made again!
Custom iron-on patches are pretty versatile, so even if you have an old garment with remnants of the old patch still showing, paste the new patch on top. By ordering your patches with a reliable patch manufacturer, you get high-quality, strong adhesive backing. You can further secure the patch by adding a few stitches.
As for designing custom patches products, you can use your old patch (if intact) as a sample artwork or work off a picture. You patch artists can put together a bespoke design based on a photograph or even a sketch. Cherish your old alma mater emblem, club art, team logo, or whatever symbol you need re-made once again!
Need Custom Embroidered Patches?
Reach out to customer service at ThePatchio for information or request a free quote today.
Patches For Clothing…And Accessories?
How to use iron-on embroidered patches? How about how to use these patches for accessories? We're talking about old caps, hats, handbags, totes, and more. If you are bored of your plain black or beige cap, maybe it is time to give it a new look with a nice iron-on patch.
You can choose your own artwork, pick a design to support a cause, or even select a sports or club logo patch to show your support. Of course, whether or not you can choose an adhesive, or iron-on backing depends on whether or not you can use an iron on the intended surface. For instance, using an iron-on custom patch on a fabric tote may work fine, but you can't use the same method for a synthetic leather bag. In that case, switch to a sew-on embroidered patch, or attach your patch to a pin/badge.
Get Your Iron-On Embroidered Patches At ThePatchio
We have the skills, equipment, and quality material to create your embroidered patches. Sew-on or iron-on, whatever kind of patch you need, simply submit your design to us to order your custom patches online.
Let's get started, contact ThePatchio today for a free quote!