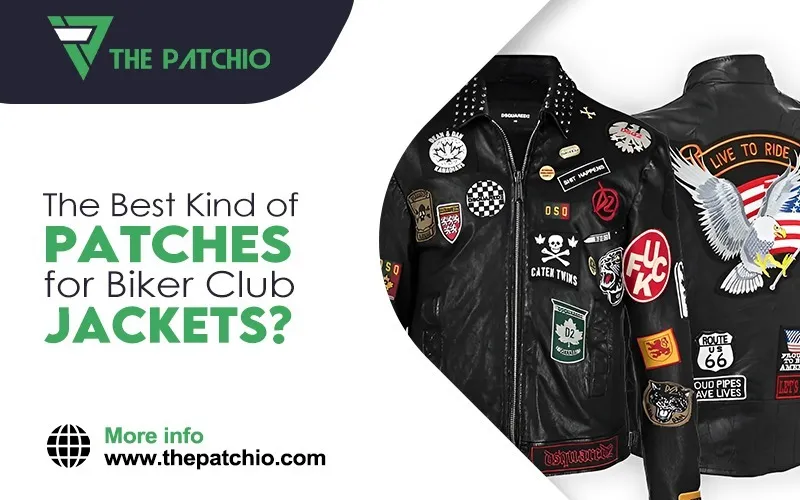 Custom patches tell a story. Incite emotion. Show support. Boost team spirit. The list is endless. And most of these aspects of custom patches can be associated with biker jacket patches.
Biker jackets, also known as motorcycle patches, are a popular piece of clothing. Once solely worn by biker gangs or clubs, now a part of both the sustainable and fast fashion industries, biker jackets exude an air of confidence, daring, and resilience. And what makes biker jackets so popular and gives these that distinct look is the custom patches that adorn these.
Kind Of Patches For Biker Club Jackets – The Popular Ones
Looking for the "it" patches of this year—and the top picks for biker club jackets? As experts in all things patches, we've got you. These are your choices for biker club jacket patches.
Thinking About Embroidered Patches For Biker Club Jackets?
The very first option you'll be presented with when you review the kind of patches for biker club jackets—is an embroidered patch. And why shouldn't you go for this timeless option? Regardless of how long embroidered patches have been around, these still stand strong at the head of the patches hierarchy.
Why? For instance, if we're talking about custom biker patches, getting your design converted to embroidery has the following perks.
Styles Unlimited
Go retro, go modern-minimalist, go funky—there's an array of options when you choose embroidered patches for biker club patches. Depending on what colors and patterns you choose, you can give your motorcycle patches any look you desire. Consider a classic, rebellious theme like the first biker jacket patches (read History Of Biker Patches for inspiration).
Affordable Option
Embroidered patches are cheaper than most custom patches. Being the oldest of the lot, these patches have been the focus of patch manufacturers around the world, and the technology to create these has come a long way. Making embroidered patches costs manufacturers less—which means you can get a really reasonable quote. Buy in bulk, and these patches are fairly budget-friendly.
Simple To Use
Embroidered patches offer the convenience of easy application. Want to sew these on by hand or get these machine-stitched? Perfect. Would you prefer iron-on motorcycle patches instead? Done! How about hook and loop (Velcro) patches for festive or memorial biker patches? It's all possible!
Looking For Embroidered Biker Patches?
Reach out to customer service at ThePatchio for information or request a free quote today.
Use Of Leather Patches In Business
Discover creative use of leather patches in business. As patch experts, we've got some simple ways for you to incorporate these patches in your products and business tools.
Considering PVC Patches For Biker Club Jackets?
Custom PVC patches may not have been the most popular choice for biker jackets once upon a time, but these are gradually conquering different worlds of clothing, accessories, and other items of use.
Coming to biker jackets, PVC patches may just be the smartest and most vibrant choice you make. Thanks to advanced equipment and years of practice in making PVC patches, manufacturers now offer the option to make larger PVC patches. This works well for jacket or vest patches, enabling one to showcase their association with their club, loud and proud.
Here are a few other reasons why PVC patches and biker jackets go well together:
Custom PVC patches have a bespoke look and texture. Want your biker jackets to stand out? PVC patches are the way to go!
Any color, design, or shape—anything goes when it comes to PVC patches. The entire process, from molds to dye mixing, is customized!
PVC patches are made out of a flexible, rubbery material. Unlike custom patches products made out of yarn, these have a more enduring texture.
High-quality PVC patches are made of diphthalate-free material, resulting in not only a beautiful but also durable finish.
When it comes to biker vests and jackets, the sturdier the patch is, the better. PVC matches that requirement since it can withstand constant exposure to moisture and heat—and results in patches that are perfect for outdoor use!
It's safe to say a PVC patch is a worthy candidate when it comes to patches for motorcycle club patches.
How About Leather Patches For Biker Club Jackets?
Did someone talk about pairing leather patches and jackets? That's a combination we love! Denim or leather, jackets look sophisticated when you add a leather patch. Design it right, and you can even craft a bold look with your leather patches for biker club jackets.
The concept of leather on leather (if we're talking about leather biker patches), is pretty classy. For one, the style of the jacket becomes subtle yet impactful. The other reason is that it's pretty usual to see branded leather jackets and jeans bearing the logo in the form of a leather patch.
In short, you simply can't go wrong with choosing leather patches to print your biker club logo, symbol, motto, or any other artwork. All you should know about biker patches is that less is more. A simple patch, such as a logo or symbol stamped into premium leather is all you need to make an impact.
Looking For Affordable Motorcycle Jacket Patches?
Contact customer service at ThePatchio for information or request a free quote today.
The Verdict: Winning Patches For Biker Club Jackets?
The beauty of custom patches is that each type has its own unique features. Making the choice for the biker club patch amongst embroidered, PVC, and leather jackets—comparing these to any other patches—is tricky, because each has its perks.
Let's call this a three-way tie. Knowing the most appealing features of each patch, you know what kind is perfectly suited to your biker club logo, the type of jacket it goes on, and of course, any personal inclinations.
Regardless of the kind of patches for biker club jackets you choose, there's one thing to look for in each one: quality. The better the quality of materials and colors and customer service when you order custom patches online—the better your experience!
Let's Get Started – Order Patches For Biker Club Jackets From ThePatchio
We love creating biker patches, and our clientele includes clubs from around the U.S. Whether you need chic custom embroidered patches, bright and bold PVC patches, or sleek leather patches—we've got you!
Why don't you head over to our patches collection to discover the array of custom patches we specialize in? And when you're ready, place an order for custom biker jacket patches!