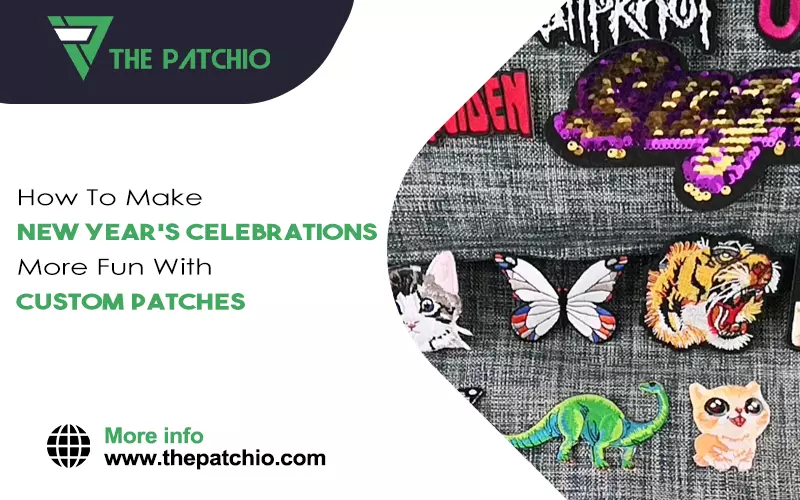 Looking forward to New Year's celebrations? It's an exciting time, with a festive environment, good food, hopeful minds, and of course, spectacular décor. If you've started prepping for the New Year's Ever celebrations, you're not done till you add custom embroidered, chenille, or PVC patches to the mix!
Make New Year's celebrations more fun with custom patches designed according to your party theme. Holiday parties are some of the most memorable occasions of our lives—and an opportunity to show off your decorative skills. So why not take your New Year's festivities up several notches? It's simple to make custom patches, and we'll tell you just how!
Add Custom Patches To Party Invites
A kickass party invite is the first step to a memorable party. To your traditional card invites, you can add a custom embroidered or chenille patch as a funky design piece. Make sure that your custom patch products match the invitation and the theme of the party. For invitation patches, we suggest going for unbacked patches that you can stick with an adhesive.
You can also make this patch into a wearable one for guests attending the party, kind of like a symbol of invitation. If you intend your invitation patches to be worn, go for iron-on patches that you can add to the invitation envelope or attach to the card with a pin. It's a fun, quirky, and very creative addition to any new year's party!
Decorate The Space Using Custom Patches
Yes, custom patches do make great decorative pieces. Banners, buntings, pom-poms, card cutouts, and more—all of these make great decorations. Add patches to these and you've got a party!
Yes, custom patches do make great decorative pieces. Banners, buntings, pom-poms, card cutouts, and more—all of these make great decorations. Add patches to these and you've got a party!
Use custom embroidered patches for cushions and pillows, especially if you're having a cozy, intimate New Year's gathering.
Get lots of small PVC patches for hanging with a string. You can also use chenille patches. Go for a party hat, champagne glasses, stars, and New Year's logo artwork.
How about an embroidered banner instead of a printed one? Embroidery patches will make for a great festive banner in the middle of the room!
Create Patches For Party Wear
We're talking party hats, wristbands, and even scarves! Custom embroidered, chenille and woven patches will make excellent additions to any of these accessories. Party hats are a New Year's staple. Make these more fun to wear with sew-on patches. You can also get sew-on patches for headbands.
Since New Year's is chilly, a party scarf will serve a dual purpose: keep your guests warm and show your creativity in party décor! Iron-on patches are pretty easy to add to scarves. If you want to take wearable patches a step further, especially as a means to stand out as the party host, go for a large, vibrant chenille patch on your denim or leather jacket. You can get iron-on patches, as these are fairly easy to remove later.
Make Commemorative PVC Patches Keychains
Need to make a party giveaway that your guests will cherish and that'll remind you of the amazing time you had? Giveaways seal a party perfectly, and custom patches take your gift-giving skill to a whole new level.
Custom PVC patches are the perfect solution for party giveaways and New Year's commemorative symbols. Select a simple yet creative artwork, as too many colors or patterns, will diminish the elegance of the patch. You can choose any color combination for PVC patches, as these are custom mixed.
Get these patches etched on keychains. You can also go for badges, but keychains are more useful. Go for the best quality PVC patches only, as these last well in terms of both color and structure.
Need More Information?
Request a quote. We will get back to you within 8-12 hours with a custom product quote.
Use Quote Patches As New Year's Motivational Pieces
We all love New Year's quotes! You've got quotes that remind you how far you have come and how much you have accomplished. There are quotes that make us determined to be better the next year. New Year's motivational quotes also make great conversational starters amongst party guests about accomplishments and New Year's resolutions.
Needless to say, you should make New Year's celebrations more fun with custom patches comprising quotes. You can get iron-on ones for couch cushion covers. You can also get unbacked patches for photo frames that you can place as decorative pieces around the place for the guests to read.
How To Order New Year's Patches – A Simple Guide
Now that we've got our ideas sorted to make New Year's celebrations more fun with custom patches, let's guide you through how to order some. With New Year's right around the corner, it's best to place an order now to get them well before the festivities.
For New Year's patches, choose artwork that's vibrant and fun, like party hats, balloons, firework stars, and so on.
You can choose embroidered, chenille, PVC, and even leather patches for party décor. Go for a mix of basic and metallic thread for embroidered patches to match the festive theme.
Make sure to choose the right size. For giveaway patches, stick to a smaller size, up to 2-3 inches. For larger patches, such as jacket or banner patches, go for bigger sizes. Make sure to ask about the maximum size limit for the kind of patch you need.
Select a suitable backing. As mentioned before, you need to sew on patches for hats, iron-on patches for scarves, jackets, and linens—as well as party invites— and unbacked patches for keychains and badges as these are attached with adhesives.
And finally, since you have to get a lot of patches made for a New Year's event, go for a no-minimum order limit to avoid additional costs, as well as reasonable pricing.
Get Your New Year's Patches Today!
At ThePatchio, we do festive patches. Thanksgiving, Christmas, New Year's, and more—we'll help you make all your holiday events more enjoyable with some amazing patches.
Reach out to us today and let us help you make New Year's celebrations more fun with custom patches!