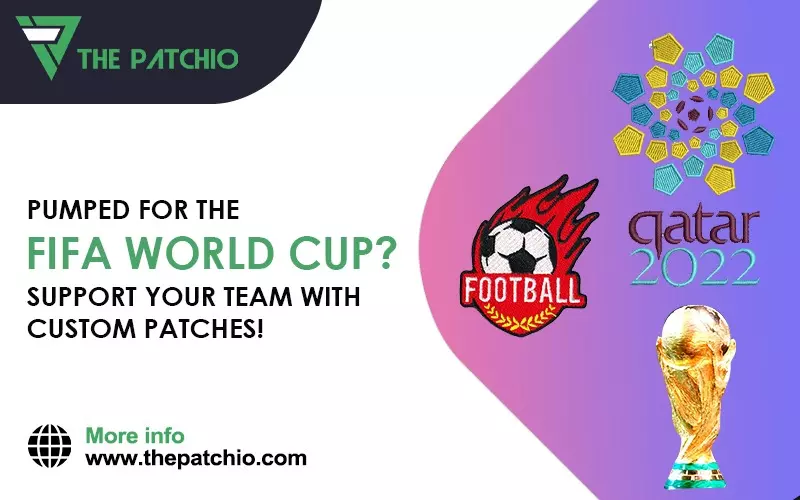 Where there's a team to support, there's a custom patch to make. With the FIFA World Cup 2022 just around the corner, it's the best time for you to place an order for a set of custom embroidered patches to support your favorite team's players. After all, their hard work and accomplishments deserve recognition, no?
You can design your custom patches to do just that. It's a way to test your creative side and showcase your team spirit!
Patches & Sports – A Kickass Duo
Why use patches to support your team with custom patches? Patches have been a part of sports for ages—you'll find patches a popular choice for a team logo, player names and numbers of uniforms, a means for creative artwork on team support t-shirts, badges, and embroidered keychains, and more. The popular varsity jacket features the chenille patchwork. Baseball caps have embroidered patch logos on them.
Needless to say, when supporting your team during the FIFA World cup matches this November and December, custom patches are a must-have accessory. This time around, the coveted football tournament's theme is "Football Is For All Of Us," as decided by the hosting country's football association QFA (Qatar Football Association). So, why not design some creative patches in line with the theme for you and your friends as you enjoy the games?
There are many ways to support your team with custom patches. Whether watching from home, attending a match screening party, or watching at your favorite sports bar, you need a patch to take along. Add it to your prized football jersey or your everyday tee or jacket, get an embroidered keychain, or carry a bag with a large patch—there are so many options to appreciate your team via patches.
Types Of Patches For Football Season
If you've decided on how you want to wear your football-themed patches, let's get on designing these. First up, determine the kind of patch you prefer. Your options include the following:
1. Embroidered & Woven Patches
Embroidered patches are an excellent choice for FIFA team patches because you can work in many colors and designs with a very elegant finish. These are made with dyed threads stitched into the backing material in an interlacing style. Given that you choose a high-quality patch and skillful patch manufacturers, the final custom patch products are durable enough so that you can place these on any garment or accessory.
Woven patches are pretty similar to embroidered patches, only much thinner. These feature very fine threads; therefore, the final result is a flatter patch—as opposed to embroidered patches' 3D-like exterior. Woven patches are ideal for intricate artwork, such as England or Spain's national football team logos that feature small designs and multiple colors.
Chenille patches are also made with yarn, like embroidered patches, only the texture is quite different. Since the yarn is stitched in a vertical manner onto the backing, the final result is a more vibrant patch with a carpet or towel-like texture. Chenille patches are ideal for larger patches since complex designs on smaller chenille patches may not show up clearly when you want to support your team with custom patches.
Need More Information?
Request a quote. We will get back to you within 8-12 hours with a custom product quote.
3. Dye Sublimation Patches
Dye sublimation patches, or Sublimated patches, are made out of thread, too—only the color comes after. The thread/yarn is already stitched on the backing and waiting to be printed. The color is transferred onto the patch through a sublimation printer, much like printing colors on paper.
Unlike embroidered, woven, and chenille patches, these thread-based patches can feature many complex designs, whether it's your FIFA team's logo, team member name or portrait, and other team-related artwork. Check out How to support your favorite football in FIFA cup 2022 using custom patches for more ideas.
PVC Patches are made out of polyvinyl, a rubbery plastic that is essentially added to molds (made according to custom patch artwork). These patches are low-maintenance; since you have to wash your clothes to eliminate drink stains, nacho dip smears, and slider sauce marks after every game, an ordinary thread patch may fade. PVC Patches maintain colors better and are durable.
While leather patches are not popular to support your team with custom patches, they are a creative addition to your outfit if you love a minimal, edgy look. These do not feature colors (other than the color of the leather background and the darker print), so you call to go for simple lettering and line drawings.
What Makes A Great Football Patch?
Now that you've got the know-how of your basic patches, let's move on to designing a football patch. Since you want to display these publicly, paying attention to certain facts is imperative. For instance:
Keep the artwork simple.
Traditional patches, whether for chenille jackets or embroidered keychains, are on the smaller side. You can go all out with colors, patterns, and drawings on a team poster—but custom patches are a different story. These look best with clear artwork, so choose a limited number of colors, lettering, and illustrations to ensure your team stands out in the crowd.
Emphasize the main element.
What do you want to highlight in your patch? The name of the team, the logo, or a caricature of a team player? Whichever you choose, make sure it takes up the most space. When you place an order to support your team with custom patches, go for a manufacturer that offers embroidery digitizing service, so you can see how your artwork will appear on the final patch product.
The bigger, the better.
When you're in a place full of people, each person carrying their team's colors, standing out is essential. A bigger patch with more vibrant colors is a patch to remember. You get large patches for the back of your jacket and medium-sized ones for bands, caps, hats, and beanies. If you can't go for size, go for quantity; get a ton of small custom-designed team patches for badges or keychains and hand them around the crowd!
ThePatchio – The Place For Outstanding FIFA World Cup Patches
Kick off this football season creatively and order your custom patches for FIFA World Cup today. Send your design for a free quote. If you like the rate, we'll send you a digitized real-life version of the patch. The next step is making your patches—and ThePatchio will have them at your doorstep just in time for the tournament to begin!
What are you waiting for? Let's GO!
Need More Information?
Request a quote. We will get back to you within 8-12 hours with a custom product quote.