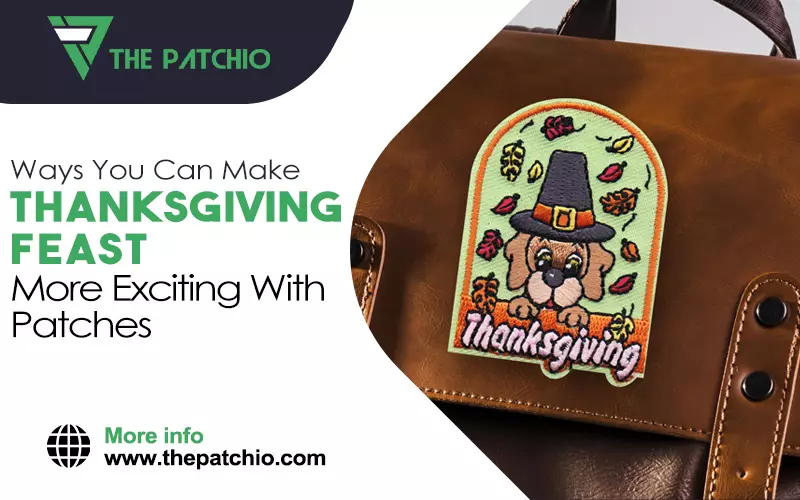 Gobble, gobble, patches! With Thanksgiving just around the corner, it's time for your decoration planning. Thanksgiving may be all about the turkey and the adjoining feast, giving thanks, and family time—all of which can be made more special with some patchwork!
So let's get to it. You have plenty of time to design and place an order for your custom embroidered patches for Thanksgiving, so these can arrive in time for the décor. Delight your guests with strings of hanging turkey patches, pumpkin pies, and other tasty treats etched onto the home linens, and Thanksgiving quotes framed on the tables and walls.
There are so many ways you can make Thanksgiving feast more special with different patches. In this brief guide, we'll help you choose the right kind of patches and artwork and how you can use them for gifting and aesthetics.
Choosing Thanksgiving Patches
Consider two factors before you decide between embroidered, chenille, woven, sublimated, or any other kind of patch for Thanksgiving décor.
The first is your artwork. When you think of Thanksgiving, you think of turkeys and pumpkins, food, of course, cornucopias, and even family pictures. All of this can be converted into patches. But which patch?
If we're talking simple patches with a few colors and a basic design, then you can choose either kind of patch. If we're talking lots of patterns and shades, then chenille patches are out of the picture; these look way better, featuring a simple design. For pictures of your family as Thanksgiving mementos or patches for themed T-shirts, sublimated patches are the way to go.
To get a better idea of what your artwork will look like on each patch so that it is one of the ways you can make Thanksgiving feast more colorful and exciting, we've described these below:
Thanksgiving patches made out of embroidery are stunning, can showcase many colors and designs, give off a 3-dimensional feel, and are easy to clean and maintain. Hence the reason these are popular as holiday-themed patches. Custom embroidered patches will look gorgeous on matching t-shirts for your family, as keepsakes on badges or keychains, and even as adornments on your cushions and guests' towels.
Need More Information?
Request a quote. We will get back to you within 8-12 hours with a custom product quote.
Chenille patches are also made out of yarn, like embroidered patches, but have a different look. Think of chenille patches similar to your short-fiber towels; these are the same as the lettering on the varsity jacket. This means that, firstly, you can use these on various fabrics such as pillows, tablecloths, and more. Secondly, you can order these in large sizes without the whole thing looking too over the top. And third, you cannot go for intricate designs; they won't appear well. Choose a few colors and simple artwork if you prefer chenille patches.
Sublimated thanksgiving patches are amazing. Need another way of showcasing your family's portrait onto a t-shirt or sweater without having it printed? Go for a patch made with dye sublimation. It's printing, too, only on a mesh backing. The colors are transferred using heat, so they last longer than the design on your regular printed t-shirts. The final look is much more elegant than screen printing, too, since the colors are far more vibrant.
PVC patches are not your typical holiday patches, but these may be great for keychains, badges, and frames. PVC Thanksgiving patches can also be used by businesses for giveaways and event uniforms by businesses and service organizations. Choose a design with your company's logo and a picture of a turkey, and you've got yourself a fun holiday party keepsake for all your employees.
Adding Thanksgiving Patches To The Table
The second factor (the first being the artwork) you should consider when ordering patches is the overall décor. There are different ways you can make Thanksgiving feast a memorable one for your family, one of which is adding a patch wherever you can add a patch.
1. Add Patches To The Towels
When you have friends and family over for the Thanksgiving feast, you get out your best bathroom linens. Why not make them more unique and add a couple of turkeys to the bottom, and give a little festive cheer to anyone who goes for a bathroom break?
2. Patch Up Your Table Cover
Ditch your usual checkered or flowery Thanksgiving feast table cover, and go for a cloth decorated with Thanksgiving patches. You can add one big chenille patch to the center if you have a round table, or go for smaller embroidered patches at all corners for a four-sided table.
3. Decorate Your Matching T-Shirts
Holidays are the time for clichés and cheesy traditions, and matching T-shirts are one of them. Add a sublimated family photo patch to each of your Thanksgiving garments. No better way to show your love for your family than to display it on a patch!
4. Patched Hangings For The Win
Like turkey cutouts or pumpkin cutouts, patches look fantastic as wall hangings. Get a bunch of small embroidered or chenille patches, secure these with a string, and place them above the table as one of the ways you can make Thanksgiving feast more delightful.
5. Gift Patches To Your Guests
Who does not like a little surprise keepsake at the end of a party? Give a cute turkey patch to each of your friends and family to help them appreciate your creative sense and remember the delicious feast they had!
ThePatchio – Your One-Stop Shop For Thanksgiving Patches
We know holiday patches. We've worked with individuals, families, and businesses all over the U.S. to create themed patches. Our artists can convert any artwork into a custom patches product of your choice. We're prepped and ready to go; send us your picture file, and we'll get back to you with a free quote.
ThePatchio also has a no-minimum limit, so you can order however many Thanksgiving patches you need. Contact us today!
Need More Information?
Request a quote. We will get back to you within 8-12 hours with a custom product quote.