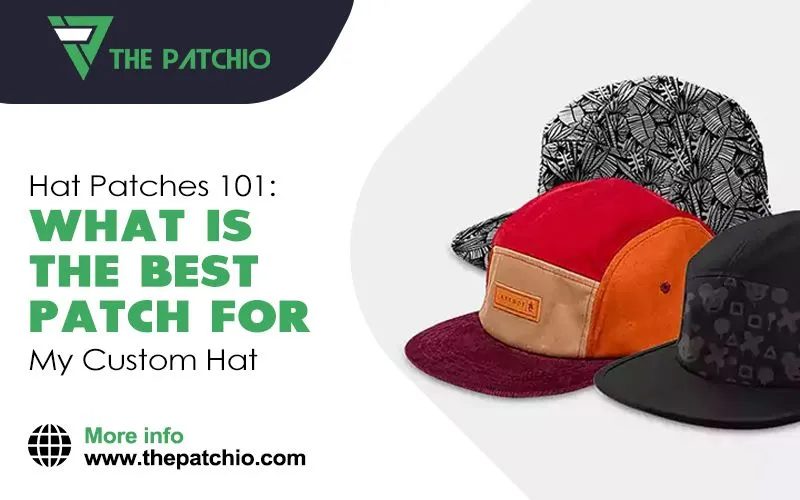 What style of Hat Patches are best for you? Patch hats are perfect for every season or event. There are different types of patches, each with its look and style. But what is best for you? How to decide which patch is good for your hat?
For example, trucker, baseball, or golf hats can do if you like a more laid-back look. They're ideal for protecting your eyes from the sun while playing a round! Snapbacks with flat bills, people can wear in different ways for fishing and hunting.
Here are some of the best patches you can use on your Custom Hats.
The Top 5 Patches For Custom Hats
We understand You might be wondering what kind of patch to place on your personalized hat. Fortunately, there are five key categories of Hat Patches from which you may select to promote your business while keeping it unique.
The details on woven, embroidered, sublimated, PVC and leather patches are provided below.
A woven hat patch is the best for custom hat when it comes to demand! You can capture minute details and tiny lettering to create a clear, sharp, and vivid logo. A woven patch captures more of your personalized logo's finer characteristics by using finely woven fabrics (thus the name).
The woven Custom Hat patch is a fantastic option if your logo contains delicate details, tiny text, or numerals.
2. Embroidered Patch Hats
The most popular patch is an embroidered patch, which is closest to "regular" embroidered headwear. Your brand will stand out even more thanks to the contrasting border edge of the embroidered hat patch.
You can choose a fully embroidered background or a twill backdrop with embroidered Hat Patches. Generally speaking, a patch can catch more details than ordinary needlework, although certain smaller, more detailed elements could not display well on this choice.
Most likely, your grandfather has an embroidery patch hat in his garage. With a fabric background and motifs sewn on top of the cloth, this vintage patch has amazing texture and dimension. Simple patterns with bolder writing and single-color forms look fantastic on embroidery patches.
Sublimated patch caps are the best option if your logo contains detailed microscopic details or gradient colors. We can reproduce practically any detail and color on the patch since this sort of patch is similar to screen printing.
If your logo has a lot of detail that you want to be particularly precise, sublimate patches are the way to go.
Designs with gradients or that rely more on images than text look fantastic on printed patches. A piece of cloth with your design prints before cutting and merrowing.
Because any type of artwork may be printed on them, sublimate patches have a smooth, flat texture and are becoming increasingly popular for Custom Hat.
4. Genuine Leather Patch hats
Leather hat patches allow a simpler and easier-to-understand logo. However, more minute details are there. Genuine or imitation leather are the two options for the leather patch. There are many other basic colors available from there.
These leather custom hat patches are a bit different since your logo will be etched onto the leather before being applied to the cap.
In light of the above, your logo must be able to be changed into a single-color version for this style of leather hat patch to function for you. We can assist you in making it if it doesn't currently exist.
Many patterns may be rendered two-tone. However, gradients do not transfer, and image designs with several colors are inappropriate for leather. ThePatchio Custom Patches Online company offers a variety of leather hat patch alternatives.
It includes hues of tan, black, grey, and blue. The debossing may be whatever color you choose, including white, red, metallic, or darker than the leather.
Some of the best patch for custom hat also include 3D PVC. They are frequently a very adaptable design that works with many various designs. PVC patches' 3D texture is, without a doubt, their finest feature.
Your design is useful for creating a customizable mold where the backdrop is often flat, little writing is on the second level, and visuals are typically on the third level and beveled in some fashion. PVC patches are ideal for basic and intricate patterns and can match Pantone colors.
How Can Hats Get Patches On Them?
Industrial sewing machines like those a cobbler may use are often useful for putting hat patches directly onto a hat. Your preferable thread color is useful with a sturdy needle. If you select this option, you may use the same sewing machines to attach velcro to the back of a patch.
If the form is not too difficult to follow the border on, the patch can be heat-pressed onto some hats with unique shapes and can even be embroidered. ThePatchio Custom Patches Products are easy to use and attach.
The Best Patch for A Custom Hat
ThePatchio can assist you in choosing the perfect bespoke cap and patch that complements your logo! We can help with setting the background and border colors for the Hat Patches. We offer logos that contrast the patch.
Also, we help you stand out with embroidered, woven, leather, and sublimated patch hats. Your personalized hat will be a unique item made just for YOU and your clients, which is the whole idea of branding!
It's important to remember that branding aims to familiarize potential clients with your customized logo to encourage them to remember you and utilize your services. Thus, it is the ideal method to achieve it with a distinctive, high-quality Custom Hat patch.
Looking To Order Custom Patches Online?
Reach out to ThePatchio today for a quote!