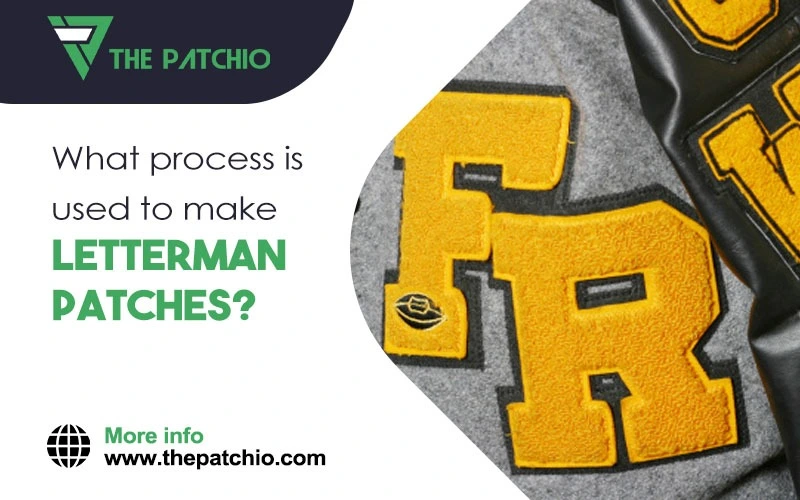 Tailoring your letterman jacket with your name or school logos can suddenly make your jacket look like a personal item.
Applying embroidery methods employed for altering patches and integrating stencils will accelerate your project. If you wish to flaunt your jacket as unique ins school/college, place a letterman patch on it. You can choose from Custom Chenille Patches and Custom Embroidered Patches.
The Patchio produces, customs, and designs patches for brands so that they look awesome in the market. Our high-quality patches are available at the most economical rates. Our other salient features include free design consultation, free shipping, 24/7 customer support, and amazing discounts on bulk orders.
A letterman jacket is an important clothing item given to pupils who have demonstrated their expertise in a subject or game. When the student wears this jacket, the patch tells everyone that the student was awarded an achievement from a certain institute. A letterman jacket patch is a sign of honor.
The process to make Letterman Patches
You would need a sewing machine and an embroidery machine for it. The first step is to draw your patch's pattern.
How to make letterman patches:
Drawing patch's pattern
It consists of five steps.
Measuring dimensions
First size the length and width of the place on the jacket where the patch has to be sewn. employ a letter template for a sign or school name. your stencil's measurements should match with the dimensions of the jacket's selected area. Also, it should match your embroidery machine's fixed and non-adjustable parameters.
Tracing outline
Outline with your stencil on design paper or drawing pad. Adjust sizes with your ruler. One separate pattern will be required for the top coating and one for the lowest layer to make letters.
Make initials
Creating initials or your school's emblem is easy. Just border your lower layer with a contrasting touch. Combine it with a beautiful and soft top layer made up of a textured material like chenille. You can also include your school colors in your patch.
Cut out your designs
Now carve out patterns. Use tailor's chalk to label your fabric. It will show your embroidery stitch. You may choose a thread color to surround the letter's upper layer and another color to border the outer layer.
Carve out the fabric's upper layer
Eliminate your fabric's upper layer. Use a cutting mat if you are cutting out with a rotary cutter. Cut out the fabric's outer layer on it. it will secure your work desk. Do not omit the inner layer. You should have the complete part of the cloth with the top layer outlining so that you can bind the cloth to the machine's hoop accessory for embroidery in the next step.
How to make letterman patches: Creating Your Letterman Patch
Here is the next part of the process to make Letterman Patches. we will guide you step by step to create a letterman patch. So stay along.
Stabilize the patch
You need to keep the patch steady during embroidery. Apply a thin coat of temporary glue to the upper letter and smear it to the lower layer. Another way is to take a foil of sticky preservative following your fabric's weight to even out the patch while you are doing embroidery.
Fasten your inner layer's fabric on the machine's hoop attachment
Now bind your bottom layer's material onto the embroidery machine's hoop accessory. The fabric must be rigid. Keep the outer layer letter in the center to prevent the shifting of fabric during the stitching process.
Embroider the letter
Embroider the upper layer with the designated embroidery darn. Employ a close-fitting stitch to border your letter. It will offer the best results. As you finish embroidering the letter's border, cut any loose threads.
Now, Embroider external layer. Choose a tight darn to surround the border, as well. eliminate any loose threads.
Carve out the patch
Cut the patch with the help of a rotary cutter. Make sure to be slow and careful. Otherwise, you may end up cutting into the embroidery yarn.
Outline your letter
Outline your letter gently on your dual-purpose fusible. eliminate the fusible outlining.
Iron it
Eradicate one side of the shielding pane from your dual-purpose fusible. Go through the manufacturer's directions. Press it to the backside of your patch. you would need to iron most fusibles on a high cotton setting.
Need More Information?
Request a quote. We will get back to you within 8-12 hours with a custom product quote.
Stick your patch to the jacket
Eliminate the second protecting sheet. Place it on the jacket. Protect your patch from the high iron setting by covering it with a Teflon sheet. This is especially important if your letter's upper layer is made of a textured surface. To bind the patch to the letterman jacket, keep applying pressure with the iron. Your patch will adhere to the jacket in minutes.
The process to make Letterman Patches with modern chenille
The conventional manufacturing method involves knitting, whipping, cutting, and heating. However, the contemporary technique includes utilizing heaps of short measurements of yarn between two whirling main yarns. The heaps of fiber can be of any type of fiber. One may use silk or rayon along with the old-style choice of cotton.
Chenille is still extremely popular today. It is commonly used as a fabric for creating carpets, mats, and quilts and also for making patches. It is also employed as a prevalent supplying fabric for padded furniture or other household fittings since it has a pleasing plush and fuzzy texture.
The process to make Letterman Patches:
Designing chenille patches
A patch creator and designer company can easily manufacture and beautifully design a chenille patch for you. However, if you wish to know the whole process to make letterman patches step by step, keep reading.
If you have a great idea or have the full details for your chenille patch design, it's a good idea to contact a patch designer studio or send them a sketch.
The professional patch designers at a good patch designer company will digitize your design and send you a verification slip.
They will ask for your approval, after that they will start creating it. The process includes sewing the design, running cloth, and chenille material through the machine, and then fastening the base shackle to the patch backing.
The next step will be hand-trimming your patch and dispatching it to you according to the order you placed.
You would need to do the final step. It is to sew your patch to the jacket, poster, or wherever you need to stitch it.
Conclusion
Letterman patches indicate honor and achievement. There are many methods to produce letterman patches. Also, you can fix patches on the letterman jacket using many different methods.
The process of making a letterman patch depends on the type of patch you wish to place on your jacket. A good patch manufacture and design company can make letterman patches for you.
Patchio also offers a wide range of patches including embroidered patches, chenille patches, and more.