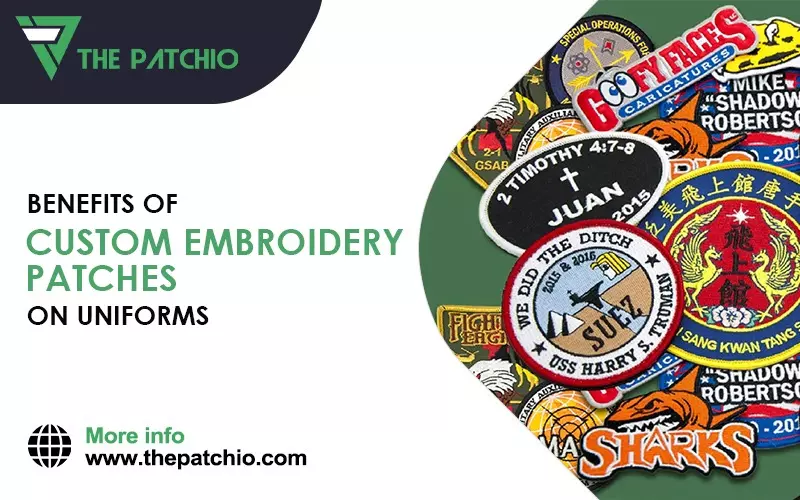 Uniforms are means of showing association, recognition, and solidarity. These are imperative in service organizations and an added benefit for businesses. Embroidered patches can elevate the overall look of a uniform; why not get one designed for your employees' uniforms?
Adding custom patches to uniforms – Part I – Design
Designing the artwork for custom embroidery patches on uniforms is simple. You can go for your logo on a contrasting background for an elevated look, ideal for biker patches that are customarily attached to jacket rear. You can also design a unique patch with a more elaborate design to showcase what your organization does. Add this design to different accessories--embroidered keychains, hats, caps, bags, and more.
You can get a pair of patches for each uniform. One for the front is stitched as your institution's logo. The other patch can be for the back, with more elaborate artwork of your products or services.
Adding custom patches to uniforms – Part II – Benefits
A custom patch is an excellent addition to any uniform for a number of reasons:
1. Instills A Professional Look
Uniforms are meant to create a formal look for employees or members of an institution. Patches add more professionalism to that look, whether it's chenille brand patches or embroidered police patches.
These are more than just creative add-ons to a piece of clothing; these are a means to certify that the person wearing the clothing or accessory with the patch belongs to an institution. Custom embroidery patches on uniforms help garner trust and respect from clients, customers, and the general public.
If you want an example, let's assume you're at a hospital and need assistance. Would you be more willing to ask a uniformed person without any actual means (patch) of validating their professional association or someone who is carrying the patch logo on their uniform?
2. Catches The Public's Eye
Need a walking advertisement for your brand? Order custom patches!
There's something quite charming about a patch on a uniform; these pique interest and curiosity. Recall if you've seen someone in public wearing a plain, uninteresting Polo shirt—but with a patch on it. Don't you immediately try to sneak a couple more looks to determine what it says?
That's the thing about patches; they're sure to turn heads. They inform people that your brand exists. Moreover, they are a means to advertise your brand, find more leads, and attain more customers—all without any additional spending!
Tip: When designing a custom patch for a uniform, make sure your artwork does not blend with the uniform. Choose your colors, shape, and overall design wisely to ensure that the patch stands out and is easy to acknowledge. Check out All You Should Know About Thread Colors for Custom Embroidered Patches for more tips.
Need More Information?
Request a quote. We will get back to you within 8-12 hours with a custom product quote.
3. Distinguishes Your Business
Custom embroidery patches on uniforms are an excellent way to stand out in a crowd, an essential factor when attending a professional event such as a fair or a convention. While your employee's uniforms may coincidentally match another brand's apparel, there's no accidental matching when it comes to custom patches.
For one-time use patches, go for Velcro backing when placing an order. These can be easily attached and removed from employees' occasion-wear uniforms. If you're ordering limited-design patches, you can easily replace patches when choosing Velcro backing. You can also hand out custom embroidered keychains and other patched products as giveaways at business events and celebrations.
4. Creates A Sense Of Team Spirit
If you've ever been a part of a team or a club, you'll know the excitement of receiving an official membership badge. It makes you feel significant, respected, and, most of all, thrilled about being a part of a group. Patches, especially sports patches, play a role in strengthening team bonding. For organizations such as police, firefighter, and military departments, patches can help improve loyalty toward the institution as well as each member of the unit.
Needless to say, if you want to introduce something exciting to the next team trust exercise, add custom embroidery patches on uniforms!
5. Long-Lasting & Cost Effective
When it comes to uniforms, you can add your logo and any additional artwork in one of two ways. Either get it printed on the clothing or add it as a patch. So what makes a patch the more considerate option of the two?
For one, patches are the more durable choice, especially if we're talking custom police patches or fire department patches. Whether embroidered, woven, or chenille patches for uniforms, these are made with fine-quality threads stitched onto the backing with state-or-art machinery. Screen printing looks pretty too, but it fades away quickly after a few wash and dye cycles. On the other hand, the yarn work on a patch is made to last.
Also, patches are the more cost-effective option of the two. When you get a logo or design printed on a uniform, you may have to buy separate clothing, as not every material I suitable for fabric printing. Patches can be attached to any piece of a uniform: shirts, bottoms, jackets, hats/caps, scarves, and even bags. The larger your order of patches, the more discount you may get on your order.
Plus, you don't need to get new clothing for every event; hand out patches to your employees or team members to place on any theme-specific clothing for a professional look.
Adding custom patches to uniforms – Part III – Order
To place an order for custom patch products for uniforms, follow these steps:
Finalize your design. Take some help from the internet, or more specifically, use a patch gallery on the patch manufacturer's website for inspiration.
Choose a reliable custom patch maker. Ideally, you want to choose a business that works with clients in your industry, amongst others, so they know what you need.
Always select the highest-quality thread and backing options available. The better the material, the more attractive looking and long-lasting your patch.
Look for incentives such as no-minimum order limits, bulk discounts, and reasonable quotes; all these are vital for small brands and startups.
Communicate your ideas well and confirm the delivery timeline. If you need patches for a particular event, it's imperative that your sample is ready in a short while (with enough time for any adjustments) and delivered before the occasion.
Reach out to ThePatchio for custom embroidery patches on uniforms; we pride ourselves on delivering well-crafted, premium-quality personalized patches for all kinds of businesses throughout the U.S.
Need More Information?
Request a quote. We will get back to you within 8-12 hours with a custom product quote.