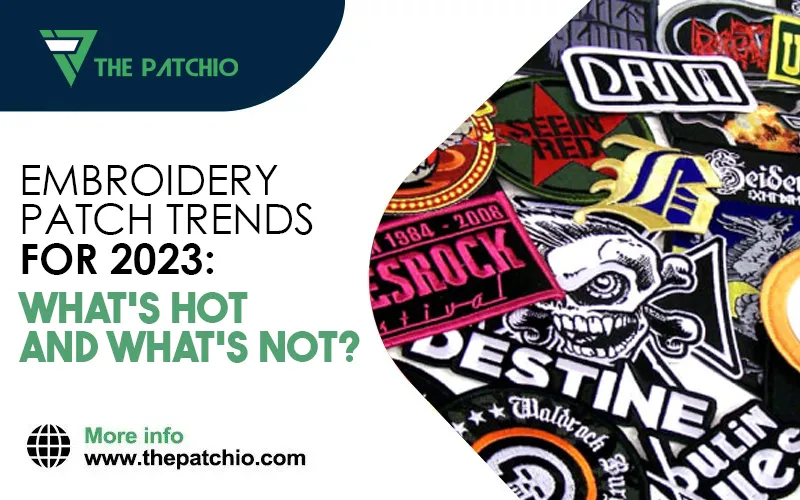 When it comes to embroidered patches, following the trends in apparel is the best move. Since the dawn of embroidered patches, there have been many changes in embroidery patch trends. Each era comes with its own preferences. For instance, the current focus is minimalism with statement work.
Embroidery Patches Trends – The Dos & Don'ts
If you're designing embroidered patches, consider the top embroidery patch trends before you finalize your artwork.
What To Consider: Bold Colors
Bold, vibrant colors are one of the leading trends for embroidery patch, making a comeback from the 50s—with a contemporary touch. Instead of going for all bold, people now prefer clothing that is minimalistic with a touch of something lively.
Embroidered patches are that much-needed bold addition to minimal outfits. We're talking patches for jeans, jackets, tees, and more. Bold color custom embroidered patches stand out, add an oomph factor, and take the entire vibe of an outfit up several notches. Best of all, bold patches look just as appealing on bags and other accessories.
What To Avoid: Faded Shades
Bright colors bring a patch to life, which is why these are important in embroidery patches trends. After all, faded ones diminish their appeal. The preference for pastel shades and muted colors is understandable, but these look old before they've been used much. Pastel hues are a part of modern apparel but in base colors (that is, the color of the shirt, bottom, jacket, hoodie, or whatever else the patch is supposed to be on).
When it comes to an embroidered patch that goes on the outfit, the colors have to be bright and bold. Otherwise, the whole thing feels lacking pizzazz. The only exception to the no-faded-colors embroidery patches trends is if the background material is dark. Even then, going for vibrant colors rather than pastels is much more aesthetically pleasing.
Interested In Ordering Custom Embroidered Patches Online?
Reach out to customer service at ThePatchio for information or request a free quote today.
What To Consider: Intricate Designs
We've moved past choppy, large patterns in embroidery patch trends and onto complex, weaving designs. The floral trend is proof of the intricate design revolution, and the same rule applies to patches. Embroidered patches with intricate patterns hold a unique sort of charm.
The better the quality of the patch, the more lifted the design looks. However, complex embroidered patterns on a patch will not look nice or definable if the patch is too small or the patch artist has little experience with elaborate patterns. The larger your patch, the more space blank space there is to help uplift the pattern. Read How To Make Custom Embroidery Patches To learn about working with patch sizes.
What To Avoid: Plain Patterns
The world of chenille patches may be open to simple, limited color design (as is the requirement given the texture of chenille patches).
However, embroidery patch trends are a different story; a couple or so colors and 2D-like artwork may not look beautiful. Intricate designs are perfect for medium to large embroidered patches. Moreover, this helps make the design more unique. The more complex the pattern, the more room you have to make it one-of-a-kind.
Tip: To get a truly elegant intricate design and avoid the whole thing from mixing into each other, don't head to plain designs! No, instead, go for mixed threads (basics and metallic mixed together). We'll talk more about this later.
What To Consider: Mixed Patches
The latest embroidery patch trends also include mixing patches together. For embroidered patches, you can go for an embroidered patch with a chenille border and vice versa. Embroidered and woven patches also work well together, but since the manufacturing concept is the same, there isn't much difference in the final look.
The benefit of mixing patches is that your piece looks remarkably done. The main design looks doubly amazing. If you are attaching your patch to a base material that is the same color scale as the base design of the patch, then a mixed patch border emphasizes its beauty and intricacy.
What To Avoid: Borderless Patches
When it comes to embroidery patches trends, borderless patches are not recommended for two reasons.
Firstly, your design may merge with the thing you're putting your patch on. While embroidered patches are usually added to plain clothing, the involvement of prints complicates things. Say you're ordering custom patches products for a club or a team, adding these to badges or pins, or simply handing these out as iron-ons. If someone were you put theirs on printed garments—and there is no border on the patch—it will blend in.
The second reason for adding a border is durability. Borderless patches are likely to fray faster, though it depends on which patch manufacturer you choose.
Want To Order Trendiest Custom Embroidered Patches Online?
Reach out to us at ThePatchio for information or request a free quote today.
What To Consider: Mixed Threads
Another trend to follow in the world of embroidered patches is designs with contrasting threads or threads made out of different materials. One of the benefits of custom embroidery patches on uniforms is that you can find metallic and neon options in threads when converting your artwork to a patch design. Metallic and neon threads make the final piece unique, perfect for projects with letterings. If you're looking to highlight the text (name of the brand, number of players in a sports patch, etc.), then you can incorporate metallic threads.
You can also go for basic threads with contrasting shades to make the design more interesting. Go for light lettering on a dark background or vice versa. Make sure that the colors complement each other.
What To Avoid: Similar Materials/Colors
If there is one way your design will look subdued, it's the use of the same colors. Even if you have a theme to stick to, make use of white, black, or grey in between to add some depth without compromising the look. For embroidered patches that have letters, numbers, or any aspect that you want clearly visible, make sure to choose a different thread or color for it.
Latest Embroidered Patches At ThePatchio!
Looking to order trendy, quality custom patches online? We'll help you navigate embroidery patches trends and create a great patch together. Reach out to us today to get started!