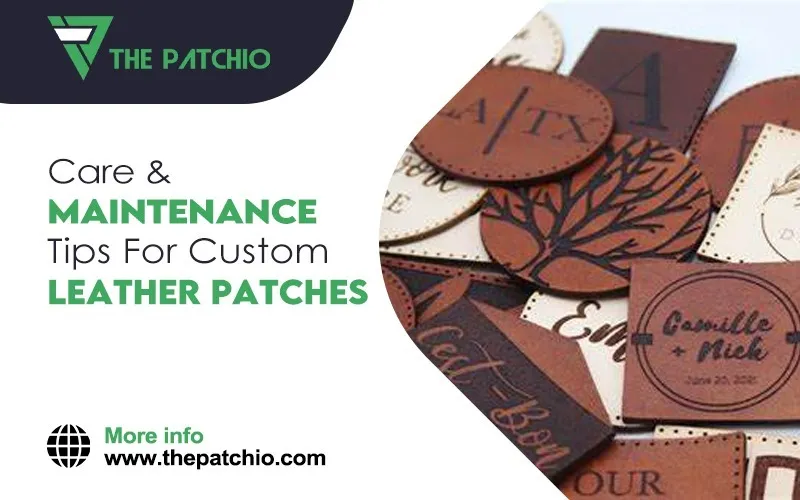 Adding leather patches to clothes and accessories can be a super creative addition. But, it's important to maintain these patches as well to keep them looking their best. By keeping in line with proper tips for custom leather patches, you can make these patches last for years—or at least as long as the garment these are on lasts!
Want to display amazing-looking custom leather patches on your clothes? We've got some simple maintenance tips for custom leather patches in this guide!
Essential Tips for Custom Leather Patches Care and Maintenance
We've listed several maintenance tips for custom leather patches below, following which you can ensure that your leather patches stay vibrant and in great shape for as long as possible.
When it comes to washing, ironing, and storing patched clothes, it's crucial to understand the integrity of the material used in the patches—and what and how much these custom patches can withstand.
If your leather patches are not attached properly to the garment, then your efforts to follow tips for custom leather patches may be in vain. Therefore, start by using the right means and method to add leather patches to clothing or anything else you intend these to be on.
If you've ordered leather patches for your brand, then choose a good stitching service to properly attach leather patches to clothing or accessories. While machine stitching is usually faster and less costly than hand stitching, leather patches latch well and look more refined when hand-sewn.
2. Iron Around & Inside Out
Maintenance tips for custom leather patches 101: Never EVER iron these patches. Whether we are talking about genuine leather or faux leather, the extreme heat of a clothing iron is a huge no-no when it comes to maintaining patches.
Leather looks great when you minimize the heat it is exposed to, be it the temperature of the water while washing, drying methods, or exposure to sunlight (we'll cover this further).
When ironing clothes with leather patches, iron around the patch. If you aren't satisfied due to any seams that may gather around the patch, turn your garment out and gently iron on that side.
Need Custom Leather Patches Online?
Contact customer service at ThePatchio for information or request a free quote today.
Leather patches will gather a little dust now and then, so pay attention to cleaning to avoid that classy leather appearance from fading. Dust and grime can settle into the crevices of custom leather patches which are embossed or debossed (read All About Leather Patches to learn more).
If your leather patches feature a single-line or double-line stitched border, then the threads may change color over time if not cleaned regularly.
One of the safest tips for custom leather patches to make these spotless again is to clean them with a damp cloth. Gently wipe the patch with a clean, damp cloth, and repeat the motion to get out any stubborn dirt and stains.
Here are some sound tips for custom leather patches: No bleach when washing clothes with leather patches. No harsh detergents either. Also, avoid the use of chemical softeners, as these can affect the leather's sturdiness and make it prone to stretching and de-shaping.
A mild detergent works well enough when you add clothes (with any kind of patches products) to the laundry. If you are cleaning clothing or accessories with leather patches by hand, avoid the use of a sharp clothes brush on the patches as well.
Air-drying leather patches works well. However, to avoid the wetness from 'tugging' the leather patch, pat dry first before you hand your clothes out to dry.
It's quite simple, dab the leather patch with a clean towel to get out the excess water. You can also roll the section with the patch on with the towel and press gently to squeeze out the moisture within the backing layers of the custom patch.
Do not spin or tumble dry, otherwise, your patch may become deformed or even tear. Air drying is the best method to maintain your leather patches and keep them looking like new for a long time.
As we mentioned earlier in maintenance tips for custom leather patches, heat, and leather don't go together (unless you're looking to distress leather patches for a vintage look). Just as you take care of drying a leather jacket or purse after cleaning it, pay heed to any garments or accessories with leather patches on them.
Hand or put out to dry in indirect light and where there is plenty of air. If you turn your garments inside-out while drying, you end up protecting both the leather patch and the fabric it is on!
Looking To Order Custom Leather Patches At Fair Rates?
Contact customer service at ThePatchio for information or request a free quote today.
Leather patches require a little TLC! Once you're done and dusted with the washing and drying tips for custom leather patches, don't forget to condition these. You can easily find leather care balms in the market, the kind used for maintaining leather jackets, shoes, bags, and other items. While these are usually for genuine leather, you can also use some on faux leather for protective layering and to maintain the sheen.
A little bit of leather balm, applied gently with a clean cloth suffices for patch maintenance. It Is not necessary to apply the balm often; a once-a-week application works well to keep the leather patch looking perfect!
Get High-Quality Leather Patches for Ultimate Patch Maintenance
What's the first and foremost assurance that your leather patches will look amazing after use? Choosing the right patch maker, without a doubt!
Both genuine and faux leather come in various qualities, and you need patches crafted out of high-grade material. From there on, following the tips for custom leather patches stated above should be easy enough. However, poor-quality patches won't stand the test of time even if you adhere to each and every tip. Invest well!
Get Your Custom Leather Patches at ThePatchio
Did someone ask for fine-quality leather patches? You've come to the right place!
ThePatchio is your one-stop shop for all things top-notch customized patches. We excel in various types of patches for branding and personal use purposes—including leather patches. Whether you need patches for clothing and accessories brand logos or your college club's emblem, you can trust us to provide you with the best products!
Reach out today for a free quote. We offer fair rates and quick shipping throughout the U.S.!