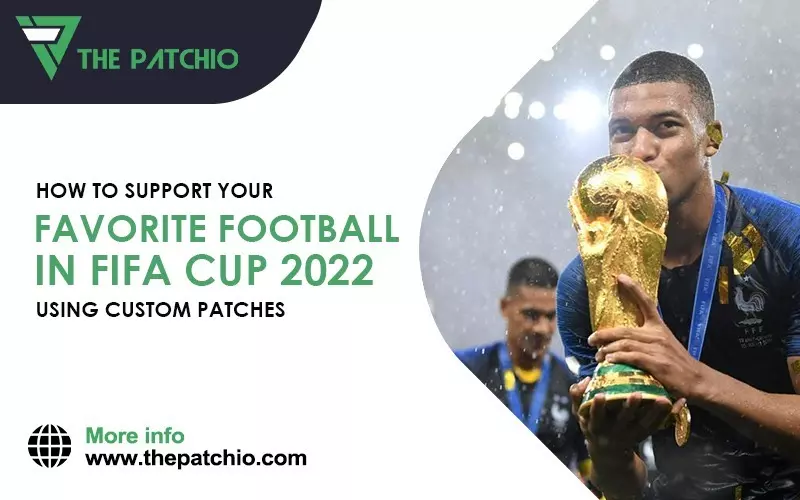 If you can't get enough of getting embroidered patches and need more reasons to get more, you're in luck!
In a few weeks, the world will experience FIFA World Cup 2022, hosted by Qatar. This time around, the world's greatest football tournament's theme is "Football Is For All Of Us." The Qatar Football Association has promised an inclusive experience, and organizers have been hard at providing insights into the events and performances and behind-the-scenes visuals to let us all experience the event's full glory—even for those who aren't attending it in person.
So, once the games begin, whether you have tickets to the matches, are at home alone, have a group plan, or watching from your favorite sports bar—there's no doubt you'll have a fantastic time.
Kicking Off The Patch-perations
Speaking of a fantastic time, how are you doing with your FIFA preps? Got your favorite jersey? Purchased your flags and banners? What about custom team patches—have you got those yet? If not, what are you waiting for?
Support your favorite football team in FIFA cup 2022 using custom patches. Let's get designing some to place an order and get these just in time for kick-off.
Designing Football-Themed Custom Patches
Why custom patches? Why not just get a printed tee or a generic FIFA patch? If you're a true football nut, the props and décor are a part of a truly fantastic experience, whether you're watching the match with your buddies at home or with the spectators at the ground.
As for why you customize these, patches are more than just pieces of thread and backing on your garments. These are representations—of your enthusiasm for football, your loyalty toward a team, and your support for a player.
Custom patches allow you to add more than the team name to the artwork. You can get custom patches in various sizes, color combinations of your choice, and any inspirational or funny lettering or drawings you want (Check out How To Use Funny Patches On Clothes).
You could go rummaging through the bins and baskets at the sports store only to end up with a dull-looking, nothing-special patch. Or, you can design your own and get enough for you and your fellow team supporters to show unity, support, and joy!
Need More Information?
Request a quote. We will get back to you within 8-12 hours with a custom product quote.
Selecting Patch Type For Football Logos
Now that we've got you considering custom patches, let's move on to the categories you can get to support your favorite football team in FIFA cup 2022 using custom patches:
Embroidered patches:
These are a popular choice is custom sports team patches, as you showcase different colors and designs with embroidery thread with very attractive results. When placing an order for custom embroidered patches, ask about embroidery digitizing services; that way, you can be sure whether La Albiceleste's blues will appear in the right shade or England's Three Lions' intricate design will show up properly on the backing.
Woven patches:
Woven patches are similar to embroidered patches, only more delicate. Where an embroidered patch has an almost 3D-like thickness, woven patches are thinner. These can better display intricate designs due to the threads' thin form—perfect for team logos and emblems with complicated artwork.
Leather patches:
These patches can be used for football team artwork, but unlike other patches, you cannot work in the colors. If you love two-toned leather patches on team hats or caps, then go for leather patches.
Chenille patches:
The artwork on chenille patches is also made with yarn, like embroidered patches, only with a different technique that affects appearance. Where embroidered patches have a smooth finish of interlaced thread, chenille has more of a rug-like texture, like the patches on letterman-style jackets. Chenille work is ideal for larger patches and limited color, like getting the two-toned Spanish flag patch made for the back of your hoodie.
Sublimated patches:
These patches are different from the above patches in one way: the color comes after the thread. The benefit? Like printing a picture on a piece of paper, you print the art on a patch backing, resulting in vibrant colors and lasting hues. Football team logos can look great on sublimated patches.
Choosing Patch Backings For Sporty Clothing
Once you've sorted your patch artwork, let's move on to patch backings—i.e., how you'll attach these to the patch. Football patches are popular on tees, jackets, hats, and beanies. You may even want to consider embroidered keychains as keepsakes of the tournament.
You can choose from three kinds of backings for your FIFA-theme patches to support your favorite football team in FIFA cup 2022 using custom patches:
Unbacked/Sew-on:
As the name indicates, these patches are not lined with any attachments. You can get these sewn on your clothing or accessories. This may sound like a hassle, but sewn-on patches are more securely attached. If you're going to watch football matches in crowded places, a sew-on patch won't move out of place when you're bumping around people.
Iron-on:
These are adhesive-laid patches activated by ironing. An iron-on patch may be ideal for a temporary patch on your favorite sports jersey or jacket. Make sure you get a good-quality adhesive backing for your football patch, as you don't want these peeling off before you're ready to put another sports patch.
Velcro/hook-and-snap:
While Velcro sounds fantastic as a patch backing, seeing that you can apply and take off patches in one spot on your garment as many times as you want, these aren't common for sports patches. Velcro patches are more suited to uniform patches, such as police or military uniform patches.
However, if you would like to get multiple patches for different matches, then Velcro backing is the ideal way to go to support your football favorite team in FIFA cup 2022 using custom patches.
Kick It Over To ThePatchio For A Perfect Patch Score
Now that you know all about the sports patches, why don't to roll over to our order form and let us know what custom patch products you need?
Provide us with your FIFA patch artwork, and we'll provide you with a free quote. If you need some inspiration, head on over to our patch gallery to view our sports team patches. We make patches for all kinds of clothing and accessories, from denim jackets to embroidered keychains.
We have our fingers crossed that you will see your team win this World Cup!
Need More Information?
Request a quote. We will get back to you within 8-12 hours with a custom product quote.