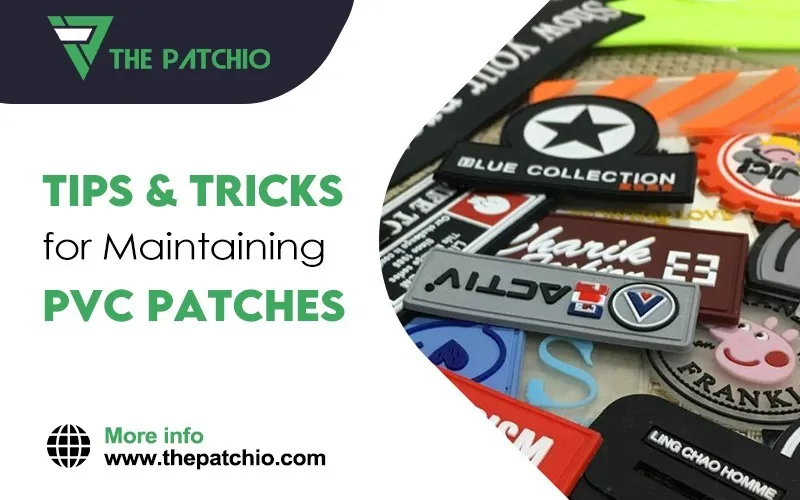 If you want to move away from traditional embroidered patches for uniform logos, branded clothing, sports team merchandising, or any other purpose—how about looking into PVC patches?
These are fun to design and use for a range of applications, from creative shoe charms to PVC patches as a marketing tool. Plus, these can go with any kind of material (fabric, leather, notebooks, shoes, and more). PVC patches are also pretty effortless when it comes to maintenance—provided you know how!
Tips For Maintaining PVC Patches
Got your PVC patches or thinking about ordering some? Here's a brief list of tricks for maintaining PVC patches.
1. Choose Bolder Colors To Begin
Following the tips for maintaining PVC patches will be much easier if you start out with low-maintenance patches. Darker, brighter colors are generally easier to maintain than lighter, pastel colors when you take materials like PVC and silicone. While high-quality PVC patches are pretty straightforward and low-maintenance, lighter-colored patches are more susceptible to damage such as staining and fading.
Brighter, bolder colors are your best friends. Unless your logo or artwork specifically calls for light colors in PVC patches, choose manageable shades.
Also, you can mix and match darks and lights to give your custom patches products an edge, as well as keep the visual appeal intact in case the patch stains or fades.
2. Get Professionally Attached
Here's one of the top tips for maintaining PVC patches right from the pros: pay attention to using your patches. PVC patches traditionally come with two backings: sew-on and Velcro. With sew-on backing (backless patches) you can also choose to use super-strength glue for accessories such as shoes, keychains, or bags (read Guide To Using PVC Patches For Customizing Your Bags for some creative ideas).
For using sew-on patches that you actually need sewn, go for professional stitching. Attempting to sew simpler patches such as embroidered patches is relatively easy and you can do it even with little hand or machine sewing experience.
However, PVC patches require a refined approach to stitching to avoid ruining the material and changing the look of the patches. For instance, PVC patches have become increasingly popular for sports uniforms (read the history and evolution of PVC patches), and professional stitching is the way to go. Hand-stitching is ideal if you've got PVC patches with unique shapes. Machine sewing may result in more durable results, with no peeling even after prolonged use.
Looking For Custom PVC Patches?
Reach out to customer service at ThePatchio for information or request a free quote today.
Store your PVC patches properly to keep them in their pristine condition for as long as possible. For starters, stick to the golden rule for storing any kind of accessory—keep it in a cool, dry place.
If you live in a hotter, humid climate, don't keep two patches in direct contact with one another. If you've ordered custom patches online, the products arrive early, and you need to keep these around for a while till they come in use, definitely avoid leaving them stacked up on each other. PVC patches may get damaged when you pull them apart.
Avoid damp storage conditions. Also, no direct exposure to sunlight (we'll discuss this further on). For PVC patches that you're keeping as collectibles, invest in a patch album and keep these separate and safe within the pages.
4. Clean Immediately When Dirty
The rising popularity of PVC patches is unsurprising. What are quality features of PVC patches: these not only look charming but are also easy to maintain. However, where PVC patches do their part not retaining the effects of dirt and debris, you need to do yours by cleaning these ASAP.
Here are some easy tips for maintaining PVC patches. If you get any kind of grime on your PVC patches, taking a damp cloth to the muck will suffice. For more stubborn dirt, go for warm soapy water and a clean cloth to ease the muck away from the patch and clean it away.
As for patches that are on clothes and accessories, you don't need to dry clean. Hand or machine wash, PVC patches can withstand either—as long as you go for gentle washing where your PVC patch sticks to the fabric.
5. Minimize Sunlight Exposure
PVC patches are quite resilient. Constant moisture exposure? PVC patches can withstand water as the material somewhat resembles plastic rubber. How about heat and sunlight? There are many tricks for maintaining PVC patches, but unfortunately, there is no way around avoiding some things that affect PVC patches.
PVC patches are THE patches to get if you need to attach these on something for outdoor use (boat covers, tents and hiking materials, combat uniforms, swimwear, etc). However, when it comes to direct sunlight, a little consideration is needed.
There are various pros and cons of PVC patches. While there are very few drawbacks, the one you need to care about most is that constant exposure to sunlight may fade your PVC patches. In cases of high heat, you're looking at deformation if the material softens due to the temperature.
Need Reasonable PVC Patches For Your Brand?
Contact customer service at ThePatchio for information or request a free quote today.
PVC patches may be very sturdy and able to withstand exposure to weather elements but know that there's a limit to how much heat these can take.
Here's one of the well-known tips for maintaining PVC patches: putting iron on PVC patches is a huge no-no. For PVC patches on garments, it's pretty easy to make a mistake when you sort your clothes. However, know that PVC—whether we're talking about the soft, flexible kind for patches or the standard kind you get for pipes and other construction stuff—is not resistant to direct high heat and will melt.
Iron around the patch, or iron the garments inside out to avoid damaging the material. There's a good reason why you can't go for iron-on adhesive backing because it is not one of the recommended ways to apply PVC patches on clothing.
7. Go For High-Quality Patches
Final tips for maintaining PVC patches: the quality and durability of your PVC patches depend on who you go for to create patches. When ordering PVC patches within a budget, avoid going after the cheapest rate you find—as you may end up with a costlier situation if your patches get damaged or wear down too easily.
You can find quality PVC patches at low rates. Look for patch manufacturers with reasonably priced patches and a low-minimum order policy. Also, it helps to look for customer reviews and sample work for past clients.
Winning PVC Patches That Look Amazing & Last – At ThePatchio
Order PVC patches today! At ThePatchio, we've completed hundreds of patch orders for clients around the U.S. Whether you need more tips for maintaining PVC patches or are looking to get a quote for a custom PVC patch idea, we're here to help. Contact us now!