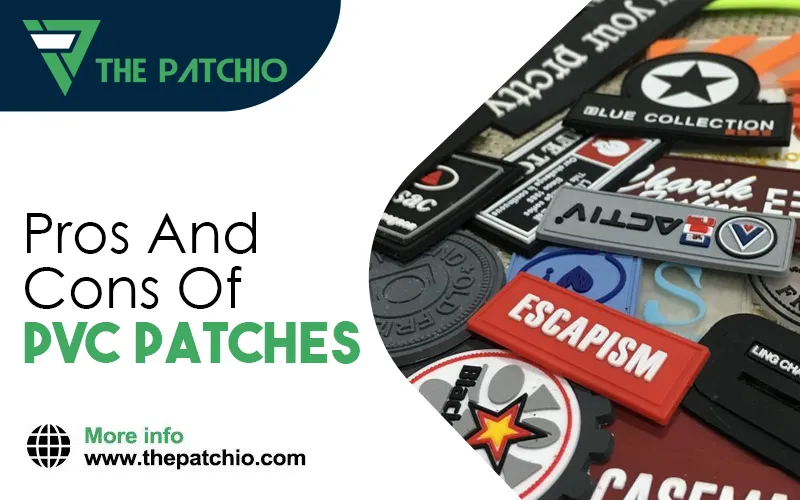 We love a well-designed PVC patch, who doesn't? But like many things, there are both pros and cons of PVC patches. If you are debating whether or not PVC patches suit your custom patches needs, we can help. As custom patch mavens, having dabbled professionally in the art of custom PVC patches, we know the drawbacks in addition to the pros of PVC patches.
There are many impressive features of PVC patches that make these ideal for creative and professional uses. Rea don to learn the tops benefits of choosing PVC patches.
Endure Extreme Weather Conditions
Did you know PVC patches are quite popular for boat cover logo patches? (You can learn more at How To Use PVC Patches For Boat Covers.) The hard form of PVC is used in insulation wiring and water pipes. By nature, this material withstands extreme heat and cold, as well as constant exposure to moisture.
Soft, flexible PVC, specifically that used in custom patches products, has many of the same traits as industrial-use PVC. Hence, PVC patches are ideal patches for all things that go outside in heavy rain and scorching sunshine. These work well on combat uniforms for military and other forces, gym gear and sports goods, boat covers and tents, and so much more.
Get In Any Colors & Design
Here's the tricky part about ordering embroidered, chenille, or any other patches that use yarn—you get to pick from a fixed set of colors. You can order custom colors, but it costs extra to dye. One of the benefits Of customizing PVC patches is that everything starts from scratch; the colors are custom mixed into PVC.
In addition to color customization, PVC patches are also tailored to your liking in terms of shape. Often with other patches, you have to stick to standard squares and rounds. Since PVC patch molds are custom created, you can get your need for squiggly and wiggly borders fulfilled.
Retain Color And Structure
The pros of PVC patches include longevity. These are perfect if you are looking for long-lasting patches—that look new as long as possible. Thread patches such as embroidered or chenille patches are gorgeous too, but a few washes and exposure to moisture means they fray easily.
As far as color goes, PVC patches are not prone to fading since the colors are custom mixed in the malleable PVC before it is shaped into molds. Whether you are decorating your crocs with PVC patches (read: How To Decorate Your Crocs With PVC Shoe Charms) or adding them to sports bags with your favorite NFL club logo, it's going to look great a long way down the road!
Low Maintenance Custom Patches
PVC patches are easy to clean and probably the easiest to maintain than any other patch.
What are custom PVC patches? These are patches made from a plastic-y material, something that does not absorb moisture. So, if you've got mud on your shoe patches, simply take a damp cloth and wipe it off. Dropped some food on your patch and need to remove it fast? A little soapy water does the trick.
One of the best pros of PVC patches is that they are not prone to staining. High-grade PVC, like the one we use in our patches at ThePatchio, is quite hard-wearing when it comes in contact with color-transferring things such as beverages. You can rest easy carrying and wearing your PVC patches anywhere, knowing that you won't get a headache worrying about cleaning them.
Want To Order Custom PVC Patches Online?
Reach out to customer service at ThePatchio for information or request a free quote today.
PVC patches have a few drawbacks you should consider before ordering yours.
Here's one of the most annoying cons of PVC patches: PVC patches are sturdy, but there is a limit to how much exposure a patch can take. Just because a PVC patch can withstand sunshine does not mean it should be exposed to above-normal temperatures. Though a PVC patch will retain its color and shape, the borders may curl up a bit due to prolonged contact with heated surfaces or facing hot environments. On the other hand, patches such as embroidered patches remain the same at the edges (learn more about PVC Patches Vs. Embroidery Patches).
If you want to avoid the curling effect in PVC patches, always go for high-quality PVC, preferably one mixed with silicon for extra robustness (learn more about What are the Difference Between Silicone And PVC).
PVC patches are not as flexible as embroidered or chenille patches, especially small PVC patches. Even the softest polyvinyl chloride has a limit to how much it can bend and take on the shape of the surface it is applied on. You can learn more about Ways To Apply PVC Patches on Clothing here.
Moreover, PVC patches can only be sewn on. Although some PVC patches may tolerate the temperature of the iron (for iron-on patches), it can be tricky to apply them this way. That said, sewing a custom patch, especially a large one, is no joke. Also, not all adhesives work on PVC patches if you're using these patches as shoe charms or pin badges. (Working on a PVC patch project? Learn how to make PVC patches at home).
If you want to sew on your PVC patches, you may need the expertise of a professional or get your patches pre-sewn.
May Not Suit All Surfaces
PVC patches are attractive-looking patches, that's no doubt. But will they look good on, say, knitted sweaters or denim apparel?
Maybe not. You can add PVC patches to PU handbags and sports bags, hats and caps, leather jackets and shoes, and more. 3D PVC patches look even better (read Difference between 2D and 3D PVC Patches).
But for knitted apparel such as sweaters and cardigans, jeans jackets and pants, or other things with a distinct "thread-y" texture, go for embroidered or chenille patches.
Cost More Than Most Patches
To create PVC patches, the experts add these to custom-made molds to prepare them. This adds to the cost of making them, thus the cost of ordering them. Although the price point per patch may not be much higher than embroidered, or chenille, or leather patches, it will add to your overall cost.
The cons of PVC patches include a higher price. If you have a limited budget, you can go for chenille patches instead. However, if you want the look and durability of PVC patches, then these are well worth the expense.
Need PVC Patches? ThePatchio Has What You Need!
We're your one-stop shop for ordering custom patches online. Reach out to us today to get a quote on custom PVC patches, or visit our blog to learn more about the different kinds of patches we provide.