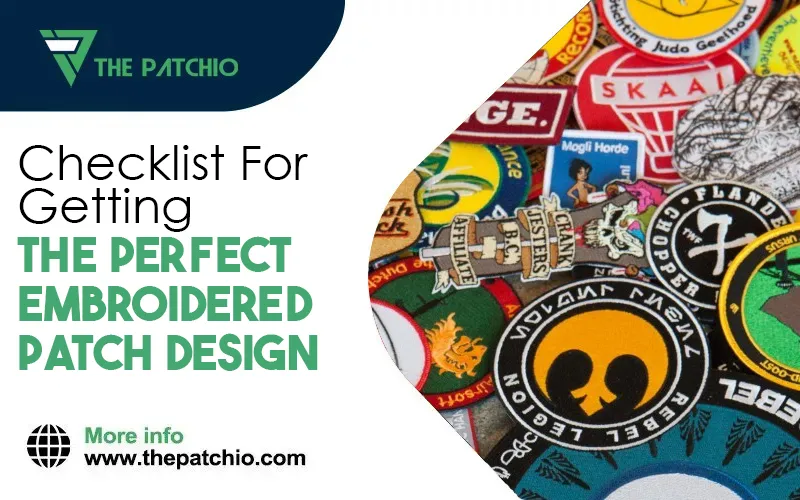 Are you looking to order custom embroidered patches for branding or creative purposes?
The first step: finalizing your design.
By perfecting the details, your final design will be transformed into an embroidered patch that is well-received. Then, the better the skill, equipment, and experience of your patch experts—along with excellent customer support service—the more amazing your custom embroidered patch will turn out!
Your Checklist For Perfect Embroidered Patch Design
Designing your custom embroidery patches is a fairly straightforward process. This checklist is the perfect way to ensure you don't miss any details.
1. Make Sure You've Got Your Color Combination Right
No matter how high the quality of your threads and other patch material is, the wrong color combination will deliver unsatisfactory results. When choosing the artwork for your embroidered patch design, consider a couple of things in terms of color:
The color you see on the screen is never 100% the color you get on the actual thing. Embroidery digitization helps make the design more realistic, but there's still some difference.
Mix darks and lights, especially if you've got lettering onboard your patch. Make the important bit stand out with contrasting shades.
2. Have Some Fun With Metallics
There is no limit to creativity when it comes to embroidered patch design, and nothing says "creative" like metallic threads. In fact, we'd say your patch design is incomplete without a touch of golden, silver, copper, or any other metallic if you have a dark background with numbers and letters upfront.
You can also throw in a bit of neon in your embroidered patch design to make it pop. It is one of the unique embroidery patch trends, but definitely an eye-catching one!
3. Compare Size To Surface
Before you pick the dimensions for your embroidered patch design, pay attention to what the patch will go on.
If you're talking about biker patches for jackets, naturally, you want to go loud and large for the back and something smaller for the front. Small to medium size patches are a standard for uniform patches (read Benefits Of Custom Embroidery Patches On Uniforms). You can go up a few sizes if you want to display a logo patch creatively, such as for bags and caps.
4. Pick An Appropriate Shape
Contrary to popular belief, simple shapes are often the most aesthetically pleasing when it comes to embroidered patch design. What matters the most is the color and quality of the final piece. A complex shape patch with lots of curves and edges will not only cost you more but may also be harder to apply. When checking off the shape from your design list, choose wisely.
Want To Order Custom Embroidered Patches Online?
Reach out to customer service at ThePatchio for information or request a free quote today.
5. Check Your Art, Then Check Again
Pay attention to the details. If you miss an error, you're going to be stuck with a bunch of patches you can't use. Start by double-checking the spelling of any text in the embroidered patch design.
Next, check the placement of elements in your artwork for visual appeal. Anything you want to be highlighted, such as the name of the brand or institution, goes to a prominent spot. As mentioned earlier, check the colors, making sure they don't overlap.
6. Get Professional Help For Complex Designs
Not sure how to make custom embroidery patches artwork? Intricate, artsy embroidered patches deserve some special attention. If you're not familiar with embroidered patch design elements, such as the use of negative space or matching lettering to print, then go for professional graphic design.
You can browse the patch gallery provided by your patch manufacturer for ideas and inspiration. Additionally, leverage additional customer services, such as help from patch artists, to create a truly memorable design!
7. Choose A Backing That Works
You know the standard way to attach a custom patch to a garment is by sewing it on. Then you've got adhesive patches, which work by ironing them on the intended surface. You can also opt for Velcro patches (also called hook-and-snap patches), that work very well for patches that you need to replace/switch.
Whichever backing you choose with your embroidered patch design, make sure it goes on the surface it is meant for. For instance, if you are making patches for your college club for members to place on, a sew-on patch may be a hassle for all. Alternatively, iron-on adhesive embroidered patches are easy to apply on a variety of surfaces.
When choosing the size, shape, colors, and patch backing, don't forget to compare your budget to your cost. Needless to say, a larger patch with complex features like an innovative border or custom color dye thread, or metallic threads will cost you more. Match your budget to your embroidered patch design at every step.
Though embroidered patches are an important investment, especially ones for branding purposes, don't go over your budget and end up compromising on quality or quantity.
Need Help Designing Custom Embroidered Patches?
Reach out to customer service at ThePatchio for information or request a free quote today.
9. Choose A Patch Expert Who Knows The Craft
You've finalized a kickass embroidered patch design. Now it all comes down to the expertise of the people who convert it onto a patch—their skill matters.
Go for patch experts who have extensive experience making embroidered patches. Even better, go for patch manufacturers who have proven results of having worked with clients in the past who had the same requirements as yours. For instance, if you want uniform patches for service employees such as police or firefighters, a previous example of similar work will help you gain trust and peace of mind.
10. Look Out For Additional Incentives
A great patch is the ultimate goal of your embroidery patch checklist. For a wholesome experience, look out for incentives and benefits such as:
No charges for consultation and quotes for custom patches products.
Low minimum order limit. This will help you manage costs.
Embroidery digitization: this is essentially the process of converting your computerized image file into a digitized version of the final patch product.
ThePatchio – Your Experts In Superb Embroidered Patches
Let's help you get started on ordering custom patches online. Our artists can convert any design into a custom embroidered patch of your choice. Reach out to ThePatchio today and let us know what kind of embroidered patch you want, and we'll get back to you with a free quote!