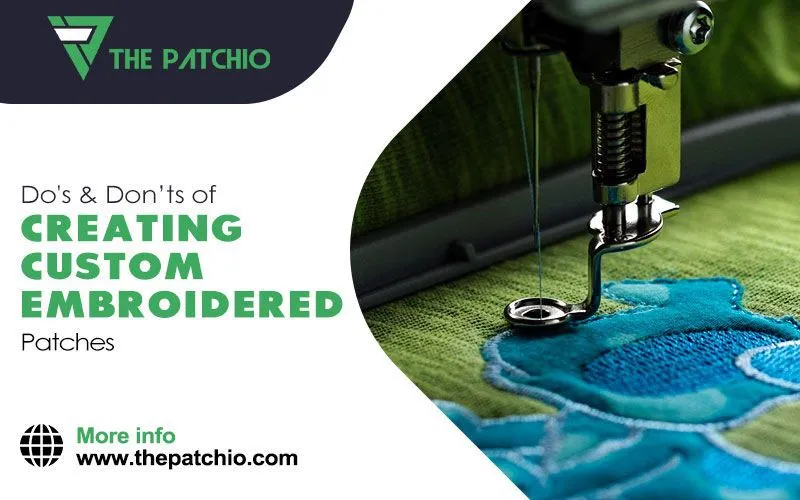 Custom embroidered patches are a fantastic promotion and marketing tool for your goods, services, or marketing. They are also stylishly showcasing your team's or personal brand. Patches are a meaningful way to remember an occasion or support a cause. Thus, make your event memorable.
The good news is that making custom embroidered patches is also fairly simple, especially when you deal with an experienced business like ThePatchio. We have years of experience dealing with the highest quality custom patches.
How to Make Custom Embroidery Patches
Some techniques make the making of custom embroidery patches simple and quick. You should use modern technology when making custom embroidered patches for the best result. Here are a few recommendations you should follow for the best custom design.
Take a look at the top PVC patch trend for the year.
Be Flexible in Your Design
Everything should readily merge. When the artwork is too contrasted, your eyes will have difficulty discerning what is on the patch. So, the artwork and text on the patch should be readable by everyone.
Use Bolder or Bigger Typefaces Than You May Normally Use
Your custom embroidered item will frequently have a fractured look due to fine text lines. Your message will stand out if the wording is bold. Remember that no font size restrictions exist because you may create custom embroidered patches in any size.
You can add as many colors as you like, but fewer, brighter colors will be more advantageous than several colors merged on one patch. Choose gold or silver metallic thread as part of your color scheme to make your patch stand out more.
Do's of Creating Custom Embroidered Patches
Once you've determined the size, shape, and materials of the patch you'd like to create, it's time to consider the do's of creating custom embroidered patches.
1. Do Test Your Design On Patches
It's important to test your design on actual patches to ensure everything lines up and looks how you want it to. This will save you time and ensure creative uses for embroidered patches.
2. Make Sure Your Design Is Big Enough
When designing your patch, make sure your design is big enough to be easily read by others. If your design is too small, it won't have the impact you want.
It might be tempting to add many details or colors when designing your patch. It is essential to keep your design simple. Thus, it will look more professional and appealing.
4. Do Think About The Embroidery Style You Want
There are many various embroidery techniques. For example, you can have a chain, satin, and lock stitch. When deciding on the stitch type, keep your design in mind. Always go for embroidery patch trends.
5. Do Make Use Of High-Quality Patches
It's crucial to make use of high-quality patches. This will ensure the patch endures and can withstand daily use scrapes.
6. Do Use High-Quality Thread
The type of thread you choose will significantly impact the quality of your stitching.
7. Do Sew With Clean, Sharp Supplies
All of your sewing supplies should be clean and sharp. Your patches will be neatly sewn and clean as a result.
Looking To Order Custom Embroidered Patches Online?
Reach out to ThePatchio today for a quote!
Before sewing your patches on, it's crucial to iron them. As a result, it will enhance its look and make it look tidy and clean. Additionally, it will make sewing simpler.
Dont's of Creating Custom Embroidered Patches
Here are some of the dont's of creating custom embroidered patches you must keep in mind for the best result.
1. Don't Overlook the Details
Pay attention to the details while making custom embroidered patches. This entails ensuring that the stitching is clean and secure and that the colors are brilliant and appealing. Also, it ensures that the pattern is clear and simple to read.
2. Don't Choose Bad Fabric
The choice of fabric, for example, might be a little element, yet significantly impact the overall look of the piece as a whole.
3. Don't Pick a Complex Design
Avoid picking a very difficult or complex design. Simpler patterns may appear better and be easier to embroider than complicated ones.
4. Don't Forget to Test Your Patch
Before placing a sizable purchase, don't forget to test your patch. Testing the fabric, thread, and pattern ensures you are satisfied with the outcome.
These dos and don'ts should be considered while creating Custom Patches Products since it may be gratifying. You'll always receive the ideal patch if you abide by these recommendations.
Affordable Embroidered Patches, Anyone?
Reach out to ThePatchio today!
Benefits Of Custom Embroidery Patches On Uniforms
Gives Officers a Professional Image
Custom patches for uniforms that feature an embroidered logo or another image signifying the officer's achievement. It gives them a professional look and gives each uniform an elegant appearance.
These custom patches make each uniform unique and differentiate the position of each job or officer. Moreover, the patches stand out in the public's eyes because they are unfamiliar with them, which makes them distinctive.
Customization For Several Posts
Custom police patches' versatility is among their most significant advantages. These patches may be customized to match your needs and specifications. Also, embroidered patches would be appropriate for your goals and general style.
Long-Lasting Use In Harsh Environments
The patches from ThePatchio are highly durable and lasting. They can withstand various weather conditions. Regardless of how often you wash your garments, the special embroidered badges won't come off or fade.
Custom patches may be useful for any organization to promote security, sturdiness, cohesion, and loyalty. They help create a sense of shared identity and belonging by serving as a visual identifier for customers and workers.
Also, they provide you with total control, which is their biggest feature. Create something useful and engaging by using your creativity. More information on making embroidered patches may be found here at ThePatchio. Get the best Custom Patches Online from ThePatchio at the best prices.