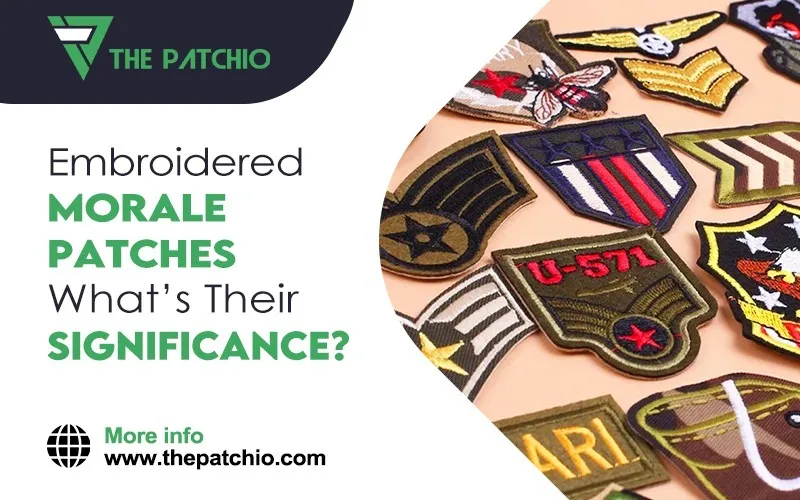 Custom embroidered patches are truly a creative invention. While generally considered to be tools for branding, there are many custom patches products that serve a larger purpose.
A notable example is embroidered morale patches. Traditionally designed by military personnel, made out of yarn weaved into embroidered patterns, featuring sarcastic or humorous themes, these patches are worn as a means to entertain, inspire, and motivate. Morale patches may also comprise serious themes However, given that the purpose of these is to raise one's spirit, the depictions are usually cheeky expressions and imagery.
Looking to create morale patches yourself? Here's everything you need to know about the significance of embroidered morale patches.
The History Of Morale Patches
Though morale patches originally became a thing in the early to mid-nineties (particularly during World War II), some people consider the first morale patches to be the blood chit issued by President George Washington in 1793. The blood chit was given to soldiers working in localities where a different language was spoken. It was usually a piece of cloth or paper to stick to their clothing so that locals knew to give them food, water, shelter, or any medical assistance.
During the Second World War, members of the U.S. air force added patches to their flight jackets. These embroidered morale patches usually featured a depiction of the wearer's plane.
Soon after members of the ground armed forces followed suit, adding their own versions of morale patches to their uniforms. While the letterings and drawings differed, the general themes of the patches revolved around tongue-in-cheek humor and even swear words. Of course, that meant that these patches received criticism from the senior personnel who considered these unprofessional.
That couldn't stop the ongoing storm of embroidered morale patches with raunchy jokes. Hook and loop patches (also known as patches with Velcro backing) became popular because these could be easily removed and replaced. The freedom to wear whatever patches they wanted when away from the stern eyes of their superiors boosted camaraderie among the soldiers.
Looking For Custom Military Morale Patches Online?
Reach out to customer service at ThePatchio for information or request a free quote today.
Significance Of Embroidered Morale Patches
It's challenging, being a part of the service to defend and protect. You're away from your home, at the front lines when danger strikes, serving in cases of disasters, and performing other duties that take incredible courage and strength.
It's only human to seek out bits and pieces of motivation and humor while leading such a life—and the significance of embroidered morale patches is that these little artful pieces make the wearer feel resilient, and the onlookers proud and inspired. In the case of a humorous theme, comedic relief is also a great advantage of embroidered morale patches. These along with sarcastic and bold patches also help improve teamwork and sense of bonding, thus further boosting morale.
Some morale patches also include important information such as division or unit numbers, or brigade identifications.
Who Else Uses Embroidered Morale Patches?
In addition to our armed forces, the significance of embroidered morale patches also extends to the uniforms of law enforcement and firefighter services. Anything from quotes about perseverance to PG-13 jokes may make up these patches. Like members of the military, the police and firefighters are also engaged in the duty of protecting the people, and morale patches help boost their spirits during challenging situations.
You can design morale patches in honor of the people who protect us. These patches are a great way to show support. The significance of embroidered morale patches is particularly highlighted on occasions such as Independence Day, Memorial Day, International Firefighters Day, and Peace Officers Day, and Police Week. Getting the perfect embroidered patch design in occasional morale patches is all about provoking a feeling of unity and gratitude.
Adding these patches to clothing and accessories is a small yet significant step in appreciating our brave men and women who put their lives on the line for the peace and well-being of people.
Morale Patches: Why Embroidered?
Embroidered patches are a classic, popular choice for morale patches. In fact, embroidery is a favorite when it comes to patches for branding, uniform emblems, accessories such as keychains, etc. This type of patch is incredibly durable, as it does not fray or peel easily (read Benefits Of Custom Embroidery Patches On Uniforms). Chose a reliable patch manufacturer with a commitment toward high-quality material and you get embroidered morale patches that last.
Need To Order Embroidered Morale Patches Online?
Reach out to customer service at ThePatchio for information or request a free quote today.
Another reason why embroidered patches make great morale patches is convenience. Given that morale patches go on military jackets, and may be used as patches to show support by other people, these are laid with iron-on or Velcro backing—both of which work well with embroidery.
If you're looking to step away from the norms and make your morale patches more interesting, dye sublimation patches give the next best results in terms of refinement and convenience. PVC patches also make convenient morale patches because they are best for outdoor wear.
How To Design Morale Patches
The significance of embroidered morale patches is immense, not just for military or other services, but for all of us. Although you can be quite creative when it comes to designing embroidered patches, traditional morale patches have some features you should know about.
These are typically small; because morale patches are "unofficial" patches that go on the uniform, the size should be no less than a couple or so inches bigger. Too small patches aren't ideal since the design will be unclear (read Dos and Don'ts of Creating Custom Embroidered Patches).
Morale patches feature logos and insignia, for more formal patches or patches that represent the unity of a division or unit. Informal patches may contain drawings. Morale patches also feature quotes and funny taglines.
Embroidered morale patches are collectibles, and more bespoke designs are more appreciated. If you're designing unofficial morale patches as a means to show support or commemorate, test the limits of innovation. Incorporate embroidery patch trends in your design for some fun when you make morale patches!
Ready To Order Embroidered Morale Patches?
ThePatchio is your one-stop shop for high-quality, creative embroidered morale patches. As experts in embroidery patches and having worked with various service organizations in the U.S., we can create amazing morale patches for you!
Submit your design today to order custom patches online and we'll get started!