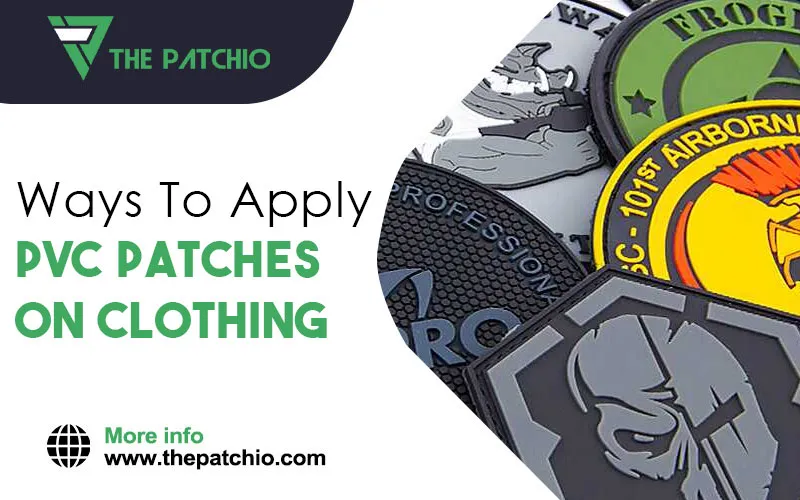 When it comes to customizing clothes with attractive embellishments, custom PVC patches take the lead. These can be professional patches or creative patches representing funny, meaningful, or supportive artwork.
The benefits of customizing PVC patches are endless because they are durable, heat-resistant, textured, and gorgeous. The amazing thing about PVC is that it can be dyed into ANY color. Plus, each and every pattern and lettering shows up clearly, which makes PVC perfect for clothing.
Useful & Creative Ways To Apply PVC Patches On Clothing
What are custom PVC patches? These are means to decorate your clothes and accessories in a distinct way. Here are some of the best ideas:
1) Club Patches On Jackets
Extracurricular activities build character—and provide patches to display proudly on your jacket. PVC patches are one of the perfect ways to apply PVC patches on clothing—specifically jackets to represent a club or a team.
While sports patches are usually crafted out of chenille for varsity jackets and sports jerseys, these can be made out of PVC patches for fans and supporters. PVC contrasts well on both denim and leather, so there is no doubt it will look spectacular on your jacket.
As far as club patches go, such as A.V. clubs, book clubs, bands, and so on, PVC patches are winning options. You can be as creative as you like with custom PVC patches!
2) Badges & Pins For Campaigning
If you love PVC patches but need temporary ways to apply PVC patches on clothing, then badges are your answer. In fact, PVC patches are mass-produced for pins during campaigns, whether we're talking about state politics or college fraternity elections. These patches can be attached with adhesives to blank pins and easily adorned on clothing.
The features of PVC patches include amazing vibrancy with a capacity for innovative designs, unlike any other patch. Therefore, these are optimal choices for badges. If you want a patch that stands out easily and that everyone will love, then you will love PVC patches!
The next time you're campaigning for a student body election or even for your favorite mayoral candidate—you know what to do!
3) Name Patches On Uniforms
One of the resourceful ways to apply PVC patches on clothing is for uniforms. While traditional embroidered patches and leather patches are quite popular for name tags, PVC patches are preferred by outdoorsy institutions.
For example, EMS, military, rescue teams, and other services that spend a ton of time outdoors prefer PVC patches for uniforms.
The reason: these patches can withstand harsh weather. Come heavy rain, fast wind, or severe sunlight, PVC patches hold their form and color. Hence the reason these patches are so popular on non-clothing items for outdoor use, such as boat covers (read How To Use PVC Patches For Boat Covers to learn more).
Want To Order Custom PVC Patches Online?
Reach out to customer service at ThePatchio for information or request a free quote today.
4) Artsy Patches On Tees & Jeans
There are many ways to apply PVC patches on clothing, including branding. PVC patches look spectacular on tees and jeans, polo shirts and trousers, and so on.
You can get artsy PVC patches for clothing for a personal project, such as awareness for a cause. You can also add these to your new line of tees. Since minimal fashion is the rage, custom PVC patches on clothes can make very compelling pieces.
The best part about adding PVC patches to jeans, tees, and similar clothing is that you don't just get the option to sew them on. These pieces of clothing are easy to work with, so you can opt for iron-on or Velcro patches, too (we'll talk more about this later). You can also learn how to decorate your crocs with PVC shoe charms and have some fun!
5) Logo & Symbol Patches For Caps
You may have seen caps, hats, and visors with PVC patches. Unlike embroidered patches, which lose color after some time, PVC patches are quite durable—and, therefore, perfect for caps. Read PVC Patches VS Embroidery Patches to learn more.
There are endless options for PVC patches on caps and hats. We're talking sports team patches, club patches, artistic patches, patches for caps for bachelor parties and family picnics, and so on. You can also add your brand's name and logo to a PVC patch to add to a cap for public events and giveaways. We recommend you get cap patches in 3D for an enhanced look (read Difference Between 2D And 3D PVC Patches to learn about different textures in patches).
How To Attach PVC Patches
We've covered ways to apply PVC patches on clothing, but what about how they can be attached? The kind of backing you choose for your PVC patches depends on the size of the patches and where you will apply these.
The most common (and ideal) ways to apply PVC patches on clothing is by stitching. For larger PVC patches, such as boat cover patches, this is the only effective way for durability. Sewn-on patches also generally last longer on everything; you don't have to worry about it coming off after laundry.
There are two kinds of adhesives for PVC patches. The first kind is the pre-laid adhesive, which you can activate by ironing the patch. However, make sure that your patch is crafted out of high-grade PVC. Otherwise, it isn't suitable for hot surfaces. You can also get PVC & silicone patches (read What Are The Difference Between Silicone And PVC).
The second kind of adhesive is superglue (superglue, because you need it to hold well. This is used for backless patches for blank pins for badges.
Velcro tape is also used for PVC patches, especially for name tags and other kinds of PVC patches used on uniforms. Hospitals, emergency services, and law enforcement use PVC patches with hook-and-loop (Velcro) fasteners. You can also ask your patch manufacturers to make custom patches products with Velcro tape pre-attached.
Magnet patches are not very common but gradually gaining popularity as ways to apply PVC patches on clothing. Small, slim magnetic disks are used to attach patches to clothes and accessories. However, this method is best suited for small patches and not recommended for any patch larger than 3 inches.
Getting Your PVC Patches At ThePatchio
At ThePatchio, we're prepped and ready for you to place your order for custom patches online. We do creative patches for teams and clubs, festive patches, and more. You can reach out to us for all things patches, including creative ideas for projects with patches, like how to make PVC patches at home.
Let's get started, contact us today!